11 Things You Need To Know Today (May 23)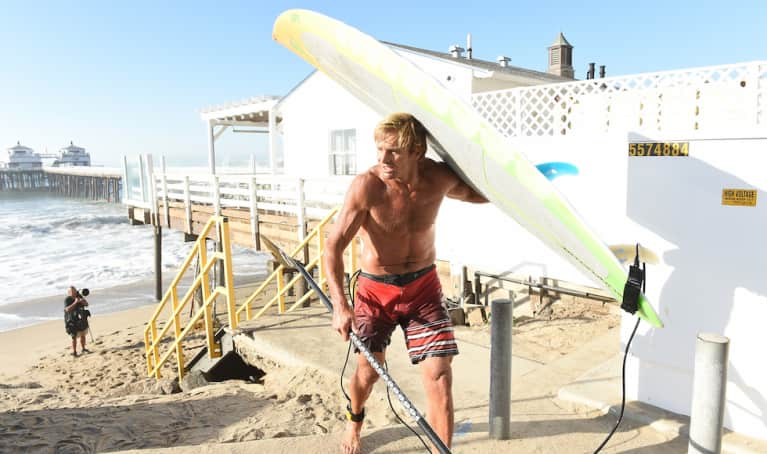 1. Surfer Laird Hamilton reveals his secrets to a long life.
The 52-year-old surfer has big plans to live forever—and a 10-point plan to do so. His secrets include doing daily inversions, avoiding sugar and alcohol, surrounding himself with role models, and golf-balling his bare feet. (LA Times)
2. Congress suggests a simple solution to reduce food waste.
Right now, all of those "sell by," "best by," and "use by" stickers you see on food products aren't nationally regulated and often lead to a lot of wasted food. A new bill proposes a countrywide system that'd clear up the confusion between when food actually isn't safe to eat versus when it's just a little past peak freshness. (CNBC)
3. Which medical condition does the U.S. spend the most money on?
Not heart disease, not cancer, not diabetes. Mental disorders are actually the nation's costliest medical condition—and it's not even close. According to a report in Health Affairs based on federal data, the U.S. spent a staggering $201 billion in 2013 on mental disorders. (Washington Post)
4. A new regulation could finally help reduce the toxins in our home products.
Under current law, thousands of chemicals in household products are not subject to toxicity testing. A new law to be put to vote this week would prioritize high-risk chemicals for immediate review. (NYT)
5. We are living way longer than we ever did before.
Well, duh. But life expectancy is getting better way faster than it ever has. A new World Health Organization report says that the global life expectancy increased by five whole years between 2000 and 2015, with the worldwide average now at over 71 years. It's the swiftest increase since the 1960s. (The Guardian)
6. We know concussions are a big issue in the NFL, but what about women's sports?
It turns out that in sports like basketball and soccer, even though women and men are playing by the same rules, women are more likely to get a concussion during a game. This news re-emphasizes the importance of finding ways to keep all athletes safe and prevent degenerative brain diseases. (FiveThirtyEight)
7. Long-married couples have strikingly similar health profiles.
New research finds that older couples who have been together for decades tend to develop similar health stats over time—even if they started out different—such as cholesterol levels, mental health, physical activity, and kidney function. The researchers say this can help doctors identify people who might be vulnerable based on their partner's health. (NPR)
8. Opioid prescriptions are finally on the decline.
For the first time in two decades, the number of prescriptions written for opioid painkillers in America saw a sustained drop in 2015. Doctors have become increasingly more cautious of the highly addictive drugs, and federal officials have tried to tighten access as they fight the opioid addiction epidemic. (NYT)
9. Anti-booze efforts apparently don't work for frat brothers.
A major review of 15 studies found disappointing news: Drinking interventions on college campuses that successfully reduced bingeing in other university students had no effect on members of fraternities—in fact, in some cases it actually caused them to chug even more. (HealthDay)
10. A tiny house grows in Manhattan for an important cause.
A team of contractors just built a tiny home in the Meatpacking District to bring attention to the homelessness crisis and offer tiny living as a solution. The teeny space won't stay there for long, though, and it's in the process of being auctioned off on eBay, with proceeds to go to a homelessness charity. (CNN)
11. The CDC is monitoring 279 pregnant women who may have the Zika virus.
There are now 157 women within the 50 states and another 122 in American territories, like Puerto Rico, who are confirmed or suspected to have the virus. In the States, the women had either traveled to infected countries or had sex with someone who had (there haven't yet been any cases of Zika transmitted in the U.S.). (NYT)