Caley Alyssa On Acupuncture, Avocados, Hiking In L.A., And #Wellth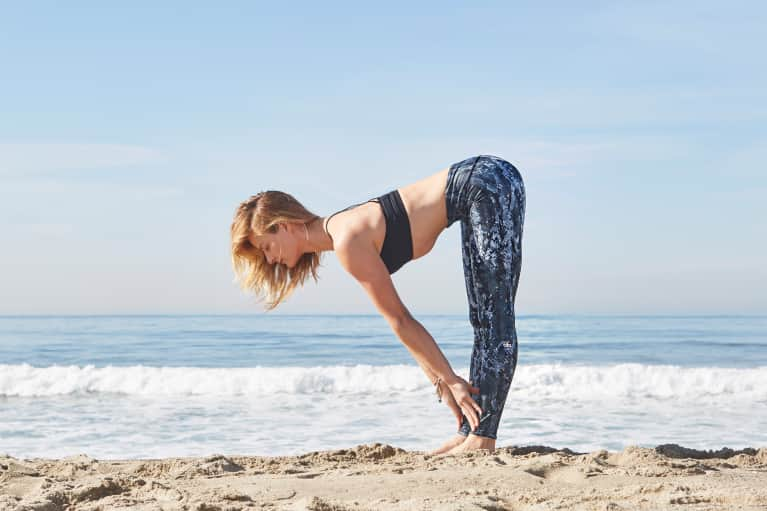 Our editors have independently chosen the products listed on this page. If you purchase something mentioned in this article, we may
earn a small commission
.
I've spent the past year thinking a lot about "wellth"—the idea that success is found in a lifestyle devoted to mental, physical, and emotional health. (I even wrote a book about it.) In this new series, we're celebrating visionaries who embody what it means to be wellthy.
Caley Alyssa is a Los Angeles–based yoga teacher, founder of Caley Yoga, and creator of the new mindbodygreen course, 28 Days To Yoga Bliss: The Fundamentals, Poses, And Breathwork You Need To Know. She credits yoga with helping her accomplish her dreams, and she's passionate about helping others manifest their own dreams, as well—both through the classes she teaches and the relationships she forms off the mat. But yoga's not the only habit that keeps her grounded and feeling good. Here, she shares other key components of her healthy lifestyle.
mbg: What's your favorite fruit?
CA: Avocado.
What's your favorite healthy place to eat?
My home! I love cooking. But if I'm going out, there's a little vegan Thai food spot off of Lincoln called Satdha that I'm currently obsessed with. Same goes for Gjusta in Venice and Plant Food and Wine.
What's your favorite way to escape and get some nature?
Hiking. I love getting out and exploring all the amazing trails in Los Angeles. I'm from Oregon, so being in nature is in my blood.
Favorite way to break a sweat?
So many! I love yoga (obviously), hiking, doing circuits in my yard, running on the beach, and climbing!
What's your favorite holistic treatment?
Acupuncture. My friends own a beautiful spot in Santa Monica called Elysia Life Care, and that's my go-to spot. I also get regular body scrubs at the Olympic Day Spa, and colonics, as well.
How do you de-stress/practice self-care?
Meditation is best for me. That, taking a bath, getting in a super-intense workout, and just spending time alone are vital for me.
What does wellth mean to you?
When you look around you and see people and things that bring you joy; when you look inside you and you hold experiences and thoughts that are beautiful in every way; when your belly is full and your heart is light.
Do you have any advice for someone who's looking to build a life that they love and follow their passion?
Ask yourself these two questions, and you will know what to do:
1. Does it limit or liberate you?
2. Does it raise or reduce your energy?