5 DIYs That'll Turn Any Space Into A Zen Oasis (In 10 Minutes Or Less)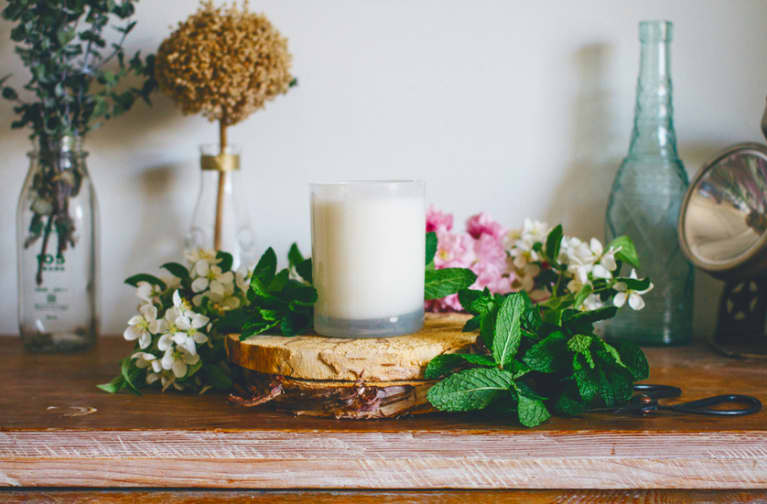 Yoga is more than just a sequence of poses. It's about focusing your consciousness and relaxing—even dissolving—into your surroundings. A good yoga space is one with few distractions, that invites you to breathe deeply, and settle into a calm, cleansing state of mind.
While yoga studios, gyms, and the occasional quiet field are ideal locations for winding down and toning up, you can create a yoga retreat just as effective (and much more convenient) right inside your home. Here are some easy, affordable tips to help you turn a quiet corner into your own little slice of bliss.
Make an eco-friendly speaker for your favorite soothing tunes.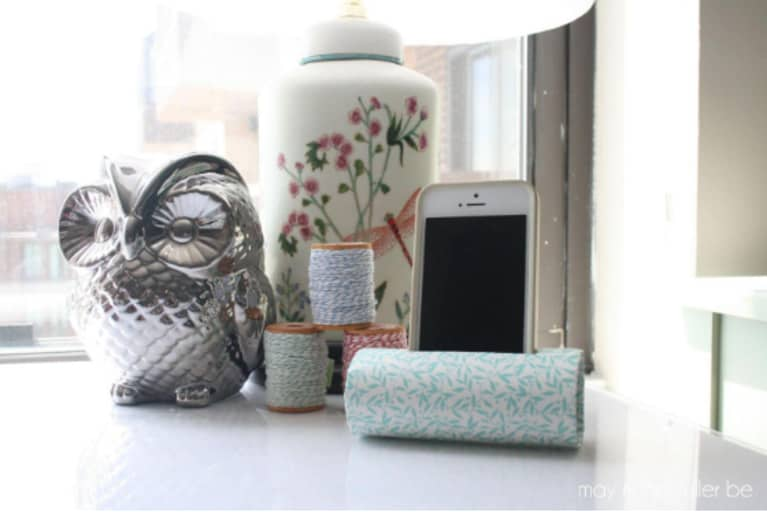 All you need is your phone, an empty toilet paper roll, some craft paper, and two thumbtacks to create this eco-friendly speaker.
Cut a rectangle slightly larger than your phone into the cardboard of the roll.
Take your craft paper or scrapbook paper and trim it to fit around the toilet roll.
Cut a rectangle out of the paper to match the one you've made in the toilet roll.
Tuck any excess paper into the toilet roll, and secure it with glue or double-sided tape.
Insert two pushpins into the back of the roll, to keep it upright when you put your phone inside.
Voilà, you're done!
Add a warm glow with infused lanterns.
Instead of using candles to add ambience to your sanctuary, make your own fruit- and flower-infused oil lamps. They reflect warm colors throughout your space and smell delicious. Less expensive and safer than candles, these lanterns can be used for several days and extinguish immediately if spilled. All you need is olive oil, glass containers, pretty trinkets to put in your lamps, water, essential oil, and floating wicks.
Gather glass bottles or jars of your choosing.
Fill them with flowers, leaves, shells, or any other pretty treasures you like.
Then pour water into the jars, until they're nearly full.
Pour a ¼-inch layer of olive oil on top of the water.
Add essential oils if desired.
Place the floating wick on top.
Create sweet-smelling sachets for aromatherapy.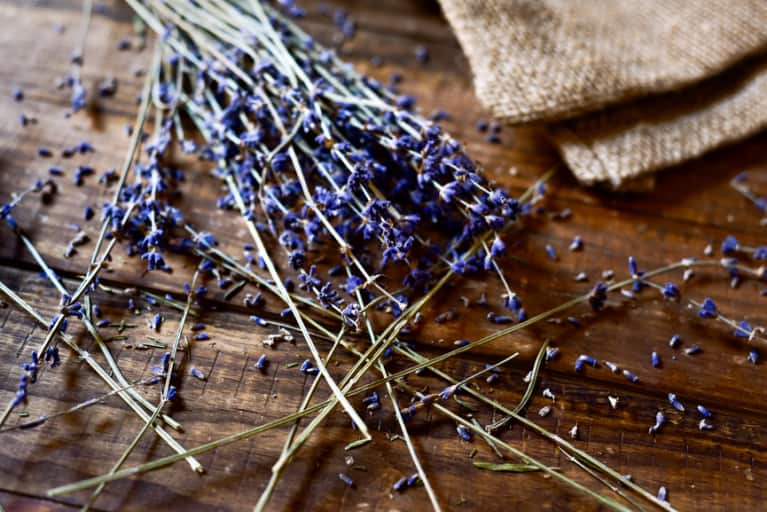 Using homegrown herbs or a few from your local market, make silky sachets to keep in your yoga space and fill the air with rich, relaxing aromas. This will make your relaxation room an even more therapeutic space. For this DIY, you need sachet bags, ribbon flowers, a needle, thread, scissors, elastic bands, paper bag, ribbon, Orris Root powder, lavender essential oil, and lavender flowers.
Cut the lavender flowers at the base of the stem, just above the foliage.
Fasten small bunches of the flowers together with an elastic band.
Hang the lavender upside down to dry for 2 to 4 weeks.
Once the lavender is dry, lay down a sheet of parchment or wax paper to catch the falling buds.
Run your fingers down the stiff stem, and the flowers should come off easily.
Gather the flowers into a bowl (my recipe works with ¼ cup of flowers, so adjust according to your quantity).
Stir ¼ teaspoon of Orris Root powder into the lavender flowers. (It's a natural fixative that helps the flowers retain scent.)
Mix 3 drops of lavender essential oil into the bowl using a spoon.
Pour the mixture into a paper bag (it has to be paper, so the lavender can breathe).
Allow the lavender to cure for two weeks.
Once it's ready, you can make your sachets. Sew a flower onto the sachet just below the drawstring.
Fill the sachets with lavender, and draw the strings close. Tie into a bow.
Place the sachets around your room, hanging them from ribbons or dropping them into drawers.
Light up a nighttime session with paper luminaries.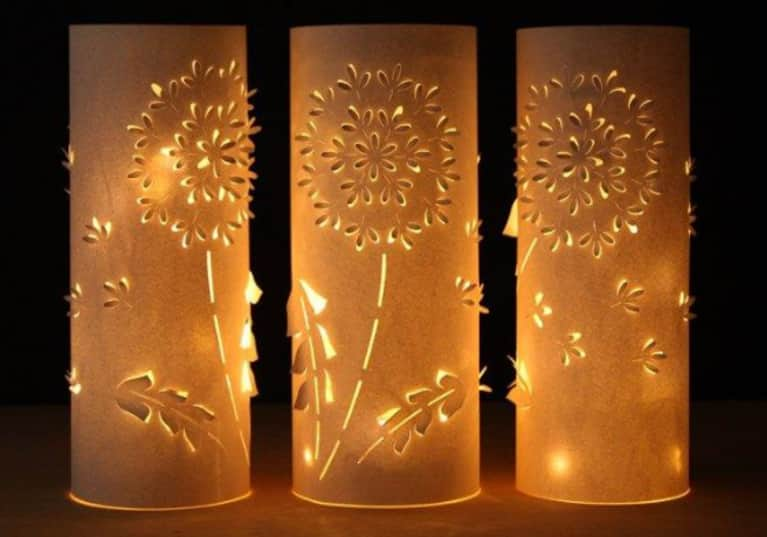 For even more relaxing light in your sanctuary, turn a few plastic bottles and cutup pieces of paper into gentle floral lanterns. The soft glow peeking through the pattern will give you just enough light to practice by while comfortably softening your yoga space. For this DIY, you'll need plastic bottles, paper, scissors, tape, and LED lights.
Print and cut out your desired pattern using an X-acto knife. (You can download some beautiful patterns here.)
Curl up the edges of the cut paper to create a 3-D look.
Remove any labels from the plastic bottles you've selected.
Tape the paper to the outside of the bottle.
Light your LED candles or string lights and drop them into the bottle.
Mix up a bottle of yoga mat cleaner for a fresher practice.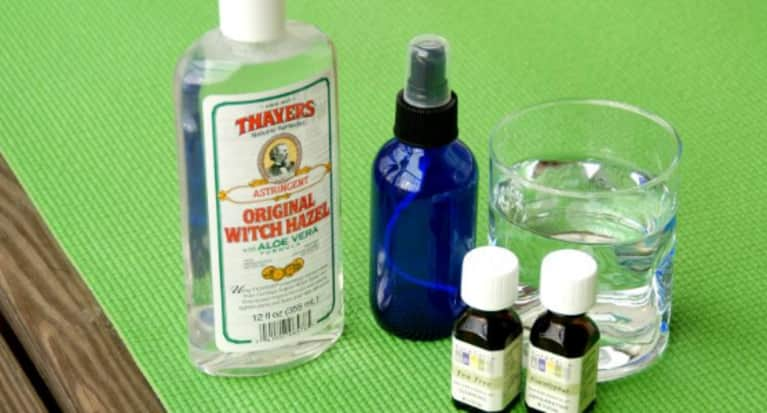 Even though you're cleansing your mind, working out on a sweaty, germ-soaked mat is not doing your body any favors. Make sure to wipe your mat down after an intense workout and spray it with a green cleaner. Mix up this natural yoga mat cleaning spray to have on hand after your practice. For the DIY, you need a spray bottle, water, witch hazel, eucalyptus oil, and tea tree oil.
Fill your spray bottle ¾ of the way with water.
Fill the rest with witch hazel, leaving 1 inch at the top.
Add 10 drops of tea tree oil and five drops of eucalyptus oil.
Close the top and shake well. Voilà!