How To Have Better Sex Anywhere, Anytime (And Any WAY) You Want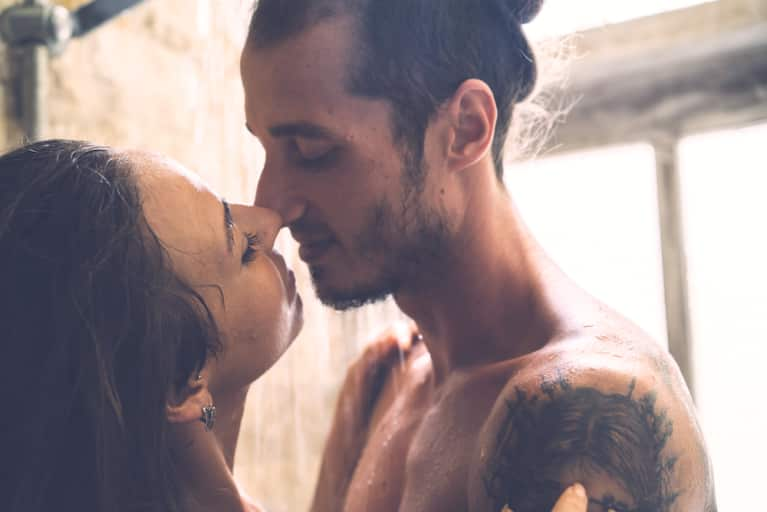 It's been a trusty standby for decades, but recently, lube is experiencing something of a resurgence in popular culture—with an organic makeover, to boot. Gwyneth Paltrow has been advocating the benefits of organic lube in Goop and on Chelsea Handler's new show, and Netflix's hit series Grace and Frankie puts a lubricant business front and center.
As a longtime lubricant advocate and woman who has been fighting for better, safer, greener sex products my entire life, I couldn't be more excited.
Let me begin by saying lube is awesome. If you think lube isn't for young people, or if it's only for anal sex, or that your partner won't think you are into him/her if you want to use it, I'm here to shatter your assumptions. Lube is something that can increase pleasure, minimize condom breakage, and even reduce the risk of STIs. And that's only the beginning.
No need to narrowly define sex here (i.e., penis in vagina). No matter what you're doing, lube works toward arousal, not against it. And massive anecdotal evidence shows that all partners involved prefer lubricated entry—no matter what is going in or where it is going. Enough said.
2. It minimizes pain and potential for injury during sex.
Using lube decreases sexual wall damage—it doesn't matter if you're going anal or vaginal or using a toy. Sex without lubrication can harm the thin membrane we all have lining our most sensitive parts—and this includes your mouth and nose as well as your vagina and butt.
Reducing ouch makes you more likely to have sex for a longer period of time. Additionally, 84 percent of postmenopausal women find sex painful, which, again, can be helped with lube.
5. It minimizes condom breakage.
6. It can be good for your vaginal ecology.
Petrochemical-free lubricant can reduce the risk of bacterial vaginosis. Maybe you've never heard of BV before, but two in five women have it—and 84 percent don't know they have it. Women who have BV are 60 percent more likely to contract an STI. They are also three times more likely to infect their partners. It happens when the normal balance of good bacteria is disrupted and replaced with an overgrowth of certain types of harmful bacteria.
Now that you're thoroughly aware of all the benefits of adding lube to your bedroom routine, you should make sure you're informed about what's in the lube you're using (and what's not).
Know what petrochemicals are? You might not, but if you've ever used most of the personal lubricants currently on the market, chances are, they have gone in and on your body. According to the World Health Organization, these petrochemicals damage genital and rectal cell tissue.
Now, onto the stuff that might sound a little more familiar: parabens and glycerin. Two things that—like petrochemicals—you definitely don't want going inside your body. Parabens, known mostly as toxins in personal care and cosmetics, cause many of the same health effects when found in personal lubricants. And when high concentrations of glycerin enter the vagina, cellular damage can occur, and once cells are damaged they are less able to protect the body from contracting an STD or STI.
The good news? There are a handful of brands out there making nontoxic, organic lube so you can get it on, safely! So check the label, and make sure you choose a brand that's organic, free of petroleum, glycerin, parabens, and silicone and is biocompatible.
Related reads: