What Tonight's Rare Astrological Phenom Means For You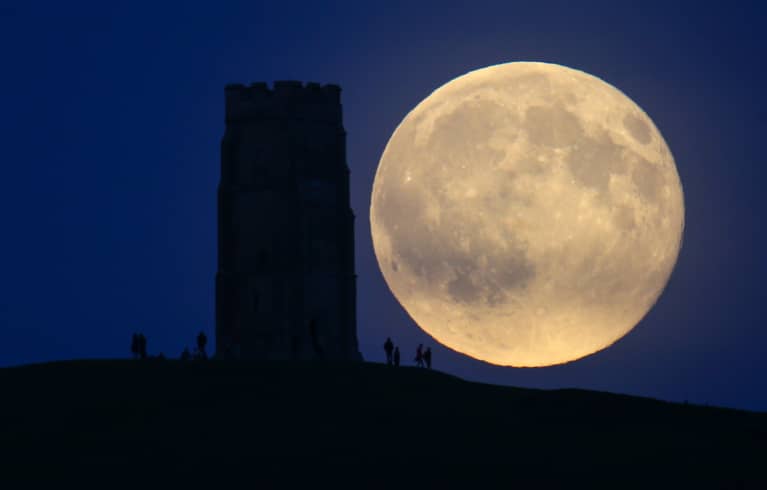 This Saturday, May 21, brings a full moon in expansive, worldly Sagittarius. What's more, it also marks the first of two rare consecutive full moons in the same sign—the next falls on June 20 (the summer solstice). Take note of everything you're building now—and have been since November–December of 2015—as things could come bursting to fruition by next month.
And since May began with five planets in retrograde (backward) motion, your projects and goals may have slowed down or even come to a grinding halt. But don't worry, you get a chance for a do-over on June's full moon, which appears under much clearer skies.
This Sagittarius full moon is also known as a Blue Moon, and will appear near Mars in the night sky. Both the Blue Moon (which is indeed sometimes tinged with a blue color) and the red planet will be visible to the naked eye. The Maine Farmer's Almanac has defined a Blue Moon as an extra, or bonus, full moon that occurs within a season, since each season typically has three full moons. Because this season has four full moons, this third full moon is therefore being called a Blue Moon. (Capiche?)
To help you set the wheels in motion for next month's double Sagittarius full moon finale, here are nine ways to make yourself big, bad, and brave—and embrace the risk-taking prowess that made this sign famous:
1. Get yourself travel-ready.
Globe-trotting Sag is the sign of international travel and global connections. No, you may not be able to hop a plane to Bali tomorrow, but you can snag a Rosetta Stone foreign language course, cook an Indonesian meal (do the words "gado gado" mean anything to you?), or take a dance class in the meantime. Broaden your cultural horizons, even if that just means having dinner on the other side of town or taking a spontaneous road trip for the day.
2. Embrace your inner geek/dork/brainiac.
Remember Steve Urkel from Family Matters? The actor who played him, Jaleel White, is a Sagittarius. While you may not prance around in high-waisted pants and thick glasses, grooving on some Urkelization will do you good today. The zodiac's Centaur is a half-human, half-horse, forever seeking lofty answers, enlightened perspectives and intelligent discourse. Lead with your wits instead of your, well, you know. At the Sagittarius full moon, it's hip to be square.
3. Get into your animal instincts, too.
Disclaimer on #2! From the waist down, the mythical Centaur is all animal. So as wise and worldly as Sagittarius energy can be, it can also be randy, primal, and focused on instant gratification.(Think of Sagittarians like Brad Pitt, who's a self-taught architect AND Angelina Jolie's man, or Scarlett Johansson, who wins all those "sexiest mortal" awards but is also well-spoken and politically active.)
Sagittarius is the sign of the hunter, and under this full moon, you might just be looking for some fresh game. Oh well, that's part of being human, too—so stretch beyond your comfort zones in the dating and mating scene today too.
Carrying on this hedonistic theme for one more item, Sagittarius is ruled by Jupiter, mythic god of the feast. So you're gluten-free, don't eat dairy, swore off red meat, you say? Well, maybe you take a day off from all that to indulge. Or find a way to combine "plant-based" and "pleasure seeker" in a single, believable sentence—and share the results with friends at a healthy dinner party.
5. Tell the truth—and nothing but the truth.
Truth is one of the highest virtues. So why do we spend so much time avoiding it or spinning it like dubstep DJs into a warped remix? Like a spoonful of cough syrup, honesty can be brutal (and bitter) when we get our first taste. But, if we're brave enough, it can also set us free.
That's the theme of the Sagittarius full moon. Sagittarius is the zodiac's brutally honest sign. Full moons are all about revealing ourselves completely. Put these two elements together, and you've got the makings of a "true confessions" day.
6. Oh, and stop lying to yourself while you're at it.
On the topic of truth-telling, denial zaps a lot of life force energy. If you've been walking around with "eyes wide shut," this superpowered full moon could expose the full panoramic view in its floodlights, uncovering a blind spot or two. While seeing yourself this objectively may be jarring, it will also be enlightening. The truth will indeed set you free!
7. Expand your mind (and your view).
Sagittarius is the globe-trotting wisdom seeker always thirsting for freedom. Make a point of seeing some wide-open spaces in the next few days. Get away from the urban chaos and out into nature! Sign up for a seminar, invest in coaching sessions, read that metaphysical book your enlightened friend insists has changed her life.
Check out PhilosophersNotes.com—a website that summarizes the best personal growth books on the market today. Because free-spirited Sag loves to learn but hates to sit still, you might want to get a few of these books in audio format, so you can listen while you take an all-day hike. (Philosophers Notes condenses each book into either a six-page PDF or a 20-minute MP3.)
8. Jump into the dialogue on race, class, gender, and identity politics.
Sure, we may live in a world of privilege and surface-level tolerance, relatively speaking, but racism and other -isms are still alive and well. Sociological Sag encourages us to increase our awareness around privilege, social inequality and intergroup relation. Check out blogs like Racialicious.com ("the intersection of race and pop culture") or the multicultural body image blog AdiosBarbie.com (full disclosure: AstroTwin Ophi is a co-founder of this nearly 20-year-old site).
Sure, it might be uncomfortable to read some of this material—but if we look at these injustices as a global responsibility, we can all do our part to create a world that's welcoming to everyone.
Despite the aforementioned matters, on a one-on-one level, Sagittarius is all about rolling with your "soul family," too—a motley crew united by shared values, interests, and philosophies. At this full moon, rally your tribe and tell your friends to bring their friends. Adopt a more-the-merrier approach and welcome people from backgrounds different from your own.
As Mother Teresa said, "The most terrible poverty is loneliness, and the feeling of being unloved." Global ambassador Sagittarius helps us connect across boundaries. Now, who wants to go to karaoke?