10 Things You Need To Know Today (May 19)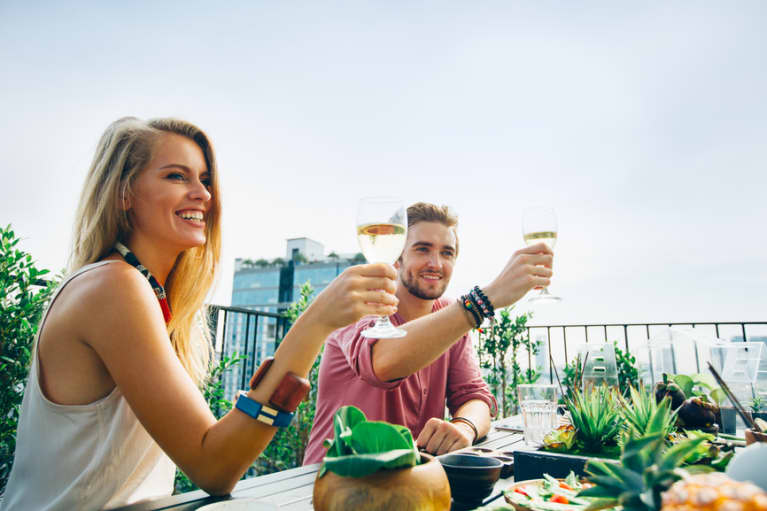 1. Married people are less likely to have issues with booze than single people.
In a study of more than 3 million people born in Sweden, alcohol-use disorders were 60 percent less frequent in married men and 71 percent less frequent in married women. Though the study didn't prove that marriage was responsible for the lowered risk, the results "strongly suggest that marriage does indeed directly and substantially reduce risk for onset of alcohol use disorder." (HealthDay)
2. GMO foods may not be harmful to our health (but that doesn't mean they're perfect).
A major new review of almost 900 studies found that genetically modified crops pose no more risk to humans and the environment than conventional crops do. Still, the report also noted that GMOs may have contributed to concerning levels of pesticide resistance in weeds and insects. (TIME)
3. Keeping busy might also keep you sharp.
A new study found that older adults who had packed schedules tended to perform better on tests of memory and reasoning than those who were less active. While it doesn't prove cause and effect, the researchers note that past studies have found that learning new skills can improve mental sharpness in older adults. (HealthDay)
4. Britain's vegan population is booming.
Over the past decade, the amount of vegans in Britain has grown by an amazing 360 percent. It's likely due to a combination of reported health benefits, environmental and animal welfare awareness, and good old-fashioned celebrity diet curiosity. (The Telegraph)
5. FIT students created functional clothing for women with disabilities, and the results are beautiful.
The first annual Design for Disability gala featured clothing designed by five semifinalists to suit the unique needs of women who use wheelchairs and crutches on a daily basis. The CEO of the Cerebral Palsy Foundation said of the show, "It's all about changing the way we look at things. That's what fashion and design is all about. It changes things." (Racked)
6. Obama's latest proposal could mean a raise for 4 million Americans.
His new federal regulation on overtime pay says that workers who clock in more than 40 hours a week are eligible for overtime as long as they make less than $47,476 annually. The previous cutoff for overtime pay was $23,660. (New York Times)
7. Robin Wright demanded equal pay on House of Cards.
After finding out her character was more popular than Kevin Spacey's at one point, Robin Wright demanded equal pay, threatening to go public if the powers that be didn't give in. You go, Princess Buttercup. (Bloomberg)
8. The Hemsley Sisters have got everyone talking about "astrological farming."
One of our favorite sibling duos recently extolled the virtues of "astrologically famed" eggs on their UK cooking show, which got everyone asking: What the heck is that? Another term for this is biodynamic farming, which includes guidelines like planting certain seeds according to the lunar calendar, in addition to organic farming practices. The goal of of biodynamic farming is to grow produce in harmony with the environment while nurturing the soil. (The Telegraph)
9. Is breakfast the next big trend in food?
There's been a surge in the obsession with the most important meal of the day in America lately. Unfortunately, this is probably due to the availability of breakfast at fast-food restaurants, but hopefully this bacon, egg, and cheese evangelism will pave the way for new healthy breakfast favorites, too. (Eater)
10. The classic London phone booth is getting a makeover.
Dozens of red booths across the city will soon be converted into tiny office spaces that are available for hourly rent. They'll be complete with Wi-Fi, power outlets, scanners, and free tea. (It's England, after all.) (Fast CoExist)