Delicious Mocktails To Sip All Summer (With Health Benefits You Won't Believe)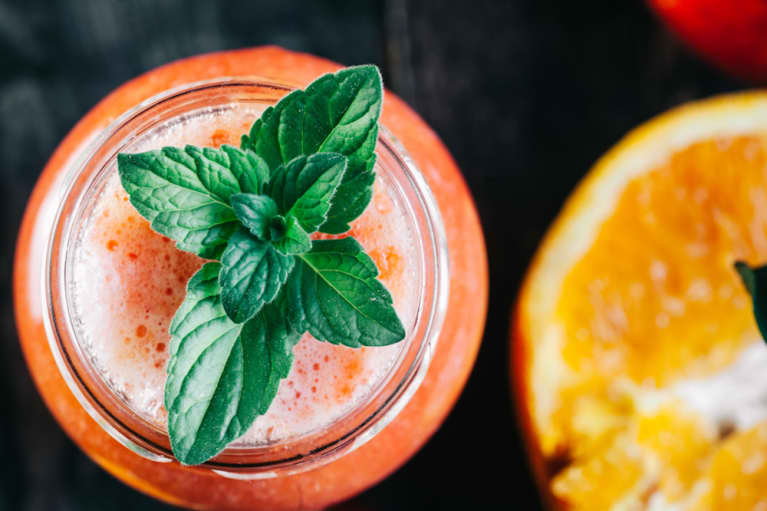 Memorial Day originated as a somber affair to honor those who have died in service. Over the years, the holiday has taken on a more lighthearted tone, becoming synonymous with the true beginning of summer—it's a signal that it's time to let your hair down and embrace the carefree vibe of the season.
Often, though, the desire to embrace fun and freedom results in going overboard with indulgences. Memorial Day is one of the heaviest drinking weekends of the year and, consequently, comes with high risks of alcohol poisoning, alcohol-related injuries and violence, and impaired driving.
Even if you're taking it a bit easier, hangovers and heat stroke are less-than-pretty side effects of overdoing the booze. So, rather than choosing between a tasty cocktail and a plain ol' glass of water every time you reach for a drink, have some of these yummy beverages on hand to keep yourself and your guests hydrated.
If you alternate every alcoholic drink with at least one of these fruity finds, you'll sail through your weekend happy, healthy, and sans hangover.
The recipes below are a few of my favorite summer mocktails, and all of them can be prepared in bigger batches to serve any number of people.
Cucumber Lime Agua Fresca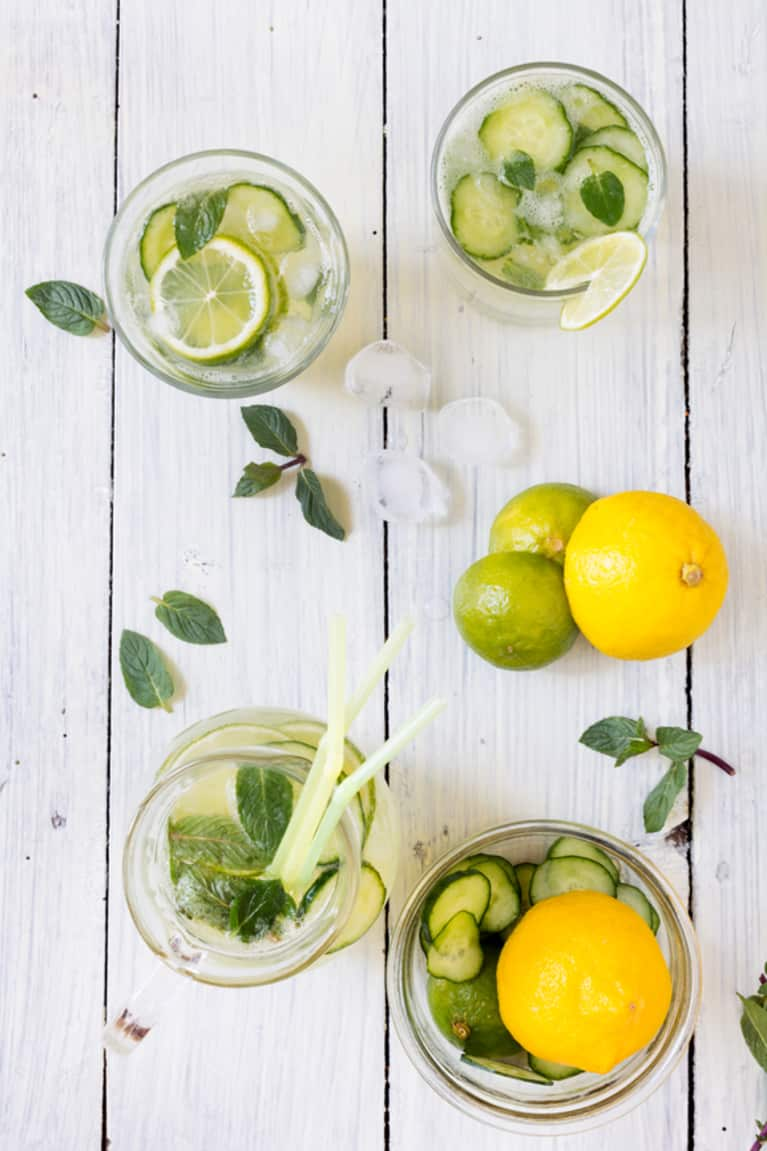 The humble cucumber, which is the featured ingredient in this drink, is high in vitamin K, B vitamins, copper, potassium, vitamin C, and manganese. Cucumber has been said to relieve stress, improve skin, have anti-inflammatory properties, and contains the antioxidant flavonoid quercetin, which is believed to prevent histamine release—perfect for allergy season! Combined with lime, another antioxidant powerhouse that can aid digestion, this drink is a wonderful antidote to any overindulgence.
Ingredients:
4 cups chopped peeled cucumber
2 cups water
2 to 4 limes, juiced (depending on preferred tartness)
2 to 4 tablespoons agave (depending on preferred sweetness)
Blend all of the ingredients, strain, and serve over ice. You can float thinly sliced cucumber with the peel still on and lime rounds, as an elegant and easy garnish.

Serves 4 (this recipe can be easily doubled or tripled!)
Strawberry Basil Spritzer
As far back as Roman times, strawberries have been used to alleviate inflammation, reduce fever, cure gout, improve bad breath, and more! When combined with basil (which has both antibacterial and anti-inflammatory properties) and lime, this tasty treat becomes a powerhouse of health benefits.
Ingredients:
2 cups strawberries (hulled and quartered, plus a couple of sliced strawberries for garnish)
¼ cup basil leaves + several sprigs for garnish (can substitute mint)
½ cup cane sugar
2 limes, juiced + I lime in thinly sliced rounds
Club soda/seltzer water
Ice
Place the strawberries and basil in a glass serving bowl or pitcher. Sprinkle sugar over it and lightly smash the ingredients together, softening the strawberries and slightly crushing the basil leaves. Lightly is the operative word here—you don't want to turn this into a pulp!
Pour lime juice, gently stir, and allow to sit for a least a few minutes. If serving in individual glasses, place a few ice cubes in each glass and spoon the mixture over the ice with bubbly water. Garnish with sliced strawberries, lime round, and a sprig of basil. If serving in a pitcher or bowl, gently combine the strawberry mixture with ice and desired amount of bubbly water, and float the garnish on top.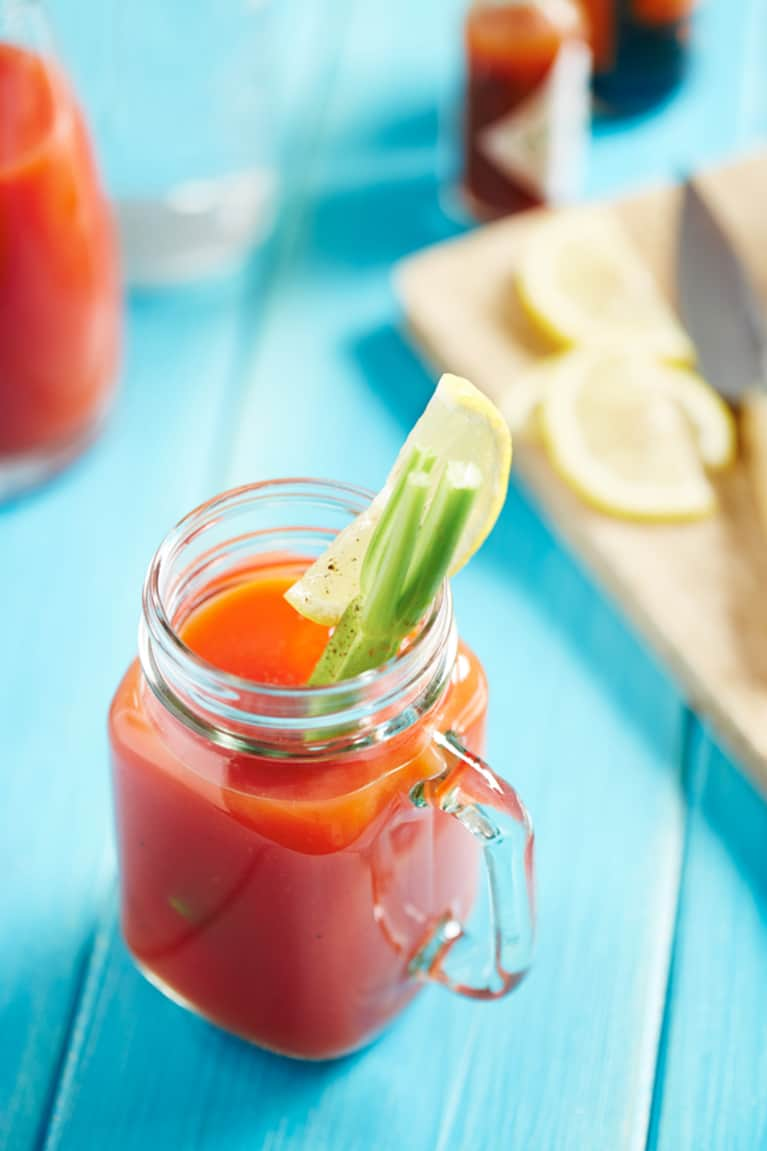 For those craving a more savory option, or who may have ove-indulged the night before, this healthy Bloody Mary is sure to satisfy.
Tomatoes contain the electrolytes sodium and potassium, the antioxidant vitamin C, and a whole host of vitamins, such as lycopene and vitamins B6. Vitamin B6 in particular is one of the few remedies shown to reduce the effects of a hangover.
This recipe also includes the power pairing of black pepper and turmeric. When combined, these two spices are said to be anti-inflammatory, pain-relieving, and memory-improving (hello perfect "morning after" potion).
And did you know that munching on crunchy food helps relieve stress? So pile on that garnish to help relieve your post-party blues.
Ingredients:
4 ounces fresh tomato juice (if buying from the store, try for low sugar and sodium, or make your own)
2 ounces fresh carrot juice (you can also try celery juice)
2 tablespoons lemon juice
½ tablespoon cracked black pepper
1 to 2 teaspoons turmeric, to taste
1 tablespoon finely chopped basil, parsley, or cilantro (optional)
½ tablespoon Worcestershire sauce
¼ teaspoon Horseradish (or more if you like more heat, also optional)
3 to 4 drops olive oil
Lime or lemon wedge, sea salt (or celery salt), and black pepper, for rimming the glass
Garnish of choice: This is your chance to get creative and go beyond the requisite celery and lemon wedge! Pickled anything is amazing—try green beans, asparagus, carrots, okra, and baby onions. You can also add protein—turkey bacon or shrimp are interesting options.

Run the lime or lemon wedge around the rim of the class, and then turn upside down into a small plate with the salt and pepper. Carefully combine the remaining ingredients in the glass, add a couple of ice cubes, a sprinkle of pepper, and your garnish!