These Are The 4 Things To Avoid In Your Sunscreen, According To The EWG
mbg Sustainability Editor
By Emma Loewe
mbg Sustainability Editor
Emma is the Sustainability Editor at mindbodygreen and the author of "The Spirit Almanac: A Modern Guide To Ancient Self Care."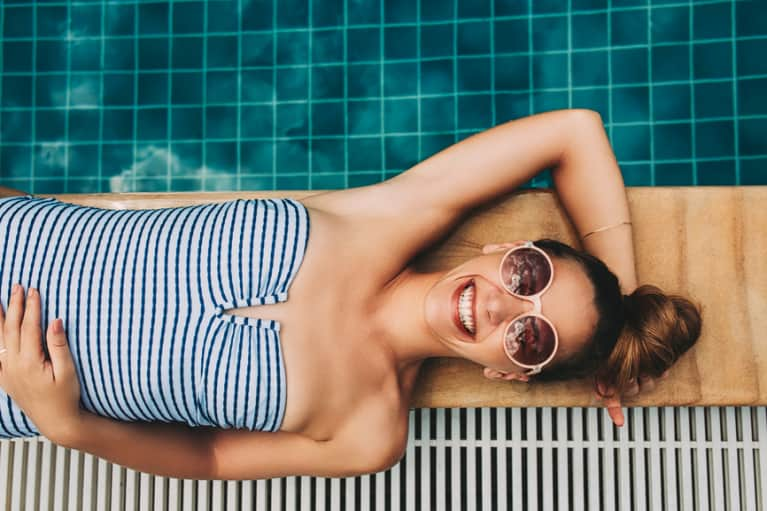 The dawn of summer means the return of beachside BBQs and outdoor celebrations, and we all know how important it is to protect your skin during all that time out in the sun.
The Environmental Working Group's 10th annual Sunscreen Guide makes it easier to find natural sunscreens that you can feel good about applying, reapplying, and reapplying again this season. Their comprehensive report highlights the good, the bad, and the ugly side of sun protection.
Since the release of the first guide back in 2007, the sunscreen industry has made some major strides toward cleaning up its products. Over the past 10 years, there's been a 34 percent rise in mineral-only sunscreens, and the amount of sunscreens that filter out harmful UVA rays has shot up 18 percent. And with industry regulations and testing standards getting stricter and stricter, this progress is likely to continue.
But after researching more than 1,000 sunscreens, SPF moisturizers, and lip products this year, the EWG has determined that there's still a lot more work to be done. Here are four red flags to look out for when shopping for sun protection:
About 10 percent of the beach and sports sunscreens the EWG analyzed this year tout SPF values above 50, even though the FDA has long called these numbers "highly misleading." A product's SPF value describes how well it blocks out UVB rays that burn the skin on contact, but it doesn't say anything about how well it keeps UVA rays—those that infiltrate the body and contribute to premature skin aging and cancer—at bay.
Instead of equating a high SPF with a high level of sun protection, the EWG recommends that people choose sunscreen that falls below the 50 mark and reapply more often if they're prone to burns.
Despite being easy to apply, these sunscreens make it too easy to miss a spot or inhale noxious fumes.
Oxybenzone is an active ingredient in about half of the sunscreens on the market these days. Quick to penetrate the skin, the chemical compound has been detected in the bloodstream of nearly every American. It's a known hormone disrupter that acts like estrogen in the body and has been linked to endometriosis and low birth weight in newborns.
A form of vitamin A, retinyl palmitate is an inactive ingredient in sunscreen that could expedite the growth of skin tumors and lesions.
Check out the report to see which brands lived up the EWG's criteria for safe sunscreens that offer UVA and UVB protection without the harsh chemicals.