13 Things You Need To Know Today (May 17)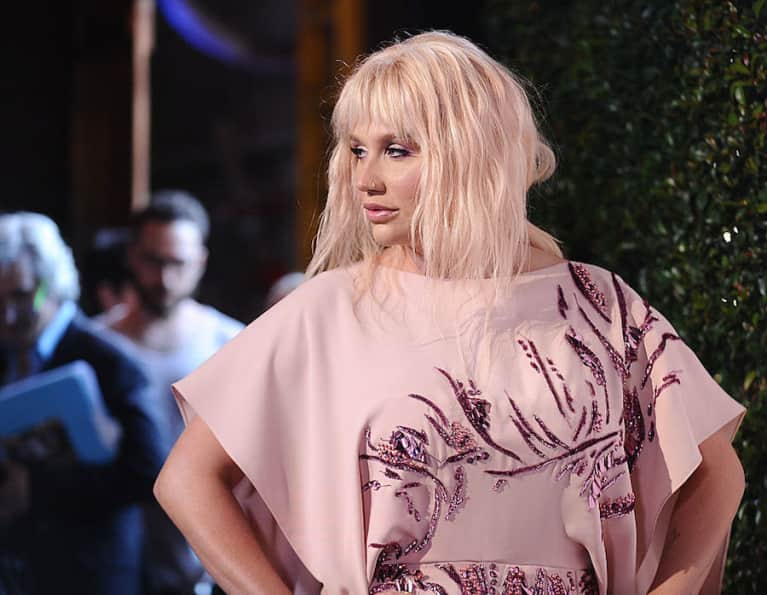 1. Kesha made a powerful statement to body-shaming trolls with just two fingers.
After Instagrammers slammed her bikini photos, the star responded with not one "f*ck you" finger, but two, in another swimsuit shot of her silhouetted against the sunset. She captioned the photo, "I have been battling depression and an eating disorder for a while now ... it feels like I'm fighting an uphill fight some days. but I have decided to take my life back. my freedom. my happiness. my voice. my worth. I will not just fucking be quiet and hide." (Instagram)
2. One London fitness company is turning a bus into a mobile spin studio.
1Rebel is awaiting government approval, but if the plan goes forward, the bus will traverse popular commuting routes, finishing up at the Rebel1 studio so riders can shower and grab a juice before heading into the office. Caution: not for the fainthearted or those prone to motion sickness. (Mashable)
3. We need to change the conversation around weight and obesity.
New research shows just how hard the body fights back against weight loss, especially by slowing down metabolism and increasing hunger hormones. That's why many doctors and weight management experts insist that not being able to sustain weight loss shouldn't be looked at as a personal failing or laziness—but rather, "an unfortunate fact of physiology." (The Cut)
4. To fight inflammation, eat more of these foods.
We've identified the inflammatory villains—refined sugar, dairy, and gluten—but what foods are the anti-inflammatory heroes? A new study by the University of Liverpool's Institute of Ageing and Chronic Disease has identified them: "...(poly)phenols derived from onions, turmeric, red grapes, green tea and açai berries may help reduce the release of pro-inflammatory mediators in people at risk of chronic inflammation," said co-author Sian Richardson. (mindbodygreen)
5. Soon you'll be able to purchase everything on Amazon.
The online retail giant is stepping up its game yet again and expanding to include their own private-label foods (in addition to their Amazon Fresh meal delivery service) and other household essentials like baby food, coffee, cooking oil, nuts, snack foods, spices, tea, and vitamins. We'll likely be able to buy some of these items by the end of May or early June. (WSJ)
6. Volunteers in Greece are demonstrating the power of upcycling.
A group of volunteers helping refugees in Greece thought of the genius idea to turn their used life jackets into mattresses. Environmentally friendly? Check. Socially responsible? Check. Win-win. (Fast CoExist)
7. Dad's age and lifestyle can affect a baby's health too.
A new review of research shows that a father's age, alcohol use, and environmental factors are also associated with certain birth defects and health problems, similar to the way they are for mothers. For example, older fathers tended to have babies with higher rates of autism and birth defects while alcohol use was linked to lower newborn birth weight and cognitive function. (ScienceDaily)
8. The hot streak continues: April 2016 was just named the warmest one on record.
It was the seventh month in a row to break the global temperature records. Climate deniers, step down. (The Guardian)
9. If you go gluten-free, make sure your diet is balanced.
While people diagnosed with celiac disease definitely need to adhere to a gluten-free diet, others arbitrarily adopting a bread-free existence could end up with health issues like metabolic syndrome and deficiencies in folate, thiamine, and iron, due to the nutrients typically added to wheat products. (The Atlantic)
10. Cleanup on the latest oil spill in the Gulf of Mexico continues.
Last week, a Shell spill contaminated the Gulf with about 2,000 barrels of oil, raising questions about the industry's regulations. "Make no mistake, the more fossil fuel infrastructure we have, the more spills and leaks we'll see. It's past time to keep it in the ground for good," said Vicky Wyatt, a Greenpeace campaigner. (The Guardian)
11. Organic Avenue has risen from the dead.
Cold-pressed-liquid lovers of New York: Rejoice! Organic Avenue has just pulled a Jon Snow. In an Instagram post, the company announced that it will reopen its Bleecker Street location on Tuesday (yes, today!), which remained unoccupied since it filed for bankruptcy and shuttered all its locations last October. Its founder, Denise Mari, who left the company well before its bankruptcy, is back at the helm. (mindbodygreen)
12. People still don't want to eat healthy—even when it's easy.
A recent study found that when convenient stores in low-income urban areas were stocked with healthier options, there was little to no change in people's eating habits. Something like this could, however, prove helpful as part of a larger plan to educate communities on better food choices. (ScienceDaily)
13. WHO released new guidelines to improve care for women with genital mutilation.
The World Health Organization came out with new recommendations for health providers who work with women affected by female genital mutilation (FGM). The guidelines encourage mental health support, increased education, and the treatment of obstetric complications for those who have undergone FGM. (WHO)