New Study Reveals The Best Foods To Eat To Fight Inflammation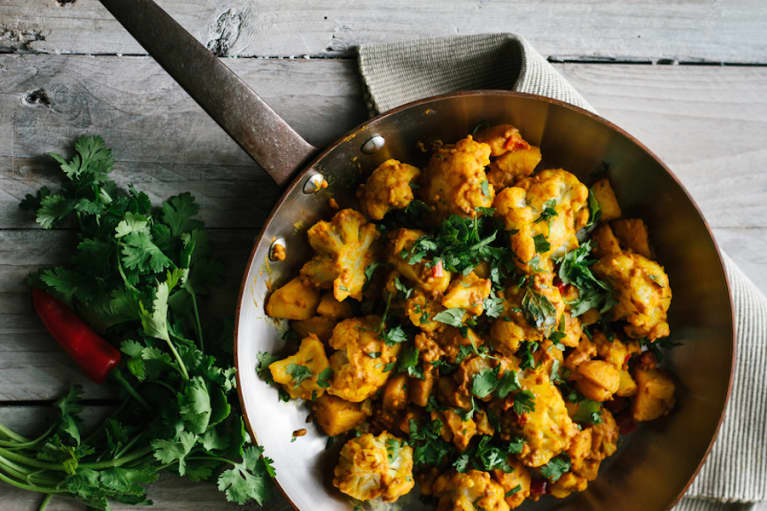 If you're at all familiar with the latest functional medicine advice on using food as medicine, you've heard about inflammation. Inflammatory foods—American diet staples like gluten, dairy, and refined sugar—are cited as villains by doctors like Frank Lipman and Mark Hyman for the skin-reddening, energy-sucking, joint-aching, gut-disrupting, and possibly disease-causing havoc they wreak in many people.
So, we've identified the villains, but what foods are the anti-inflammatory heroes?
Well, a new study by the University of Liverpool's Institute of Ageing and Chronic Disease has identified which foods can help prevent chronic inflammation.
The researchers found that diets rich in fruits and vegetables, which contain polyphenols, protect against age-related inflammation and chronic diseases. Polyphenols are compounds found abundantly in natural plant food sources that have antioxidant properties, and their health effects depend on the amount consumed and their bioavailability. This study, conducted by Sian Richardson and Dr. Chris Ford, examined the different potencies of the polyphenols.
"The results of our study suggest that (poly)phenols derived from onions, turmeric, red grapes, green tea and açai berries may help reduce the release of pro-inflammatory mediators in people at risk of chronic inflammation," said Sian Richardson in a press release.
"Older people are more susceptible to chronic inflammation and as such they may benefit from supplementing their diets with isorhamnetin, resveratrol, curcumin and vanillic acid or with food sources that yield these bioactive molecules."
Hmm ... red grapes? Is it now safe to say red wine prevents inflammation? We're just going to assume yes.