Is Your House Messing With Your Hormones? 6 Ways To Fix It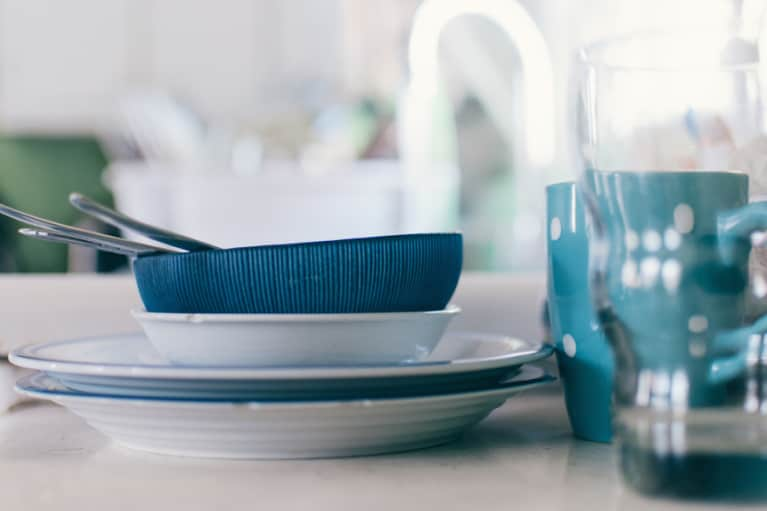 Our editors have independently chosen the products listed on this page. If you purchase something mentioned in this article, we may
earn a small commission
.
Women looking to get their hormones under control usually stick to strict organic diets, mindfully monitor their stress levels, and toss out any chemical-laden beauty products. But nine times out of ten, these women overlook one aspect of their lives that's overrun with endocrine disruptors: their home cleaning products.
Most of us were brought up to believe that the only way to properly disinfect a germy home is with harsh bleach and cleansers, but these chemicals accumulate over time and their persistent residues can affect everything from your mood to your fertility.
Now that spring has officially sprung and so many of us are in cleaning mode, it's so important to take stock of our go-to products and evaluate their potential impact on our overall health.
Why going "green" isn't always the answer
I encourage all women to take a closer look in their cabinets and do a clean sweep of all the potential health stressors. But before you make the change over to safer cleaning supplies, it's important to understand that a "green" label doesn't necessarily guarantee a safe clean. Certain words like "natural" and "eco-friendly" are largely unregulated, and cleaning companies don't need to disclose all the ingredients in their products.
How to stock your home with hormone-friendly cleaning products
There are plenty of amazing, truly hormone-healthy products out there—you just have to know how to find them.
Here are the swaps I've personally made in my home that I encourage you to consider as well. Making these simple switches, along with others that I discuss in my book WomanCode, will go a long way in protecting your hormonal health and ensuring your endocrine system is in optimal shape:
To clean the kitchen and bathroom:
Seventh Generation cleaning products are the real deal, and I use them on everything from the toilet to the kitchen sink. With ingredients like concentrated thyme oil, they smell great too.
Skip the traditional box detergents and try an orange oil cleanser instead. It's a safe, powerful multitasker that you can use to clean dishes, mirrors, and toilet bowls, too.
You don't need a brand-name pen to get out stubborn stains—hydrogen peroxide will do the trick. Just pour some on the trouble spot and wash as you normally would.
Cleaners like Ajax and Comet are loaded with harsh chemicals, so I try to use baking soda instead. I'll add one cup to my laundry loads to keep my clothes crisp and clean, and I'll even use it to disinfect floors. Mixing baking soda with water kills bacteria because it neutralizes the acid they produce, and it's completely nontoxic.
Rather than turning to packaged wet-mop products, invest in a steam vacuum. Add that baking soda and water mixture to clean wood and tile floors, rugs, and carpets with hot steam instead of toxic chemicals.
Drugstores and supermarkets have shelves stocked with dozens of artificially scented air fresheners, but nothing beats an electronic essential oil diffuser. Essential oils are known to provide an array of health benefits you won't find in over-the-counter fake fragrances, and you can customize your own healing scent to permeate the whole house.