What Holistic Goddess Shiva Rose Eats In A Day To Get Gorgeous, Glowing Skin
Founder of The Local Rose
By Shiva Rose
Founder of The Local Rose
Shiva Rose is an actress, writer, activist, and blogger for her website The Local Rose. She has her bachelor's in world arts from the University of California, Los Angeles, and lives near the Santa Monica mountains with her two daughters.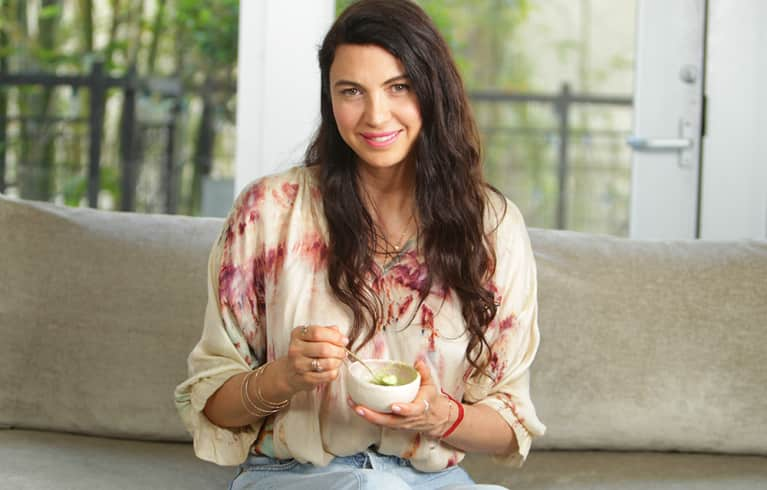 As the face behind the holistic-minded lifestyle site The Local Rose, an eponymous line of natural skin care, and a swoon-worthy Instagram feed packed with organic produce and crystals, Shiva Rose pretty much embodies our ideal of beautiful, healthy living. That's why we're thrilled to team up with her for a new series this week covering all you need to know to get gorgeous skin. If you're inspired to learn more, check out her new course, How to Get Glowing Skin Naturally: Ayurvedic DIY Rituals and Recipes for Luminous Beauty.
I try to wake up early enough so I can incorporate my morning rituals first thing in the day. After my rituals of Kundalini yoga and a short meditation, I feed all my animals and then get my 10-year-old daughter ready for school. I try to eat with her in the morning, and I will usually prepare something the night before.
Before breakfast, depending on what my system needs, I'll drink a cup of either Living tea or hot water with lemon. The hot lemon water is an Ayurvedic treatment to detoxify the body and help it cleanse, while the Living tea is unprocessed tea from ancient trees that you can meditate with. Then it's on to breakfast, which is vital for establishing a good mood throughout the day. In Ayurvedic practices, skipping that morning meal can aggravate all the doshas. But having fruit—especially when it's cooked or stewed—is considered to be like gold for the body. So even if you're super busy, it'll be a huge benefit to have a smoothie or some fruit in the morning.
Personally, I am Vata dominant, so I like to balance my dosha by adding more nourishing, stabilizing protein in the morning. Most of the time I'll warm up my pre-soaked organic oats (which I soak in raw milk, nuts, and fruit the night before), then add vanilla powder, cardamom, and cinnamon (because spices are known to balance all the doshas in Ayurveda), a teaspoon of maple syrup, berries, apples or—if it's summer—peaches and apricots.
If I'm in the mood for an extra hearty meal, I'll scramble some eggs from our chickens and serve them with a gluten-free toast with lots of raw butter, as the fats in the butter feed the brain and help keep our blood sugar stable throughout the day. Or I might reach for a hard-boiled egg with half of an avocado, and I'll drizzle olive oil, pepper, and sea salt on both.
But if I'm on the go, then a quick smoothie is my top choice. I'll blend up almond milk, frozen bananas, a spoonful of ghee or coconut oil, maca powder (to enhance hormones), cacao nibs, and any other superfood I have around the house, like goji berries, chia seeds, and hemp seeds.
Lunch can be a bit of a challenge since I'm typically working through normal lunch hours, but I make a point of eating something fortifying because in Ayurveda, lunch is considered the main meal of the day. Ideally, a bowl of soup or daal with some rice or a grain is what works for me. My favorite is a bowl of daal (split mung beans) cooked in ghee and spices like cumin, coriander, turmeric, and ginger—it's so soothing and comforting. Plus, pairing it with quinoa, forbidden rice, or organic basmati is very balancing for all the doshas. Lastly, adding in lightly cooked vegetables like kale, green beans, and peas cooked in coconut oil can make this a complete healthy meal.
More often than not you can find me snacking on nuts that have been pre-soaked in water (soaking them makes it easier on the digestive system). I like to have almonds or walnuts, and I'll usually pair them with a slice of feta cheese and sun-soaked olives. The olives and feta add needed fats for energy, help balance hormones, and feed the skin and hair.
You'll also always find a bowl of organic fruit on my kitchen counter, ready for the taking. Prized options in Ayurveda include mangoes, pears, watermelon, apples, and pomegranates. But it's also wise not to combine certain foods. For example, if I have fruit as a snack, I'll stay away from the cheese and nuts because fruits (unless cooked) should be eaten alone while they ferment in the digestive tract.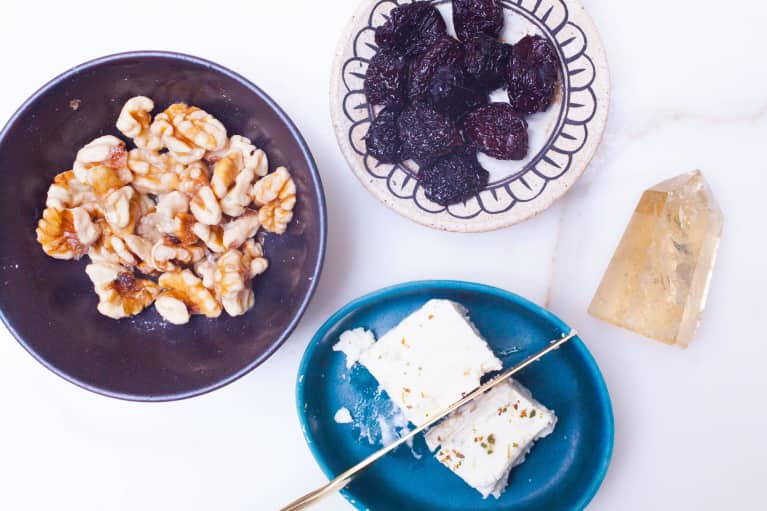 When I need a little afternoon pick-me-up, I'll have some raw chocolate made from cacao beans and a tonic made from certain adaptogens, like ashwagandha and mucuna pruriens. Adaptogens are herbs that adapt to what your body needs; they help the body with stress and strengthening the immune system. Ashwagandha is my favorite since it can both relax and energize the body, help balance hormones, relax the mind, and improve stamina. Mucuna, though, is used to support the mind, raise dopamine levels in the brain, and bolster libido. Regardless of which I use, I'll mix a few tablespoons of it in hot water and drink it like a tea. If the taste is too bitter, though, you can always add almond or coconut milk and honey to temper the flavor (though in Ayurveda, bitter tastes are welcomed since they usually help the liver create bile for better digestion).
Depending on the season, dinnertime is usually when I will have some sort of soup or stew, or I'll roast market vegetables in coconut oil with some sort of bean or legume. If the weather is warmer though, I might make a salad using organic vegetables, like carrots, cabbage, and tomatoes. I'll dress it with a simple mix of virgin olive oil, apple cider vinegar, a few drops of Bragg's amino acids, lemon, and sea salt. And if I need to tame my sweet tooth for dessert, I love to have some raw cream with berries.