Does A 1-Minute Workout Really Work?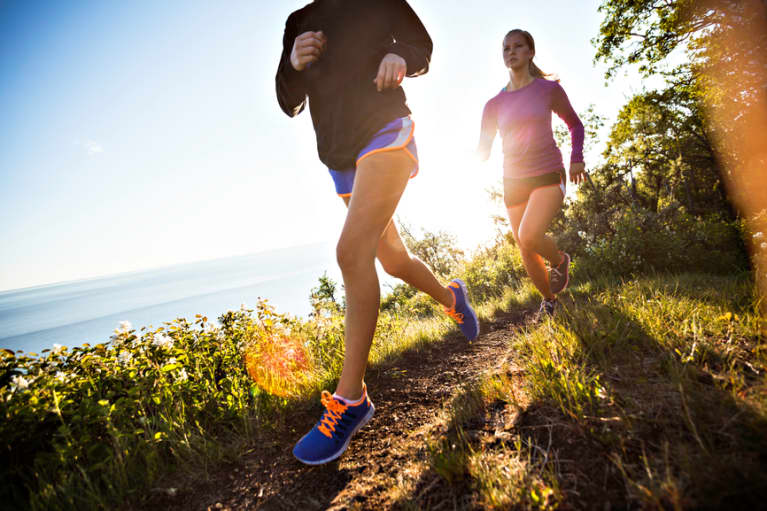 According to a recently released 12-week study from Ontario's McMaster University, one total minute of strenuous exercise (within a 10-minute workout that otherwise consists of slow movement) offers nearly identical health benefits to 45 minutes of moderate effort. The rewards of that minute include improved endurance, insulin sensitivity, muscular structure, and aerobic fitness.
When the New York Times released the news, it spread across the Internet at sprint speed. One minute! One mere minuscule minute? Might one minute of sweaty panting a day—or, even, just a few days a week—now count as a sufficient cardio routine?
It's no wonder the data is alluring: We're busy. You're busy. I'm busy. The parents performing juggling acts that contend with those of circus performers, the students tackling textbook stacks taller than their heads, the working professionals rising at dawn and still sending hurried emails at 10 p.m.—America, at large, has more than enough on its plate and never enough time to scarf it down. We all seem to have far too few empty blocks on our iCals, and it's hard enough to prioritize tossing spinach in the salad spinner, let alone making it to spin class.
A more moderate but prolonged exercise session is a choice—to prioritize well-being just as much as work and to honor health just as much as hustle.
To suit our busy schedules, our culture likes a quick fix: a productivity hack, a three-day juice cleanse to jump-start weight loss, an Uber cab called to the front door with a few touchscreen taps. Whatever hastens the daily hustle, whatever speeds and simplifies the legwork—we're sold. We want the best possible result with the least possible effort. We crave prime productivity with minimal responsibility.
And sometimes, when it comes to wellness choices, the shortcuts are a good thing. The easier it is to make the most healthful choice, the more likely we are to make it, and our bodies fare better for it. When the hustle is hard enough to handle on its own, it's nice to hear that we can still squeeze in a speedy workout that might be just as valuable as a more laborious routine.
But something about a 10-minute workout with one minute of effort seems to disregard the most precious payoffs of exercise. Sure, that one minute is beneficial on a cellular scale—but what about the symbolic?
The glorious gift of any physical activity, on a soul-strengthening level, doesn't come from the quick fix but the long haul. The bigger-than-the-body benefit is the way that exercise fortifies our sense of self.
A longer workout means realizing with pride that yesterday's 17 push-ups have become today's 18. It means biking all the way across the bridge, then back again, with the sweetness of the sunset to counteract your achy quads. It means embracing the process—the sweat, the soreness, the resistance—in all of its glory. It means gritting teeth and choosing to keep going, again and again and again.
It's not just that extended effort that's significant, either. A more moderate but prolonged exercise session is a decision to make time for what's good for us—a choice to prioritize well-being just as much as work and to honor health just as much as hustle.
Sometimes, that means shutting off Netflix and heading to bed a little sooner so we can wake up early for a run. Or cutting off the mindless social media scanning and spending a half-hour at the gym instead. It means skipping a happy hour here and there so we can climb the Stairmaster rather than the social ladder. It means insisting on leaving the office on time to make it to yoga or Pilates and letting those last few emails wait until tomorrow. Or maybe it means a 45-minute walk or jog home as opposed to a 10-minute subway ride.
These choices might not be the most productive or perhaps the most practical, but they're the ones that remind us to check in with ourselves at the metaphorical core rather than merely the muscular one. They're the ones that teach us to savor the gains of persistent and persevering effort instead of perpetually grabbing for whatever quick fix comes our way.
And yes—this article began as a brainstorm on a long, slow run. The sun was setting, and there was a delicious breeze. It was worth the time.