I'm A Nutritionist. Here's How I Indulge In Almost Any Food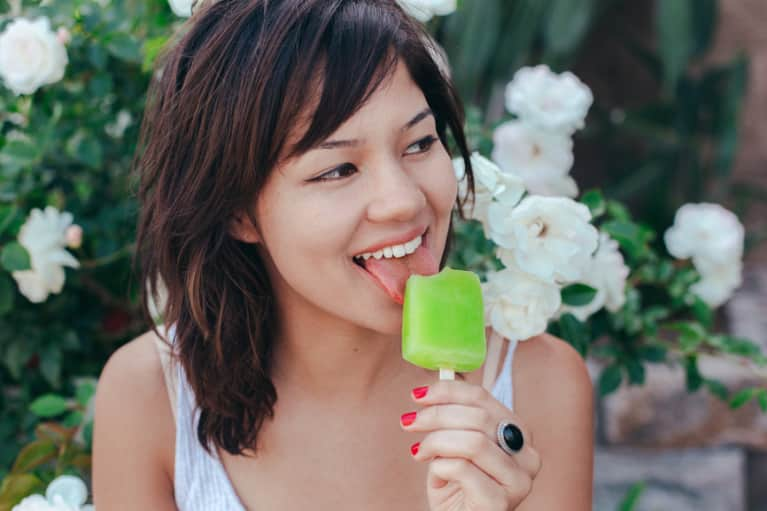 I despise the phrase "everything in moderation." Moderation makes people overweight, gives them license to eat things they shouldn't eat, and becomes a slippery slope to overeating, setting a dismal stage for hunger, cravings, and weight-loss resistance.
Besides, for a few ingredients like high-fructose corn syrup and trans fat, the only healthy amount becomes zero. That said, when you've addressed food intolerances and shifted to low-sugar-impact eating, you can occasionally indulge. Curmudgeonly abstaining carries no part in any of my plans.
Whether you're craving a few bites of your boyfriend's birthday cake, your sister-in-law's famous cornbread stuffing, or that fab dessert your date can't stop raving about, enjoying these delights smartly becomes a key component in my programs once you've mastered the basics.
Responsibility becomes the key word here. You've worked hard at eating healthy, and you don't want to undo that work by going facedown in a massive slab of tiramisu.
My solution involves following the three-bite rule. Once or twice a week, have three bites of something indulgent.
When I say three bites, I don't mean truck-driver bites. Three polite bites mean what you would eat on live TV, not during a midnight fridge bender.
While I don't have a sweet tooth, occasionally I'll enjoy three bites of some gooey chocolate concoction my dining companions insist tastes off-the-charts amazing.
I employ these seven rules so those three bites don't derail my plan:
1. Make sure you really want it.
Come on, do you really want that stale baguette or fat-free pound cake, or do you just want to eat it because it's there? Save your three bites for something fabulous!
Never go it alone or it becomes far too easy to overeat because you don't want to waste it. Share this to-die-for concoction with others at the table.
3. If you do three-bite solo…
Set aside those three bites and put away the rest. If the remainder becomes a siren call, destroy it or pawn off the rest.
Don't just throw it in the trash. We all saw what happened on Seinfeld: You can still dig it out!
Give yourself permission to enjoy this deliciousness, but don't subsequently beat yourself up. Get right back on track after savoring those three bites.
Enjoy but then step away. Have a mint, brush your teeth, do some burst training, or take a long walk. Distract yourself from reaching for that fourth bite.
6. Be mindful about food intolerances.
Even a tiny bite of gluten, dairy, and other reactive ingredients can create weight-loss resistance and miserable symptoms. Know your indulgence's ingredients and any potential problems.
Despite their stalwart efforts, for a few people three bites become two pieces. Willpower has nothing to do with it. You might not be at that place where you can even responsibly indulge.
I realize not everyone despises "everything in moderation" as I do, and you probably have your own tactics to indulge responsibly without overdoing it. Share yours on Facebook: https://www.facebook.com/jjvirginfanclub/.