14 Things You Need To Know Today (May 13)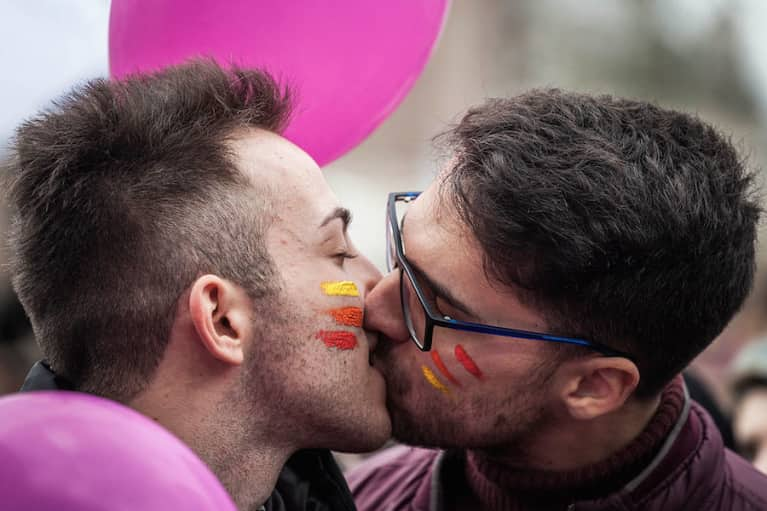 1. Italy has joined the rest of Western Europe in legalizing gay civil unions.
The new legislation battled strong opposition from the Catholic Church and "grants same-sex couples many of the same rights as married couples—the possibility to have the same last name, inheritance, hospital visitation and medical decision-making rights." Unfortunately, the measures passed do not include the protection of same-sex marriage. But we're not giving up just yet! (NPR)
2. Your athleisure is about to get a whole lot greener.
Nike's latest sustainability report speaks to the larger trend of athletic companies making sweeping changes to reduce their environmental impact. (mindbodygreen)
3. Target is standing firmly behind its trans-friendly bathroom policy.
Following last month's announcement that transgender shoppers will be able to choose whichever bathroom they feel most comfortable in, the retailer has received boycott threats from angry customers (ugh). But CEO Brian Cornell isn't letting the opposition faze him. (Huff Post)
4. For serious relaxation, hit the sauna at...Burger King?
A Finland location of the fast-food chain is apparently getting into the spa business with an in-house sauna complete with Burger King–branded robes. Now it seems you can sweat out toxins, Whopper in hand. (Euro Monitor)
5. Walgreens is improving access to mental health care.
By partnering with Mental Health America, the convenience store/pharmacy chain has created an online screening tool for people potentially suffering mental health issues. While their resources aren't there yet, more awareness surrounding mental health issues is always a step in the right direction. (The Verge)
6. The new performance enhancer in sports? Nutrition.
Consider fruits and veggies the latest and greatest performance enhancer. Many high schools are now turning to registered dietitians to teach their student athletes about how the right nutrition can boost their performance and help them recover faster. (NYT)
7. Get excited, New Yorkers. Online beauty mecca Credo is coming to town.
The e-commerce retailer will now sell its clean skin care, body care, and cosmetic products at its new location—the first one outside its flagship store in San Francisco. (Racked)
8. Smoking weed while pregnant ups the risk of preterm birth.
In a new study of more than 5,500 expectant women, researchers found a direct link between smoking marijuana during pregnancy and giving birth early. (ScienceDaily)
9. We wish we were invited to this vegan Indian wedding.
A Mumbai couple set out to throw a wedding that was both eco-friendly and animal product–free. They didn't have flowers, silk, leather, or dairy products and tried to use as little plastic as possible, all while creating a beautiful and colorful celebration. The guests were even gifted organic toiletries. (Mashable)
10. Anti-abortion laws don't actually reduce abortions.
A major new report found that the abortion rate across developed countries is at a historic low—thanks to better access to birth control. Still, the rate is unchanged in developing nations, and in countries where the procedure is illegal or highly restricted, the rate remains high: 37 abortions per 1,000 women in those areas, compared to just 34 per 1,000 in countries where it's legal. (TIME)
11. Could this be the best way to break a bad habit?
Contrary to conventional wisdom, the secret to successfully implementing better habits and dropping old ones may not have anything to do with isolating one behavior at a time. New research suggests that changing multiple habits at a time allows one positive result to amplify another, thereby magnifying the benefits received from each. Sounds efficient to us. (NYT)
12. Maryland just passed a historical birth control bill.
The new law, which goes into effect in January 2018, will make contraception cheaper for both men and women. Insurance companies will have to completely cover the morning-after pill and other emergency contraceptives, and there will be no out-of-pocket costs for men who have vasectomies. Maryland is the first state in the nation to require both. (Baltimore Sun)
13. NBA star Ray Allen gets into the healthy fast-food game in Miami.
The basketball player and his wife Shannon are opening their new restaurant, Grown, in response to the lack of nutritious and easy dining options for them and their son. The menu includes mix-and-match plates, sandwiches, and salads that are based around lean proteins, vegetables, and grains. If healthy is the new trend in fast food, we're all about it. (Eater)
14. Nike's winning the paid family leave game.
Know what Nike's policy on paid family leave is? "Just do it." Full-time employees at the company—including fathers, adoptive parents, and employees who need to care for sick family members—are now eligible to receive eight weeks of paid leave, and birth mothers will receive a minimum of 14 weeks off and can have more with medical recommendation. When do we start? (mindbodygreen)