I'm A Nutritionist. Here Are My Favorite Easy, Energy-Boosting Breakfasts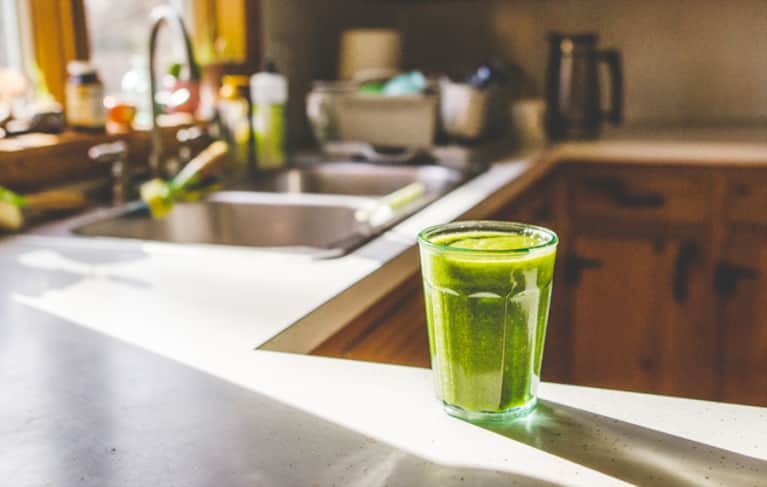 I have a really big thing for breakfast. Not just a, "you should eat breakfast because it's good for you" thing, but rather a "you should eat breakfast because it tastes awesome and it makes you feel awesome."
If you tell me you don't like breakfast I'll likely chat with you until we find foods you do like and can't wait to eat for breakfast. If you tell me you just aren't hungry in the morning I'll probably start chatting with you about how your appetite hormones, ghrelin and leptin, work in the body. And if you tell me you just don't have time for breakfast, I'll sit with you until we figure out foods you can literally grab and eat on your morning commute.
I adore breakfast.
Not only is it my favorite meal because I love eggs and pancakes and granola and coffee, it's my favorite meal because I think it has the most profound impact on how we feel throughout the day.
Breakfast increases your energy by restoring depleted liver glycogen stores from your overnight fast, suppresses your counter regulatory stress hormones so you feel more calm when you start your day, programs your body to burn energy all day instead of store energy, and eating breakfast increases cognitive function so you feel on top of it instead of foggy minded. Breakfast is KING.
I get it, we're all busy. I live in Manhattan as a full time nurse practitioner student, run a private nutrition practice, and work part-time as a registered nurse. Leisurely breakfasts during the week rarely happen. So, to make breakfast feasible even on the busiest of mornings, here are five ways I start my day.
Perfect for when you don't have an appetite in the morning and can't think about chewing food. Or if you're too busy to make or even eat something in the morning. I like to make smoothies the night before and stick them in the fridge so in the morning I can grab and go!
My go-to blend is 1-2 cups of almond milk, 1 scoop plant-based protein powder, 1 cup frozen spinach, 1 frozen banana, and 2 tablespoons of peanut or almond butter.
This is my favorite make-ahead breakfast when I have an early morning at the hospital or an early class. Make ahead the night before and you have instant breakfast on busy mornings.
My favorite mix is ½ cup rolled oats, ½ cup almond milk, ¼ cup full fat Greek yogurt, 1 teaspoon chia seeds, vanilla, and a pinch of sea salt. Mix it up, stick it in the fridge and then in the morning top with fruit and nuts or nut butter and you have a healthy breakfast full of wholesome carbs, ample protein, and satiating fats!
When I have more time in the morning, I always make pancakes. It's by far my favorite breakfast and easy to throw together for one person. These aren't your diner pancakes, but rather a hearty pancake that will keep you satiated and energized all morning!
This is my favorite recipe that I cut in half for a single serving. Top with sliced banana, almond butter, and a few chocolate chips or stir in blueberries and almonds—whatever you're in the mood for!
If I'm headed to the gym or to brunch and need something to hold me over, granola bars made with simple, whole ingredients (like KIND bars) quiet my hunger without ruining my appetite for a meal later.
Or if I simply haven't thought about breakfast and need something quick, I pair these with a banana and peanut butter for a grab-and-go breakfast!
When I'm not in the mood for sweet breakfast foods, avocado toast is the way to go. It's hearty, so satisfying, and full of protein and healthy fats to fill me up. I also eat this for lunch and dinner all the time, since it takes 5 minutes to make.
Toast up some sprouted grain bread, top with mashed avocado on each slice, fry up two eggs in some coconut oil and add slice tomato. Sprinkle on sea salt and cracked pepper and enjoy!