How To Get Past The Small Talk + Cultivate Meaningful Conversations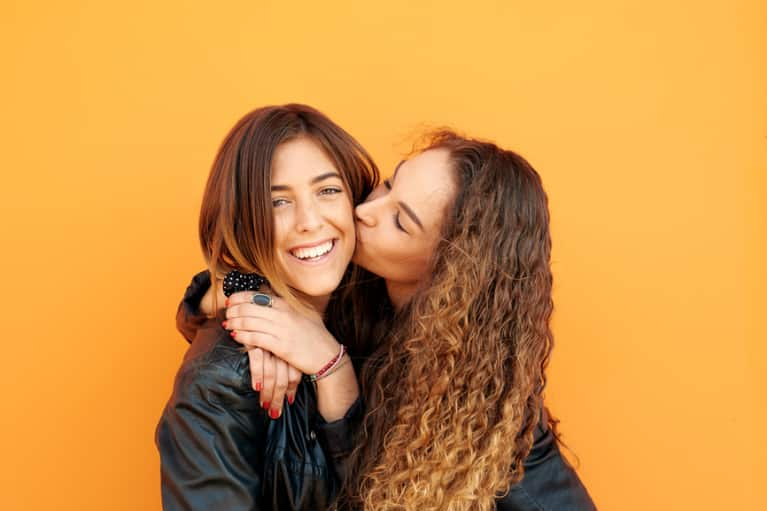 Holidays like Mother's Day can have the effect of making us appreciate our loved ones even more than we already do but also shed light on the ways some of our most important relationships fall short. Whether you're just hoping to deepen your connection with a loved one or you're trying to remedy a strained relationship, I have a few insights to share. They've helped me create more satisfying relationships time and time again. It all starts with having more meaningful conversations.
Let's take moms as an example. Having worked in many parent/child dynamics, I know that most of us admire our mothers but dislike a few things about them, too. There's no such thing as a perfect mom. Even people who had amazing childhoods don't have perfect parents.
I believed for so many years that my mom was negative and critical. I would get on the phone with her to connect, and throughout the call I wouldn't say much. I'd listen and criticize her (often in my head and sometimes out loud) for being who she was.
I would say things like, "Can't you just be more positive?" "Why do you have to respond like that?" "Mom, you're so negative, ugh!"
I began to understand that my inability to accept my mom as she was held me back from actually connecting with her, which I deeply wanted. I knew I had to let go of trying to be right to truly connect with her.
That wasn't an easy thing to admit, but it was necessary. All the anger, frustration, and annoyance I was holding on to was only hurting me.
Now, I'm happy to admit that I was completely wrong about how I saw my mom. I now see the beauty in all of who she is. Anytime I find myself getting frustrated, I know it has nothing to do with her.
What I interpreted as negativity was just my mom's ability to see the shadow side of the world. She sees the emotional truths that most people refuse to acknowledge.
When I stopped judging my mom for who I thought she was and started to listen, her perspective taught me a lot.
I began to feel connected to my mom on levels I didn't know existed. I felt like I belonged to her and that she understood me, and for the first time, I also understood her.
I've helped hundreds of people learn to have more meaningful conversations, and over time, more fulfilling connections, through these steps:
1. Admit you know very little.
We know very little about someone's life journey. It's important to admit that we don't actually know all the intricate experiences, feelings, and perceptions that made that person who they are today.
This allows us to bypass the ego that says we know someone after having met them only a couple of minutes before. Instead, we can access our curiosity.
Have you seen children before they hit their teens? They are pure curiosity. They want to touch, feel, and see everything. They ask "why?" a million times and take in information like a sponge. Enter this state of childlike wonderment and curiosity.
Get creative, and start asking questions to help you understand the person better.
Here are some questions to help you get going:
"What are some stories of hardship in your life?"
"What are some stories of the most joyful moments in your life?"
"Where did your belief of ____ come from?"
"What have been some of the biggest challenges in your life?"
"What have been some of your greatest achievements?"
"What do you love about yourself?"
"If you could wave a magic wand, what would you want for the world, and why?"
When you get the answers to these questions, you can keep digging further. Just keep asking why.
4. Listen with your heart.
I think you get this one. When someone answers these questions, listen with all your heart.
5. Believe and take it in.
You might hear something different from this person during this process than what you've heard from them before. You might be tempted to fixate on that and feel hesitant to believe what they're saying to you in this moment. Believe them anyway.
Every story has different sides—especially parents who struggle to know how much to tell their children, and when. Accept their version of this story as they share it, and look for ways to see their love, their appreciation, and humanity.
I hope this inspires you to have a meaningful conversation with someone you love.
Related reads:
With this post, I'm honoring my own mother. Without her continuous love, care, and support for me, I wouldn't be the human being that I am today. I'm extremely grateful for you, Mom. I also want to honor my grandmother for creating my mother, and much more. How do you connect with your mom or those closest to you? I would love to hear your thoughts and feelings.
Kavita is offering a gift for mbg readers: Take the 4 Love Types Quiz so you can better understand the deeper, subconscious reasons that we block ourselves from having the kind of relationships we truly deserve.