How I Meditate: Spirituality Teacher Suzanne Heyn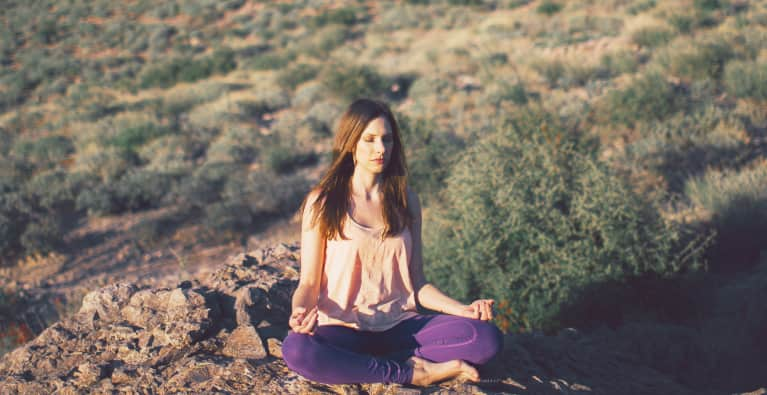 ​Suzanne Heyn is a spirituality and yoga teacher and creator of online courses. She teaches people how to transform wounds into wisdom by loving who they are. This is her daily meditation routine.
I have a dedicated yoga and meditation room, which is great because it's the one room in the house my husband (and dog!) know is a sacred space.
I meditate each morning and sometimes at night before bed, which helps me close all the mental files and sleep more soundly. Morning meditation sets the tone for the entire day and signals to my conscious mind that my spiritual needs come first.
What type of meditation do you practice?
I typically practice my signature technique, the Feeling Awareness Meditation. It's a process of focusing my awareness on my heart center and tuning into whatever emotions or energy is present, entering any areas of density or heaviness as if they were a fine mist.
It's commonly said you've got to feel it to heal it, and the Feeling Awareness Meditation is a powerful way of feeling objectively, without the story that keeps so many people trapped in pain. It's also a powerful way of heightening your intuition and amplifying the whispers of your heart, making them easier to hear.
Just a pillow to prop up my hips, and sometimes a shawl if it's chilly. I use the free Meditation Timer app with interval chimes.
Meditation has changed my life. Without it, I'm reactive, uncertain, ungrateful, and heavy-feeling. It's become a daily essential, and I definitely notice the difference if even a day goes by without practice.
It's also an awesome way to download divine guidance about my life's most pressing problems. I used to be really indecisive, and meditation has allowed me to tune into my heart and make decisions almost as soon as I ask myself a question.
What is your advice for people who can't sit still?
I would urge them to sit for even a minute. That's how long I sat when I first started, and today I'm up to around 20 minutes. Anyone can sit still for a minute, even if you're looking at your timer the whole time.
That said, there are also active meditations—walking, art, music, anything that allows you to connect with your breath and heart while quieting the mind is meditation.
And what if they still can't get started?
Take baby steps and keep showing up for yourself. It took me several years of thinking about meditation before I actually began. Meditation is designed to quiet inner turmoil, so if the practice causes significant inner turmoil, it defeats the purpose.
Do what you can, keep opening your mind, changing your story from "one who can't," to "one who isn't ready yet," and see what unfolds in time. Our spiritual journeys have taken place over lifetimes, and the universal force of unconditional love isn't judging you for not meditating.
So release self-judgment, open up your mind and continue taking baby steps. If you want to meditate that badly, it will happen. Give yourself time. Undertake the journey with love, not force.
If you'd like to download a 10-minute guided version of the Feeling Awareness Meditation, click here to have it emailed to you.