The 4 Ingredients You Should Always Avoid In Your Beauty Products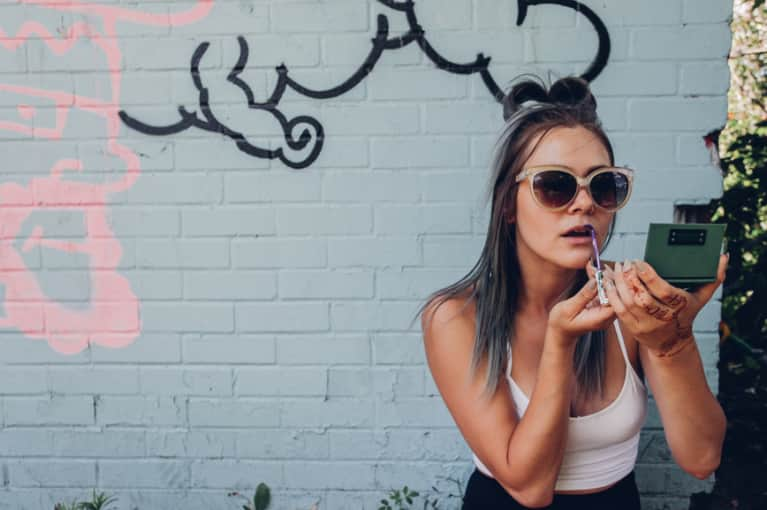 You work hard to eat well, exercise regularly, and maybe even meditate. But despite your best efforts, you could be exposing yourself to a litany of chemicals in the short period of time between when you wake up and when you walk out the door.
The culprit? The toxins that lurk in your beauty products. From cleansers and shampoos to lipsticks and lotions, they're all potentially threatening our health every single day as we primp and prep. And no, I'm not being overdramatic: Research by the Environmental Working Group shows that the average woman uses 12 products with 168 chemical ingredients daily, and men's products contain about 85 ingredients. All together, 12.2 million adults are exposed to ingredients that are considered known carcinogens every day because of their personal care products.
And while it's a subject that's easy to ignore, we really shouldn't: The main issue with toxins lurking in our beauty care products is how often we use them, thus exposing ourselves to harmful chemicals again and again. If we didn't use them quite so often—just think of how many you use in a single primping session—it wouldn't be that big a deal as some of the common ingredients in lotions and potions are considered safe in small amounts. But our exposure is never small, and eventually that adds up. A lot.
But don't freak out just yet—all you have to do is clean up your bathroom cupboard. These are the four biggest offenders to look out for on the ingredients label:
Parabens are preservatives that are used in cosmetics, lotions, deodorants, shampoos, baby products, and more. They've been connected to a range of scary health effects, the most worrying of which is the increasing rate of breast cancer, as parabens have been widely found in human breast tissue. Given that many of us expose ourselves simply by slathering stuff on our skin—which, don't forget, is our largest organ—we're giving these chemicals direct and immediate access to our tissues. Not good.
This group of chemicals helps make products soft and more flexible, so they're often used in cosmetics, plastics, children's toys, and furniture. They're even in what we eat, and one scientific review noted that concentrations were particularly high in meats, oils, fats and dairy (the latter being a particular concern for adolescents, whose dairy consumption leaves them at risk for overexposure). Being subjected to these chemicals can even affect fertility down the road, and affect development in adult males by reducing sperm motility and damaging the DNA of the sperm itself. Prenatal exposure is also linked to depression, aggression, and lack of attention and control, not to mention you're at an increased risk for asthma, eczema, obesity, diabetes, endometriosis, and breast cancer. Those are some mighty serious conditions, so perhaps it's better to leave those phthalate-containing products on the shelf.
Sodium Laureth (or Lauryl) Sulfate (SLS), Ammonium Lauryl Sulfate (ALS)
These guys often have tricky marketing claims as being derived from coconut to make them seem more safe and natural, but don't be fooled—these "healthwashed" chemicals actually do the job of making your shampoo and various cleaners bubble and foam, and they can cause skin irritation or be contaminated with 1,4-dioxane and ethylene oxide, a possible carcinogen. In other words, if it pops and fizzles when you're putting it in your hair, put the bottle down. Now.
Petroleum is derived from crude oil and used in cosmetics, body creams, and baby oil. And since petroleum jelly and mineral oil act as a sealant, they block our skin from properly eliminating toxins. (Not to mention they're linked to endocrine disruption, skin irritations, allergies, and cancer.) You can't forget about the environmental effects of petroleum, either, what with all the pollutants and greenhouse gases that are released into the air whenever it's produced. Makes you want to take a deep breath of fresh air, doesn't it? (Not.)