Exclusive Interview With The President Of 365 By Whole Foods: All The Questions We Were Dying To Ask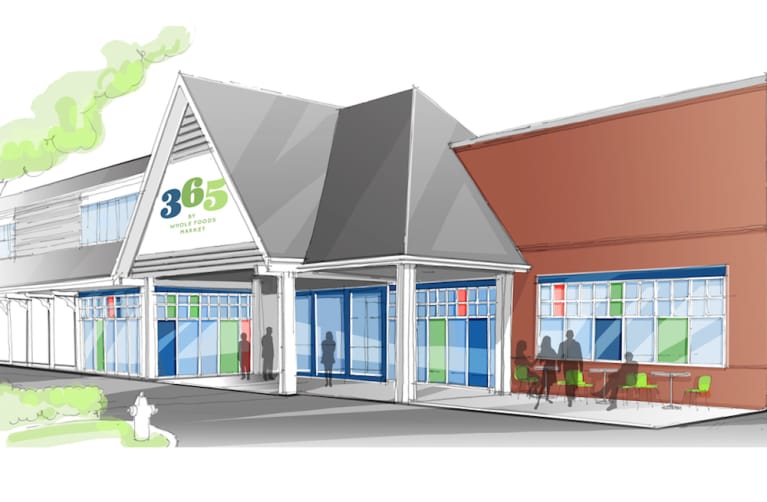 Whole Foods Market wasn't kidding last May when it promised to bring millennials a "hip, cool," lower-cost grocery chain. Aside from offering more affordable natural and organic products with the same quality standards, the spinoff stores will include other businesses, such as record shops and tattoo parlors inside the stores and a more hangout-friendly layout.
The first-ever 365 by Whole Foods grocery store will debut in the Silver Lake neighborhood of Los Angeles on May 25, featuring vendors by CHLOE., Allegro Coffee Company, and teaBOT. A second store opens July 14 in Lake Oswego, Ore.; a third is slated to hit Bellevue, Wash., later this fall; and as many as 10 additional stores will follow in 2017.
When we asked a bunch of millennials whether they were excited about the concept of this chain, the overwhelming response was yes, but many people (including me) still had some questions. If prices are going to be cheaper, how can quality not be compromised? How are these vendors chosen? How are locations being chosen?
So, we turned to the president of 365 by Whole Foods Market, Jeff Turnas, to give us a clearer picture of what the stores will look like and what their mission is.
WF is notorious for their long lines. How is 365 addressing this?
We have several different checkout configurations to move people through as fast as we can. 365 by WFM design will focus on quick checkout with express-on-demand registers in the center of the store. Cash, credit cards, debit cards, and Apple Pay are all accepted payment methods.
How many stores do you anticipate rolling out across the U.S.?
Aside from Silver Lake, Oswego, and Bellevue, additional locations have been announced in Cedar Park, Texas; Cincinnati, Ohio; Houston, Texas; Evergreen Park, Ill.; Gainesville, Fla.; and Concord, Claremont, Los Alamitos, San Francisco, and Santa Monica, Calif.
Plans for six additional locations were announced during our Q2 earnings in Decatur, Ga.; North Hollywood and Long Beach, Calif., with a strategic decision to renegotiate Whole Foods Market leases in development in Akron, Ohio; Toledo, Ohio; and Bloomington, Ind.
Up to 10 additional stores are expected to open by 2017. This makes for a total of 19 planned locations announced.
Will it be mostly prepared foods or grocery items?
There will be a thoughtful balance between our prepared foods and grocery items. We'll have full hot and cold bars. In addition, our prepared foods selection will be complemented by food offered through our Friends of 365 program partners at each store.
What's the deal with these "gathering places"?
I see the 365 by Whole Foods Market experience as one where people come to hang out. At 365 by Whole Foods Market, you'll be able to enjoy a meal or a drink before or after you shop. We view it as a holistic food destination—a place where you can spend some time.
Can we also buy non-food-related products?
Of course! There'll be a wide selection of home products, supplements, and body care, as well as beauty options. We want to provide our customers with a complete shopping experience while also introducing them to new and interesting products.
Was sustainability a top priority for the design process?
Yes. When we open our doors, we'll aim to become a zero-waste facility and plan to recycle and compost in both front and back of house.
We've selected LED lighting options instead of traditional fluorescent bulbs, which are much more efficient. We've also designed the store to utilize as much natural sunlight as possible that comes through the front façade and skylights.
Stores will also utilize "CO2 Transcritical" refrigeration systems, a natural refrigerant to lower the global warming potential of the store.
We also chose water-efficient fixtures for appropriate areas of the store because California has experienced such water shortages. We'll be exploring other efforts in future 365 by WFM stores like gray water reuse and rain capture wherever feasible.
Are you going to sell "ugly produce" like Whole Foods does?
We are still evaluating the role of ugly produce in our stores. From the start, though, we'll diversify the size of our produce and sell many items by the item rather than the pound to encourage customers to buy exactly what they need and reduce food waste.
How are you keeping costs down without compromising quality?
Every aspect of store design and operations was considered to maximize efficiency. Our consistent store designs will make it easy to replicate, reducing costs and construction time.
We've partnered with a number of brands to offer exclusive products at 365 by Whole Foods Market that meet our high-quality standards. Examples include Green Gold olive oil, specially formulated by the creators of famed New York City restaurant Frankies Spuntino, and Oakland Coffee, developed by the members of the alternative rock group Green Day.
What defines the brands you're partnering with?
We're looking for unique partners that are innovative and forward-thinking. As mentioned, we want to provide our customers with a complete shopping experience while also introducing them to new and interesting products.
There's been a lot of talk about people introducing them to new foods and products that they've never been introduced to before.
365 by Whole Foods Market will offer limited-quantity "Flash Finds" each week. These will be new and interesting products sourced by our product team.
About that tattoo parlor idea ...
Speaking at an event, I used the tattoo parlor as an example of how open-minded we are being in selecting partners for the Friends of 365 program—a partnership between us and like-minded companies who want to set up shop in our stores. There are no current plans for a tattoo parlor.
How are you choosing the locations for your stores?
Initially, 365 stores will open in markets with existing WFM stores to leverage resources and team member expertise. 365 by WFM will continue expansion into new areas where no current Whole Foods Market exists (e.g., Gainesville, Fla.) and in existing markets in both urban and suburban neighborhoods. Smaller stores, efficient operating models, and lower capital investment allows us to open more quickly and enter markets WFM has not been able to serve. The same rigorous real estate approval process for WFM stores applies to 365 by WFM.
Is each store supposed to have a unique identity?
What differentiates each store will be our Friends of 365 partners, art reflective of the community and a small product selection that will be locally sourced for each store such as local beer.
Will people be able to Instacart items from 365?
What does the rewards program look like?
My 365 Rewards is 365 by WFM's loyalty program. The program has several components including a 10 percent discount on select products throughout the store and digital punch cards on frequently purchased items like salads, cold-pressed juices, and rotisserie chicken. Members will also get special offers sent to them that reflect their personal priorities and preferences.
At mbg, we're all dying to check out this store—and hoping that next up is Brooklyn!
This interview has been edited and condensed.