Life At Home With Lindsey Bliss, A Brooklyn Doula & Mom Of 7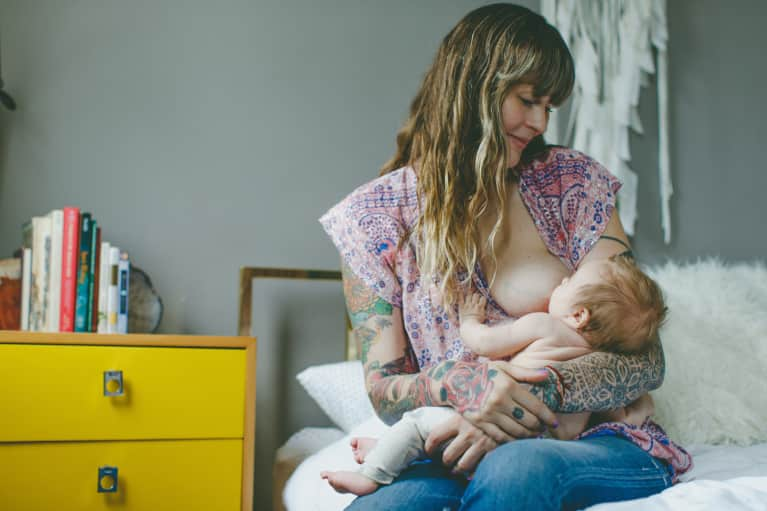 Our editors have independently chosen the products listed on this page. If you purchase something mentioned in this article, we may
earn a small commission
.
In our new Holistic Parenting series, we're taking an intimate look inside the homes of inspiring moms and dads in the wellness world to learn how they're raising happy, healthy kids. This week, Lindsey Bliss, a doula and mom of seven in New York, invites us in.
If there's anyone who lives and breathes holistic parenting and childbirth, it's Lindsey Bliss. She's the co-director of Brooklyn's beloved Carriage House Birth, a doula collective that also provides parenting and childbirth classes, doula training, breastfeeding support—even new mom ceremonies. Lindsey herself is a DONA-certified doula, with over 200 births under her belt.
Perhaps more importantly, she's got plenty of personal experience: She's a mother of seven—including two sets of twins.
So we were thrilled when Lindsey agreed to let us take a behind-the-scenes look into her everyday life as a doula, wife, and mom of many. On a rainy morning, we met up with Lindsey in the cozy, colorful Queens home where she lives with her husband, Dan Cipriani, a Brooklyn restaurateur, and six kids—Mia, 10; twin girls Birdie and Hazel, 7; twin boys Luke and Rocco, 4½; and newborn Olympia, 3 months (Bella, her 20-year-old stepdaughter, is in college and lives nearby in Brooklyn)—and the family's two turtles, cat, and a dog named Piglet.
While the little ones worked on art projects and snacked on almond butter and apples, we chatted with Lindsey about breastfeeding, being a doula, and bringing a mindful approach to parenting in New York City.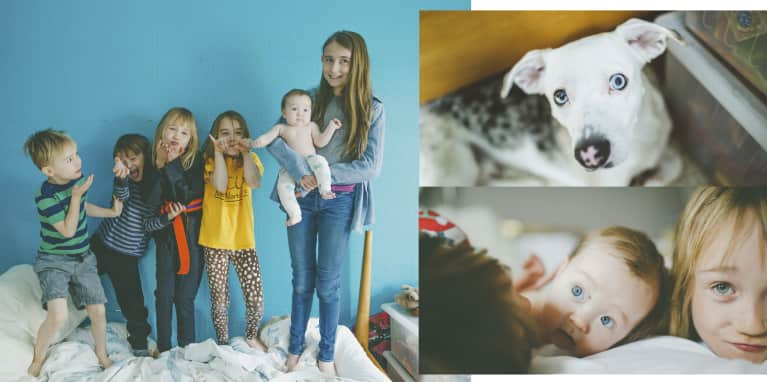 "It's all about embracing chaos," Lindsey says of her parenting style. "Sitting down while nursing doesn't often happen in this house. I'm running around breastfeeding all day! Organized chaos: that's how I parent."
"I mean, we do timeouts—I do believe in setting boundaries. But if they jump on the couch, I'm not going to care so much. The most important thing to me is teaching them about being good people and being kind and respectful. I want my kids to learn that they have to work for things and to think of other people, too."
"The thing with this many kids in the house is that they have to share. And I feel like that's something I'm really going to enforce. I want them to be givers, not takers. That's my parenting philosophy."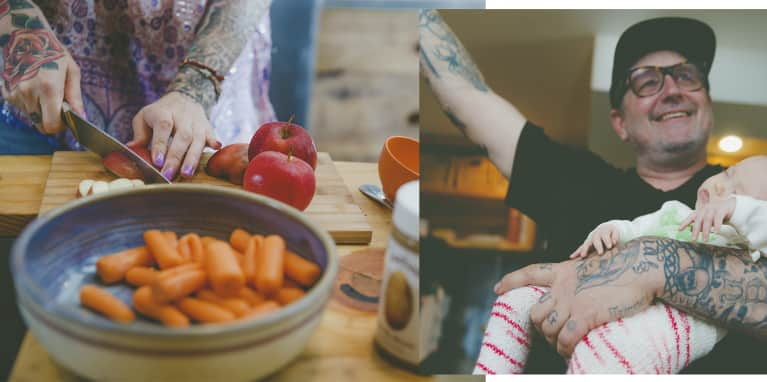 With dad in the restaurant industry—Dan is behind Brooklyn favorites like Urban Rustic, Lodge, and a brand-new sustainable seafood place in Bushwick, Sea Wolf—the kids are used to eating clean. Dinner most nights consists of locally sourced meals toted home from one of the restaurants or a big family-style serving of grilled fish, veggies, and a salad. For snacks, the kids enjoy cutup produce and almond butter, or Lindsey's homemade energy bars with gluten-free oats, chia seeds, and coconut flakes.
But nothing's kept especially strict: "We try to live 80/20. Eighty percent of the time we eat really, really well," Lindsey says. "And then 20 percent of the time, they go to a party and there's pizza and ice cream. Why wouldn't I let them eat that? We don't try to be too restrictive."
And in this house, there's no such thing as picky eaters. Case in point: The kids' all-time favorite meal is sushi, seaweed, and sashimi. "We like to joke that if we ever had a reality cooking show about our family, it'd be called 'Our Kids Eat That Shit,'" Dan says. "They eat everything."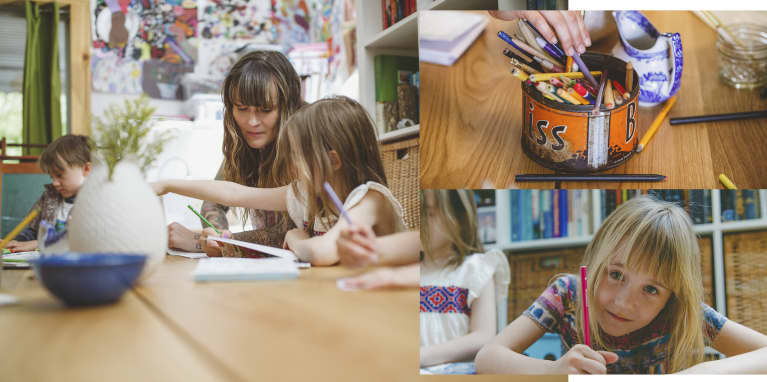 Art projects and vintage chalkboards are strung around the house, and breaking out a coloring book or craft kit is a frequent activity for the little ones. "I don't buy a lot of stuff for them, as far as toys go," Lindsey says. "I'd rather them do projects or get outside and play. They do have some minimal screen time—because that's reality; that's life—but we try to limit it to only on the weekends."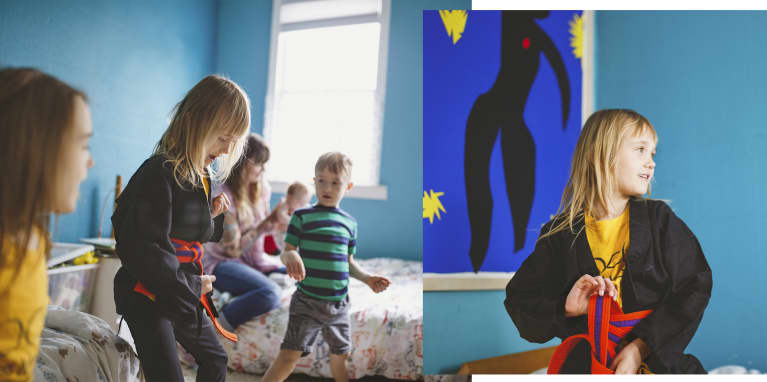 The kids also keep busy outside the home with mixed martial arts classes in Brooklyn (they practice their routines around the house), ride their bikes outside, and attend skateboard camp.
They're also encouraged to appreciate the outdoors. They love running around in the grass outside the family's country home, a rehabbed 38-foot airstream trailer among blueberry bushes in the Catskills, as well as going surfing and fishing with Dad. "We definitely want to keep them connected to nature," he says.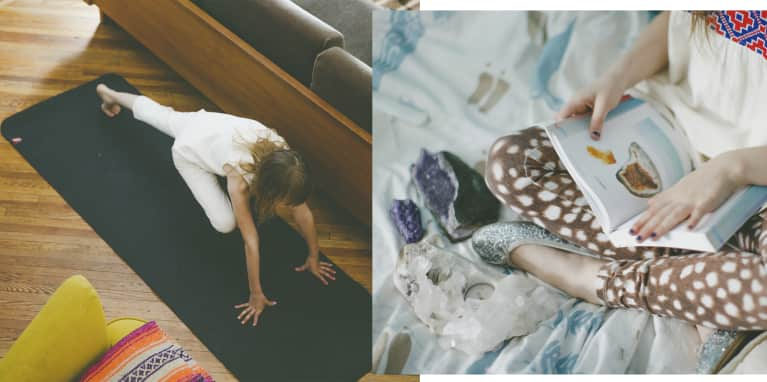 "For the most part, they get along pretty well, but they all have different personalities," Lindsey says. "Some are ragers—Birdie, for example, has given a few accidental bloody noses to her siblings while practicing martial arts moves—while others, like Mia and Hazel, are the type to go off and meditate quietly. Well, at least they say they are meditating!"
Even if all the kids don't have their meditation practice down pat, mindfulness shows up in other ways during playtime. Each kid has their own crystal collection—"they love paging through their books on crystals," Lindsey says. Other times, they'll try out a few yoga poses on a mat on the living room floor.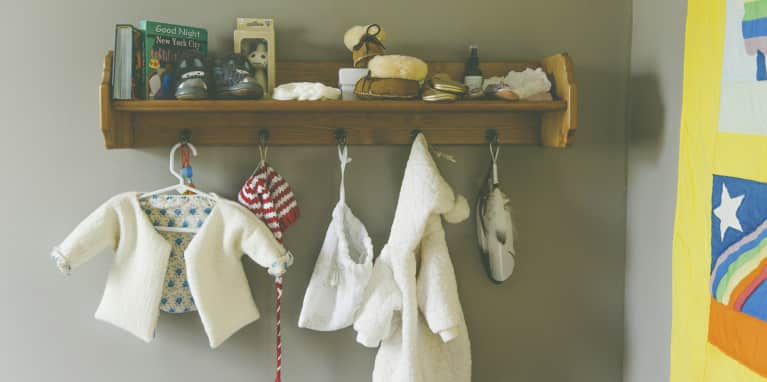 "There are so many kids that when it comes to clothes, we're big fans of thrift stores and hand-me-downs—we have to be!" Lindsey says. "Same goes with toys. A lot of this stuff I've never bought; it's all stuff from other people. When we had our first baby, everything was bought sustainable, wooden, and such. Now, we just take what people are getting rid of! Our big thing is recycling."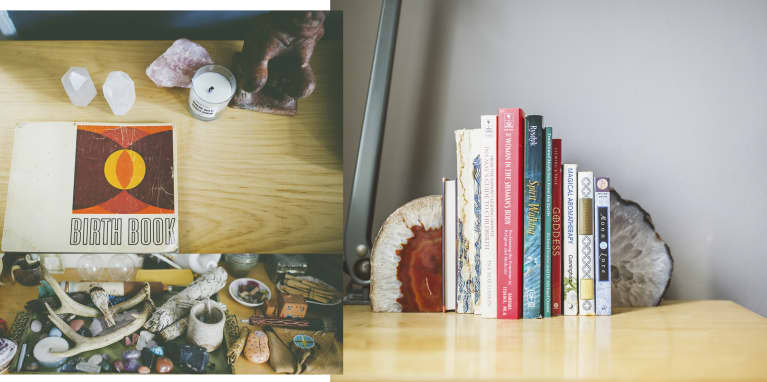 Along with codirecting Carriage House Birth, Lindsey also attends four births per month as a doula (when she's not on maternity leave)—and her home reflects her passion. Birthing books are scattered around the house, along with goddess statues, rose quartz ("it brings in love"), and the "bag of tricks" she brings to births, stocked with aromatherapy, a homeopathic kit, healthy snacks, and massage tools.
"Honestly, getting out of this chaos to attend a birth is a little bit like a vacation for me! I love my kids, but I love to be able to be there for someone's birth. It is the coolest thing in the entire world," Lindsey says. "When I'm at a birth, I feel honored that I'm able to be there. And that what I'm doing is something that's really magical. It's not like I'm making people have better births—I'm there to hold sacred space so they can make decisions for themselves."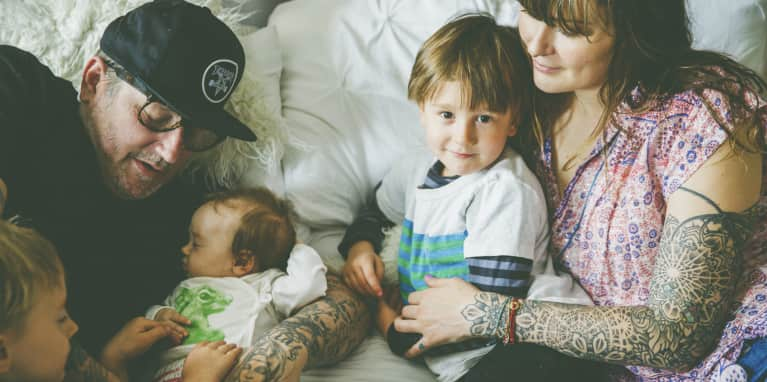 On having an empowered birth:
As for her own births, Lindsey has experienced many different types: the first in a hospital birthing center, the twin girls vaginally in a hospital operating room, and the twin boys and newborn Olympia at home with a certified nurse midwife. (At the most recent home birth, her Carriage House co-director Samantha Huggins served as her doula, while co-director Domino Kirke brought nourishing food. Oh, and Piglet the dog was also in the room.)
"The twin's home birth was actually the best birth I've had. I used to not believe in painless birth and orgasmic birth. Then I had their birth and it wasn't painful," she says. "It was really an amazing experience—probably one of the more empowering things I've ever done."
"I'm not anti-hospital birth at all. I was with an OB practice with the twins until close to 38 weeks. But it's more about the environment for me. I have anxiety, and being home, in my own environment, I have none. So I don't process pain in the same way that I would in a hospital environment. And that's just me. When I'm working with a client, though, it's completely different. Most of the births I go to are in the hospital, and I've been at beautiful hospital births with clients."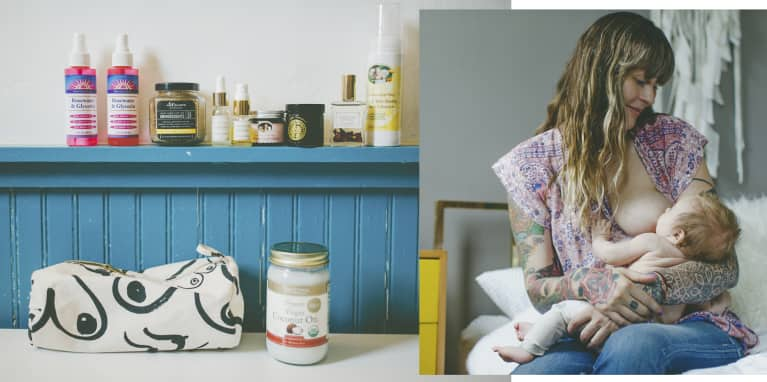 On self-care and holistic practices:
In between attending her client's births, caring for the kids, and shuttling them to school and activities—"it's like herding cats"—there's not a ton of time left over for self-care rituals. Her beauty routine usually happens with a baby in one arm. "I don't wear much makeup, but I do use some natural oils and Heritage Store rosewater. I also love body oil from Mullein and Sparrow, a Brooklyn woman who makes it all herself. And I'm obsessed with a natural deodorant I got at Spirit Weavers in California—there are all these vendors who sell natural products. At night, after I throw all the kids in the bath and they're done, I love having my own bath. I'm big on Epsom salt baths."
Lindsey is also good friends with yogi Tara Stiles and trained at Strala. "I haven't been able to do much yoga lately because I breastfeed so often, but I hope to get back to it soon," she says. "I also enjoy hot yoga since I have arthritis and it helps my joints tremendously. And I put turmeric in all my smoothies and tonics—I'm convinced that turmeric helps to limit the pain. I'll always try the natural route first."
"I also used to have a really regular meditation practice, but since all these babies, my practice has changed," Lindsey adds. "Now, at the end of the day, while the baby's nursing on me and I'm lying in bed, I'll do 10 minutes of meditation for myself. Sometimes I'll fall asleep while doing it. But you take what you can get!"