How To Make Healthier Versions Of Your Favorite Foods (Including Nutella!)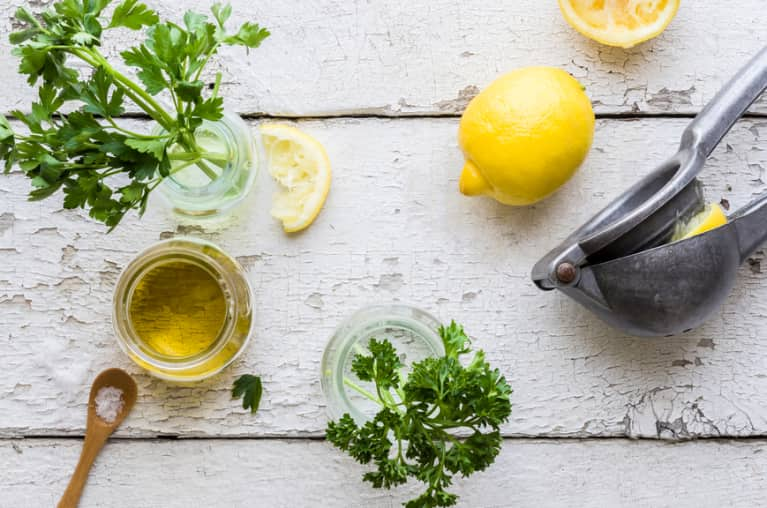 "What planet does she live on?" I said, rolling my eyes. "That would easily take an hour or longer to prepare."
My friend and I sat watching a cooking channel recently where some celebrity chef droned on for about 15 minutes about an "easy" cake recipe that, factoring in ingredients and effort, would require far longer than she suggested. I don't have that kind of time, and I'm guessing neither do you.
But don't ditch the whole idea. I've discovered a few easy-to-make foods that save time and money and avoid crappy ingredients. These five rank among my fave DIY essentials.
Even so-called healthy dressings contain sugar (in sneaky disguises) and unpronounceable additives. You can whip up a basic, simple vinaigrette with just four ingredients: one part vinegar, two to three parts extra-virgin olive oil, a pinch of salt, and pepper.
Dial it up with chopped shallots, minced garlic, Dijon mustard, flavored vinegars, or fresh herbs. Add everything into a small glass jar, vigorously shake, drizzle a couple tablespoons on your salad, and refrigerate the rest for up to a week.
FYI: This doubles as a great marinade for your chicken and fish dishes.
While I love it, almond butter isn't cheap, and many commercial brands contain added sugar. Save money and sugar load by making your own.
Toss slow-roasted or dehydrated nuts into a Vitamix (worth the investment) or food processor, blend a few minutes, and then slowly add a little unflavored oil (cold-pressed, non-GMO canola oil works well) to nail consistency.
Keep refrigerated in an airtight container for up to a week.
Save a little money and environmental impact by making your own version of this favorite dairy alternative. Soak a cup of almonds overnight, drain, put them in the Vitamix along with three cups of water, and fully blend on high speed.
Strain the milk through a cheesecloth (or buy a paint strainer bag from your hardware store for a reusable "nut milk bag") and then squeeze to release naturally sweet milk.
Commercial broths often contain added sodium, and you can whip up your own really easily. Keep otherwise-throwaway carrot tops, mushroom stems, onion ends, inner celery stalks/leaves, and parsley stems in a plastic freezer bag.
Throw your full bag in a saucepan, cover with water, and add a few peeled garlic cloves, peppercorns, and whatever herbs you like. Bring to a boil, simmer for a half-hour, and you have your own homemade veggie broth. I make a big batch on Sundays and refrigerate in quart-sized Mason jars.
This broth becomes awesome for quinoa, legumes, soups, and even for sautéing vegetables.
My teenage sons love Nutella; I don't like its high sugar impact, so I started playing with my own version that appeared in The Virgin Diet Cookbook. Heads up: This stuff does not last long, so proceed accordingly.
1 cup dehydrated almonds
1 tablespoon raw cacao
2 packages Monkfruit in the Raw*
2 tablespoons organic raw coconut butter
½ teaspoon cinnamon
Preparation
Blend, refrigerate, and enjoy.
*Find at health food stores or online.
Do you have a favorite DIY food that becomes a money-saving, healthier version of what you find in your grocery store? Share yours on my Facebook page.
Recipe credit: From The Virgin Diet Cookbook, Grand Central 2014.