Meet The Woman Who Will Change The Way You Think About Sexual Health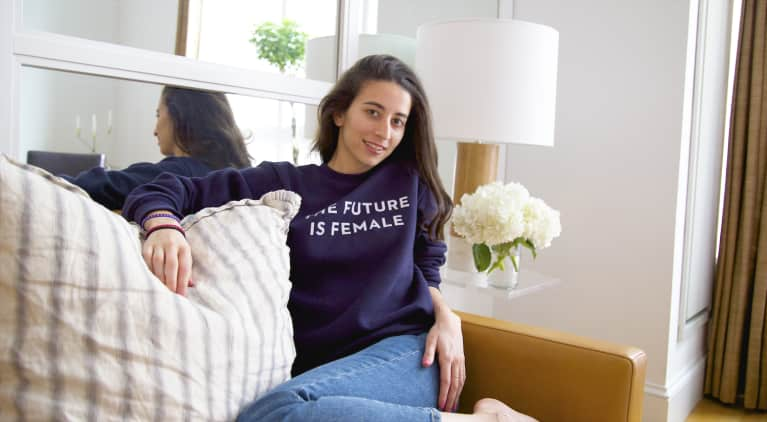 Our editors have independently chosen the products listed on this page. If you purchase something mentioned in this article, we may
earn a small commission
.
At mindbodygreen, we get to meet the female entrepreneurs who are passionate about making the world a healthier place. In this new series, we're profiling #WellnessWonderWomen who inspire us with vision and dedication—and hopefully inspire you, too. To celebrate Women's Health Week, we spoke with a wellness maven who devotes her life to empowering women to prioritize their sexual health.
Meika Hollender, the co-founder of Sustain, is on a mission to inspire women to take control of their sexual health.
She started the company along with her father, Seventh Generation founder Jeffrey Hollender, to educate the public about the toxins lurking in sexual health products and offer more natural condoms, lubricants, and feminine wipes.
Sustain products—which are now available at Target and Wal-Mart—are marketed specifically to women. (After all, they're the ones who buy 40 percent of condoms sold.) The brand's In-ter-course blog mimics how millennial women talk about everything from lube to STDs, and its beautifully packaged products are enriched with soothing ingredients like lavender and aloe.
I spoke to the savvy entrepreneur about the not-so-sexy chemicals in sexual health products today, what women can do to avoid them, and—perhaps most importantly—whether condoms actually influence our ability to have orgasms.
A Q&A With Meika Hollender
Was there a moment, or series of moments, that inspired Sustain?
It was definitely a series of moments that began 10 years ago when I helped Seventh Generation launch their organic cotton feminine care line. Then my dad had the idea to create sustainable condoms, then came the day I got slut-shamed for associating myself with a condom company for the first time. All these moments together led me to create a business with a mission to empower women to take control of their sexual health.
What do you wish every woman knew about condoms?
That they really are your best friend. That, unfortunately, some STDs are forever. Oh, and that science has recently proven that using a condom does not have ANY effect on your ability to have an orgasm.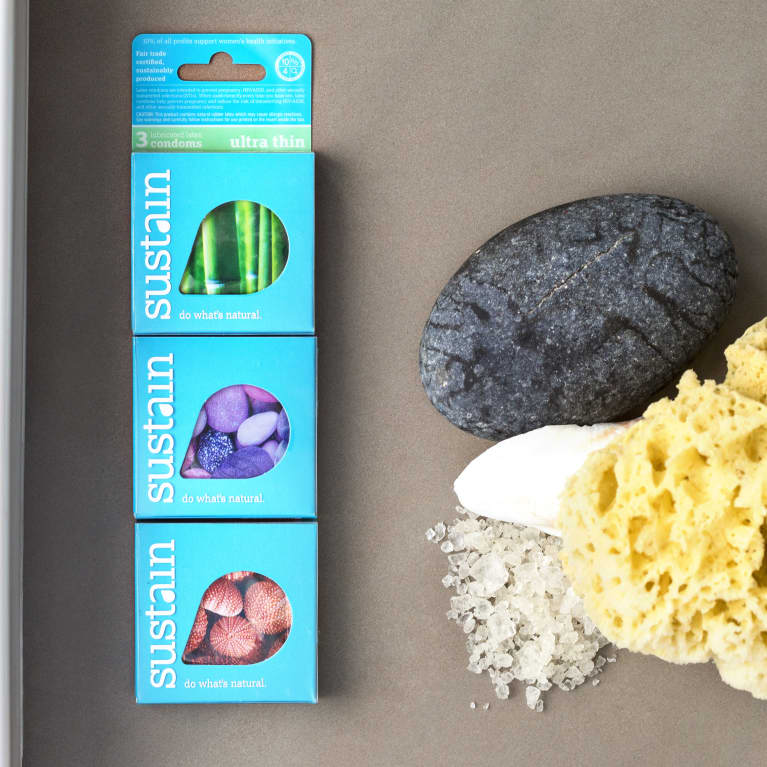 Why should we be worried about nitrosamine and other toxins that are often found in condoms?
In 2010, the World Health Organization and the United Nations Population Fund recommended that manufacturers minimize the presence of nitrosamines—a class of carcinogenic chemicals often found in latex condoms. Unfortunately, the condom industry has not gotten the message.
Manufacturers don't directly add nitrosamines to their condoms; the chemicals are a result of the process of heating and molding the latex. Sustain adds a step in the manufacturing process to prevent nitrosamines from occurring, and we are currently one of only two nitrosamine-free condom brands.
Nitrosamines aren't the only potentially harmful substances on our minds. When it comes to condoms, a variety of other chemicals can slip between us and our partners. Some are formed during manufacturing while others are found in the fragrances, odor-masking agents, flavors, and spermicides many condoms contain.
Are there toxins in lube?
Yes! Most lubricants on the market contain everything from petroleum to glycerin. Here are the three main ingredients you should avoid in lubricants (none of which are found in Sustain lubricants):
Petrochemicals: According to the World Health Organization, petrochemicals damage genital and rectal cell tissue, making you more likely to develop bacterial vaginosis as well as contract an STD.
Parabens and Glycerin: Parabens, known mostly as questionable preservatives in cosmetics and personal care products, can cause many of the same health effects when found in personal lubricants. And cellular damage can occur when high concentrations of glycerin enter the vagina, making you more susceptible to an STD or STI.
Polyethylene Glycol (PEG): Used as a thickener, PEG strips the skin's natural moisture. It's an eye irritant, possible carcinogen, and it can produce central nervous system damage, increased blood acidity, and congestion.
Women have taken control in the classroom and the boardroom, but what about in the bedroom?
What's one thing you recommend all women do for their sexual health?
The most important thing women can do is practice safe sex!
Safe sex is smart. Safe sex is having babies only if and when we want them. Safe sex is protecting our bodies from disease or infection at any age or stage of the game. Safe sex is when you want it. Safe sex is you in charge of you.
Can you tell us a bit about the 10%4women campaign?
The lack of reproductive health care in this country is truly appalling. Around 20 million women in the U.S. today lack access to reproductive health and family planning services. When there is no access to health care, there are high rates of AIDs and other STDs, as well as unplanned teen pregnancy. So much can be avoided when family planning, sex ed, and basic health care services like STD testing and breast examinations are accessible.
In order to help play a part in solving these issues, we founded 10%4Women when we founded Sustain. This program makes sure that 10 percent of our profits go back to women's reproductive health care organizations in the U.S.
Planned Parenthood is the organization we've donated to consistently over the last couple of years, specifically their Get Yourself Tested program. Planned Parenthood is such a controversial organization, and I think it's extremely important for Sustain to actively and vocally stand with them.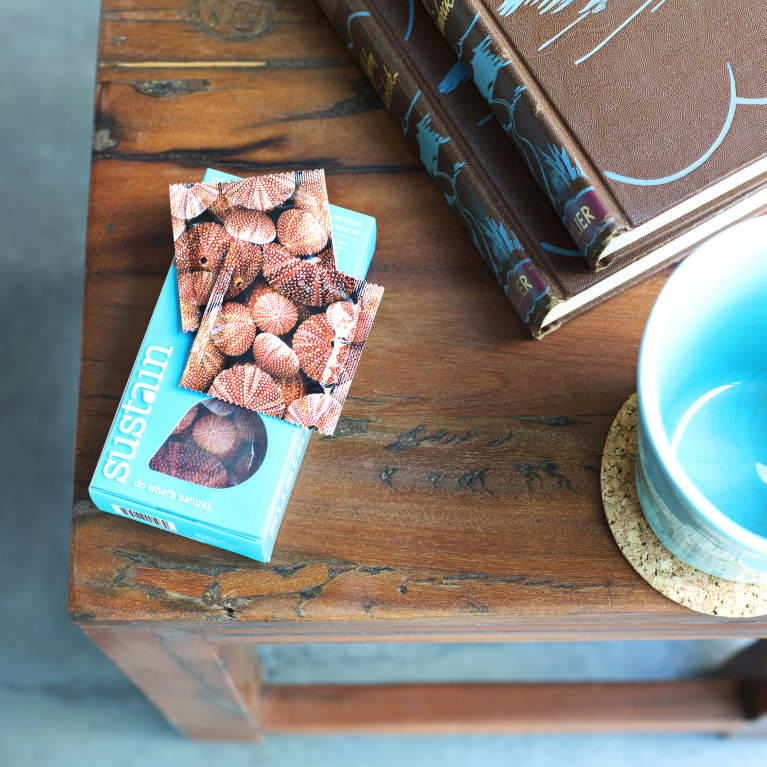 There are so many different philosophies around birth control. Does Sustain see condoms as the best option for women who are not looking to get pregnant?
Condoms are the only form of birth control that protects against both STDs and unplanned pregnancy. It's not about one option being better than another; it's about the fact that only 21 percent of single sexually active women use condoms regularly. This is in part because they are only concerned with getting pregnant, but they're ignoring a critical part of the safe sex equation: disease prevention.
Your messaging is geared toward women. How does this differ from the traditional dialogue around condoms?
Walking down the condom aisle, it quickly becomes very clear that major condom brands have only been marketing to men and have been leaving women out of this critical conversation.
What Sustain is doing is starting a real and honest dialogue among women (and men) everywhere around traditionally taboo topics like sex, sexual health, and women's rights. We believe that by creating better products, more contemporary and appealing packaging, and relevant and real content, we can influence a future where women feel good about having sex and empowered to do it safely.
Women have taken control in the classroom and the boardroom, but what about in the bedroom? As the awesome author Peggy Orenstein stated in her recent book, Girls & Sex, it's time for #intimatejustice.
Why is Sustain about more than just making healthy condoms?
Because only 21 percent of single women use condoms.
Because 48 percent of pregnancies are unplanned.
Because 1 in 4 college freshmen contract an STD.
Because that's just not OK.
We will never solve these complex issues by just selling condoms. We need to do it through education, inspiration, and real conversations.
What's the best advice you've received since starting Sustain?
"Reflect, don't react."
There have been so many times I've wanted to react based on what I was feeling right in that moment, but my dad taught me the value in reflecting before reacting.
What are your favorite ways to unwind from the stress of entrepreneurship?
I meditate for 20 minutes most mornings before I even look at my phone. I practice Transcendental Meditation, which I see as an incredible way to clear the mind and get focused at the beginning of each day.
I rarely cooked before starting Sustain, but I've realized cooking is another great way to focus and transition into my evening after work. Not to mention, you can't check email when you're busy in the kitchen, which is a huge plus! I also make it a point to put my phone in another room around 8:30 p.m. every night. It's so important to give your brain a break from your screen and be available to connect with the people around you.