12 Things You Need To Know Today (May 9)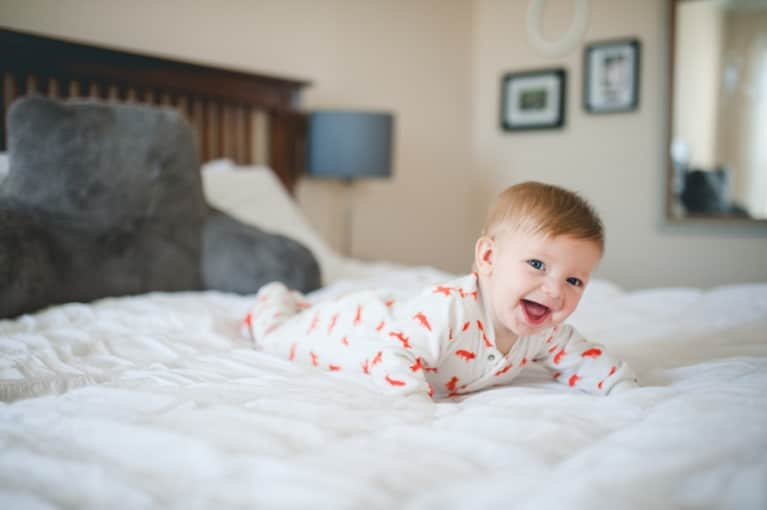 1. Can't decide on the perfect name for your baby? Just pay someone else to do it.
Slapping a name on your child for life is a lot of pressure, but luckily there's a new service that will name your baby based on your tastes and lifestyle. For "several hundred dollars" a consultant will pick the perfect name that suits you and your family. Either that, or you can just choose from 2015's most popular baby names. (PureWow)
2. Outdoor exercise is good for you, even if you live in a polluted city.
A new study finds that the health benefits of walking or bicycling outside outweigh any risks of breathing in the dirty air. The researchers also note that those activities themselves help reduce emissions, by keeping cars off the road. (HealthDay)
3. Kristen Bell has opened up about her history with depression.
The actress told Off Camera's Sam Jones, "If you do decide to go on a prescription to help yourself, understand that the world wants to shame you for that, but in the medical community, you would never deny a diabetic his insulin. Ever. But for some reason, when someone needs a serotonin inhibitor, they're immediately crazy or something. It's a very interesting double standard that I don't often have the ability to talk about but I certainly feel no shame about." (The Washington Post)
4. A breast cancer patient in North Carolina just won the lottery for the second time in three months.
Currently undergoing chemotherapy for breast cancer, Gina Short has won a total of $1.25 million in the past three months. Sometimes, luck strikes right when you need it most. (BuzzFeed News)
5. This woman is strapping on wings to track bird migration patterns.
In celebration of World Migratory Bird Day this week, conservationist Sacha Dench will take to the sky on a paramotor (a paraglider that's powered by a propeller) to follow a species of endangered swans on their journey from Russia to the UK. She hopes to see why so few of the birds survive the 4,500 mile journey each year. (EcoWatch)
6. Oregon is apparently the anti-North Carolina when it comes to transgender laws.
According to unprecedented guidelines released by the Oregon Department of Education in a sweeping 15-page document, transgender students across Oregon should be able to use the bathrooms, names and pronouns they want. "A student who says she is a girl and wishes to be regarded that way throughout the school day should be respected and treated like any other girl," the document reads. "So too with a student who says he is a boy." (Oregon Live)
7. Why are people obsessed with achieving the handstand?
It could have something to do with social media. A lead analyst with IBISWorld, a market research firm, says that yoga poses lend themselves to showing off. And it shows on Instagram: The hashtag "yogaeverydamnday" has racked up over five million posts; #handstand and #handstands have over 400,000. (NY Times)
8. You can actually forget your memories intentionally.
A new brain scanning study from Dartmouth shows that people can intentionally forget past experiences by changing how they think about the context of those memories. These findings could potentially have applications centered on enhancing good memories, like developing new educational tools, or reducing painful ones, including treatments for PTSD. (ScienceDaily)
9. Crohn's disease might be caused by genetic variants.
A new study suggests that certain genetic variants increase the risk of Crohn's, a type of inflammatory bowel disease. The variants seem to prevent good bacteria in the gut from doing their job in suppressing inflammation. (ScienceDaily)
10. Sorry baby boomers; you're officially outnumbered.
Millennials, those born between 1981 and 1997, are now the largest generational group in the world, overtaking baby boomers born between 1946 and 1964. (Fast CoExist)
11. This is why dieting doesn't work, according to neuroscience.
The majority of people who lose weight on a diet eventually gain it back. It turns out this isn't due to elusive willpower or motivation; it's science. Once our bodies are at a set weight that they're comfortable at, they want to stay there. If weight is lost due to a diet, the mind will coordinate with the body to try to get back to that original set weight. (NY Times)
12. The Dalai Lama is working to demystify complex human emotions.
With the help of Paul Ekman, the psychologist behind Pixar's "Inside Out," the Dalai Lama is creating a digital "map of emotions" to help people better understand the human psyche. "Ultimately, our emotion is the real troublemaker. We have to know the nature of that enemy," he explained. (NY Times)