Boost Your Energy With Sunflower Seed Butter + Chocolate Chip Bites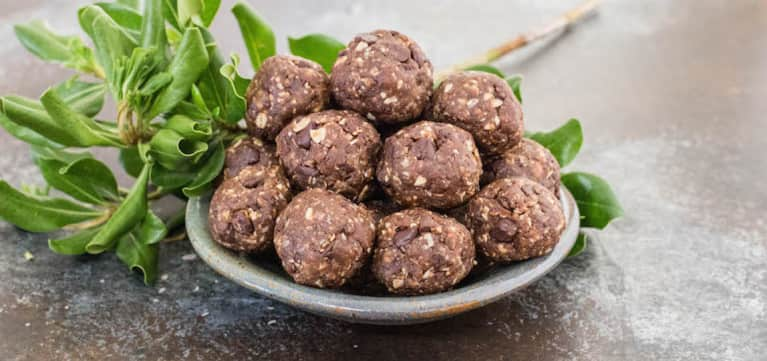 As much as I adore all things peanut butter, I often enjoy switching things up and experimenting with alternatives to my favorite creamy spread. Although many nut and seed butters are delicious, my personal favorite is sunflower seed butter due to its allergy-friendly and nutrient-dense characteristics (not to mention its delicious flavor!)
It often goes unnoticed that sunflower seeds have an incredible nutritional profile. Packed with essential protein and healthy fats, along with nutrients such as antioxidant vitamin E, iron, magnesium, and an array of B vitamins, these seeds are the ultimate addition to a variety of healthy meals and snacks.
These energy bites make a particularly delicious portable snack for any time of day. They're ideal for busy lifestyles, as they require only a few simple ingredients and take just minutes to make!
With the perfect balance of carbohydrates, protein, healthy fats, and, of course, chocolate, these are sure to provide a much-needed energy boost whenever hunger strikes!
Sunflower-Seed-Butter Chocolate-Chip Energy Bites
Ingredients
1 cup soft Medjool dates, pitted
1 cup rolled oats (gluten-free, if necessary)
½ cup creamy sunflower seed butter
1 teaspoon vanilla extract
1 teaspoon cinnamon
2 to 3 tablespoons of water, only if necessary to blend
½ cup semisweet chocolate chips
Preparation
1. Process Medjool dates in a food processor until a sticky and creamy consistency is formed (may form a ball). Add in oats, sun butter, cinnamon, and vanilla and process until well-combined. If the dough is dry, you may add a few tablespoons of water to help everything stick together.
2. Gently pulse in the chocolate chips, just until they are well-incorporated into the dough.
3. Use your hands to form the dough into balls. Place onto a baking sheet lined with parchment paper, and place in the refrigerator for about 30 minutes to set. Enjoy!