How To Build A Smoothie For Glowing Skin & Optimal Digestion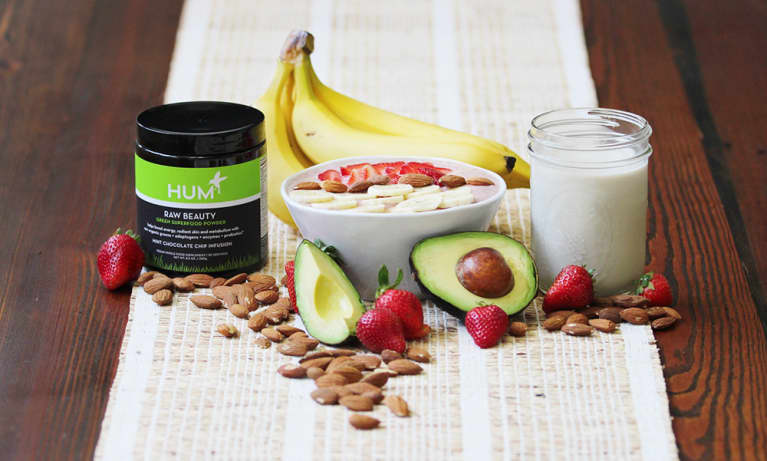 Starting the morning out with a nourishing breakfast is key to setting yourself up for a productive and healthy day.
With the right combination of ingredients, smoothies can promote good digestion, keep you energized throughout the morning, and give you that feel-good glow.
The important part is getting the right mixture of ingredients. For maximum smoothie benefits be sure to include some flavor, fat, and fiber.
Flavor can come from a combination of your favorite fruits and dairy-free milk. Frozen banana not only tastes great, but it helps achieve the creamy texture that a truly good smoothie needs. Toss in some fresh antioxidant-rich berries and almond milk and you're on your way to a tasty breakfast.
Fat will help keep you satisfied throughout the morning. Go for some avocado to get beautifying vitamins E and C and add creaminess.
Fiber is also essential to keeping you full for longer and aiding digestion. A blend of both soluble and insoluble fiber will keep your energy levels up and metabolism running at optimal speed.
You can get fiber from ingredients like flaxseeds, but it's also worth considering a green superfood powder that has probiotics, digestive enzymes, both types of fiber, and seriously skin-enhancing greens and adaptogens.
Greens like wheatgrass, chlorella, and spirulina and adaptogens like ashwagandha and ginseng are also incredible natural energy boosters.
Superfood powders like Hum Nutrition's Raw Beauty Green Superfood Powder are great for getting the most bang for your smoothie buck. One scoop gives you all the benefits of several digestion-promoting ingredients while nourishing your skin—making you feel good from the inside out.
Check out our recipe for an easy and delicious smoothie that will keep you feeling and looking radiant.
The Ultimate Beauty Smoothie
1 scoop of Hum Nutrition's Raw Beauty Green Superfood Powder (39 superfoods including antioxidants, adaptogens, probiotics, digestive enzymes, and both soluble and insoluble fiber)
1 cup almond milk
½ frozen banana
½ cup fresh strawberries
¼ avocado
1 teaspoon ground flaxseed meal
Preparation
Place everything in a blender and blend until smooth and everything is well-combined. Serve immediately.