Get Fit For Free With A Fun Playground Workout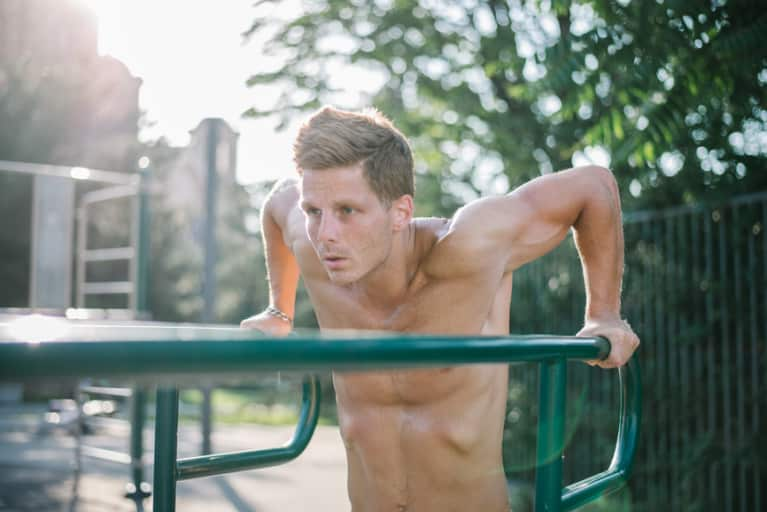 Our editors have independently chosen the products listed on this page. If you purchase something mentioned in this article, we may
earn a small commission
.
The free fitness community November Project is known for many things: sweaty hugs, F-bombs, wooden oar-handles, crowd-surfing, PR pigs, costumes, playing cards, spray-paint. The list goes on. It's also high on civic engagement, with workouts held at different public locations around the city, from municipal plazas, beaches, and tennis courts to underpasses, subway stations, even old landfills.
"The city is our playground," says NP co-founder Bojan Mandaric. "There is absolutely no reason to pay for a gym. That's how this movement got started in the first place. We wanted to get fit and not pay for it. That we got to know our city on a whole other level was a huge bonus."
Mandaric and fellow NP co-founder Brogan Graham (the pair were crew mates at Boston's Northeastern University) just released their first book: November Project: The Book: Inside the Free Grassroots Fitness Movement That's Taking Over the World. In it, they not only detail the evolution of their sweaty love-powered community, which has spread to 30 cities in North America and Europe, but how you can start your own "tribe" and use city space for a kick-ass sweat sesh—all for the cost of a breath of fresh air. Below, Mandaric and November Project tribe member Derrick Shallcross take us to a local playground (run, don't drive, there) for some of their favorite exercises.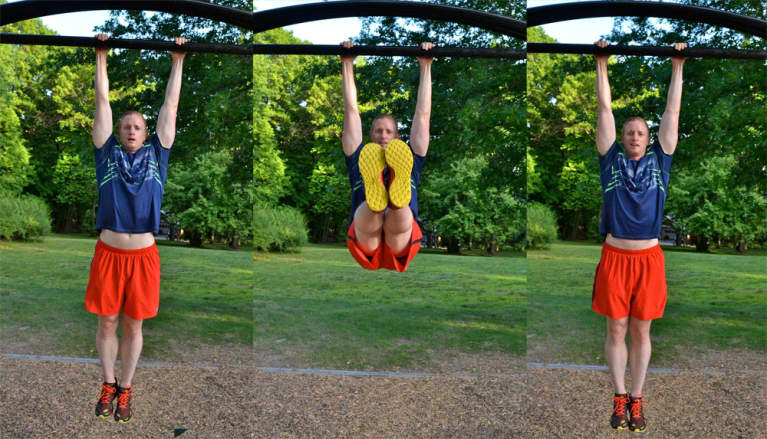 While hanging, bring your feet up 90 degrees until your legs are parallel to the ground. Then slowly bring them down. Do 10 reps.

Grip the monkey bars slightly wider than shoulder width. Do a pull-up, move your chin to one hand, then the other. Come back to center and down. Do as many reps as you can, but no more than 10.

Move from a push-up to a squat and jump onto a bench or low wall. Then do the move in reverse, from the bench back down into a push-up. Do 10 reps.
Alternating Single-Leg Wall Jump

This is an advanced version of the step-up, since it requires a jump at every leg switch. The leg switch is completed in the air. Do 10 reps on each leg.

Start at the top of the stairs with a push-up. Go down one step and do another push-up. Do 10 reps (5 steps down, 5 steps up).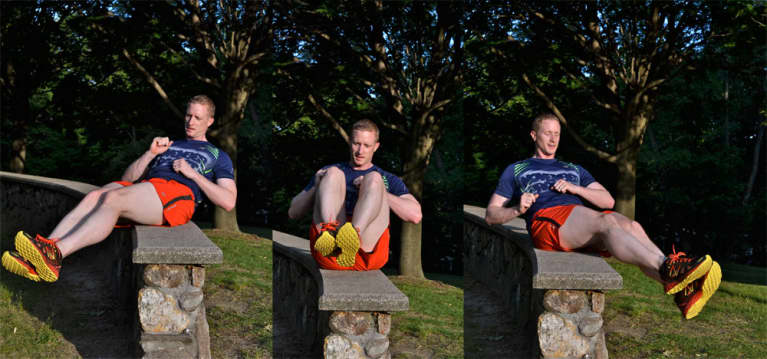 Keep your back at or below a 45-degree angle and engage your abs. Extend your legs to one side, bring your knees to your chest, and extend your legs to the other side. Back and forth is one rep. Do 10 reps.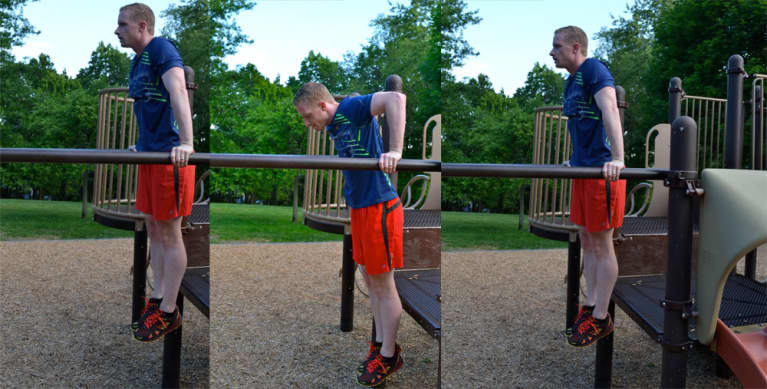 Find a set of parallel bars that are slightly wider than your shoulders. Lower yourself between the bars until your forearm and upper arm form a 90-degree angle. Then push back up to the upright position. Do 10 reps.
This can be done on the low bars or on the ground. Do a push-up, then with straight arms, move to one side while keeping your feet in the same position and do another push-up. Then move back to center for another push-up. Repeat on the other side. Do 10 reps.
Overhand Horizontal Chest-Up

Hang from the monkey bars with your feet resting on a bar and your arms straight. While keeping the body in a straight line, pull your chest up to the bar. Do 10 reps.

Find an obstacle (a bench or low wall) and jump from one side to the other. Back and forth is one rep. Do 10 reps.