3 Ways Yoga Can Take Your Workout To The Next Level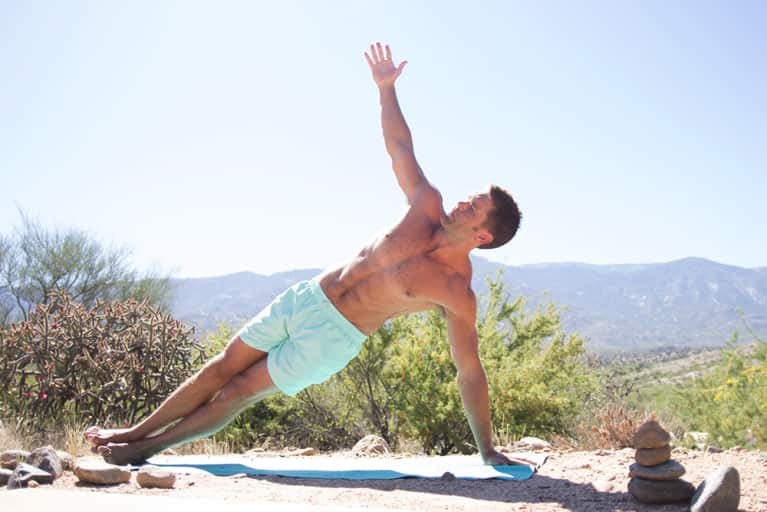 CrossFit has taken the nation by storm. Not only do local boxes offer killer workouts, but they've also become a hub for community, complete with their own lingo. Where else do you get a group of people to meet up on a Friday night and sweat, aside from a hot, overcrowded bar serving Miller Light?
As a personal trainer, I am an advocate of high-intensity interval training (HIIT) for short intervals. Combine that with a Paleo-focused diet and light movement on your training days off, and you will get shredded. But while there are many benefits to CrossFit training, there are also some gaps in it. Yoga can help fill in those gaps. Here's how a mindful practice can complement any CrossFit regimen:
It's a perfect flush-day activity.
Most CrossFitters do a "WOD" (Workout of the Day) two or three days per week, which is plenty of HIIT training with a heavy load. Many people then sit on their asses the other days of the week, resulting in tightness in the body. You need to flush out the lactic acid built up during the workouts. Any serious athlete builds in flush days. This is where yoga comes in. It offers a joint-friendly sweat and is a great option to keep your body in motion without impact.
It strengthens your stabilizers.
As an athlete, you probably have experienced (or at least heard of) a rotator cuff tear or low back pain. These injuries are usually a result of weak stabilizers. CrossFit does a great job of working multiple body parts with dynamic movements. Take the clean and jerk exercise for example: As you increase the load, you damn well better have great stability around the knee and shoulder joints, as well as a strong lower back. Yoga is the perfect method for strengthening these often neglected muscles. Many yoga poses require you to balance on one leg, which strengthens the muscles that help stabilize the knee and hip. They also encourage proper traction of the ankle, knee, and hip joints, which are crucial when you are sprinting between exercises in CrossFit.
It can save your breath—literally.
I love throwing around plates and going after it as much as the next guy at the gym. That being said, if your goal is to become the best version of yourself, you have to train the mind as well. Yoga helps connect you to your breath and allows for stillness; in that way, it's the yin to CrossFit's yang. Think of those intense moments in your CrossFit workouts when it feels like your heart is beating through your chest. Imagine if you could come back to your breath in those moments and allow your heart rate to slow down. When you can accomplish this, you can separate from the pack and tap into another level of greatness.
Fitness Rx: How to pair yoga and CrossFit
Aim for two to three CrossFit workouts per week, alternating days with two to three yoga classes per week. If you don't think you're a yoga guy (or gal), try at least a few classes, maybe even with different teachers or at a different studio to find the right yoga fit. Even if you can only get to one yoga class per week, mix in a few sun salutations and some stretching (along with some light cardio) on your days off.
Also, avoid yoga classes that are too aerobic and strenuous. Remember, you aren't using yoga to build muscle or get cardiovascularly fit; that's what your CrossFit workouts are for. Instead, find a yoga class that moves slowly and allows you to go deeper into the poses.
And finally, a warning: Don't be surprised if your CrossFit workouts improve ... and if you actually are a yoga guy after all!