What Healthy Recipe Developer & Blogger Lynn Hoefer Eats In A Day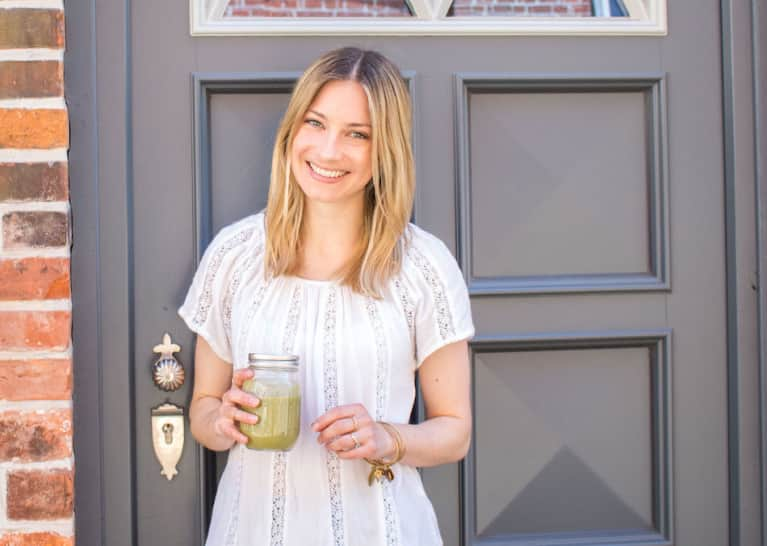 Let me start by saying that I am not a trained nutritionist. I'm studying to become a holistic and integrative health coach, but until now, I am simply sharing the meal routine that works best for me and my personal needs.
What I eat in a day might not necessarily be what is best for everyone, and I don't think that meal planning should become an obsession.
Every person is different, and we all have different needs depending on how active we are. I'm quite an active person, so I need a lot of energy to get through the day.
As a student and semi-professional blogger living in Germany, my schedule is pretty flexible. When I am not in the classroom, I work part-time for the family business that specializes in organizing skiing and sport trips around Europe.
Being able to balance school, work, and the blog takes a lot of discipline and the right kind of nutrition. I try to eat foods that fuel my body and allow me to give it my all every single day.
6 a.m. to 8 a.m.: Me time and pre-breakfast workout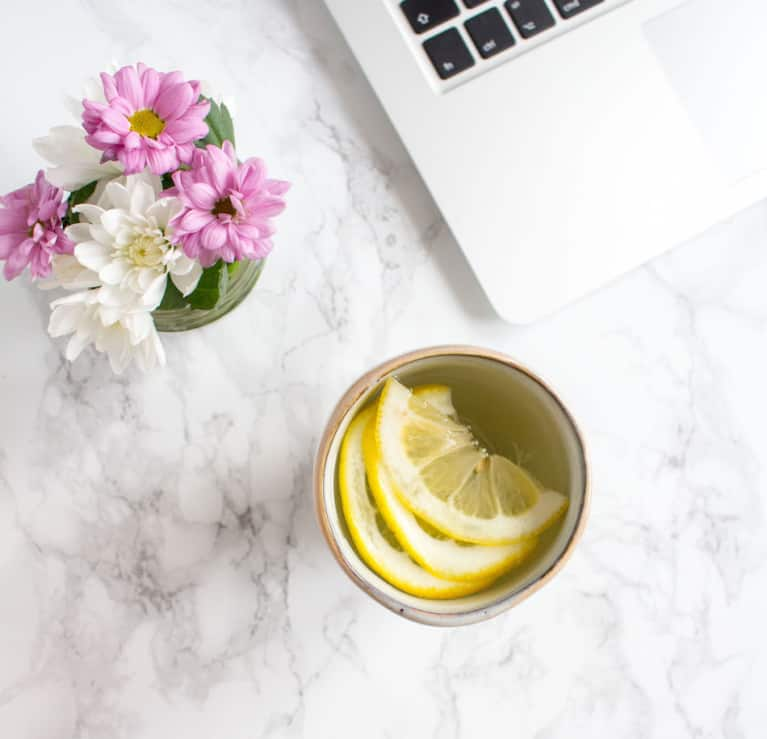 I'm a big morning person, so I usually get up between 6 and 7 a.m. and have what I call my "wake-up glass" of water to start the day hydrated.
I love adding a squeeze of lemon or lime juice to the water. As an active person, staying hydrated is so important, and I have to be honest, even I find it hard to stay completely hydrated throughout the day.
Whenever I have time, I try to get my workout done before breakfast. I don't like working out on a full stomach, so morning workouts are for me. I'll have half a banana if I plan to run for longer than 40 minutes, or if I go to an early morning HIIT class.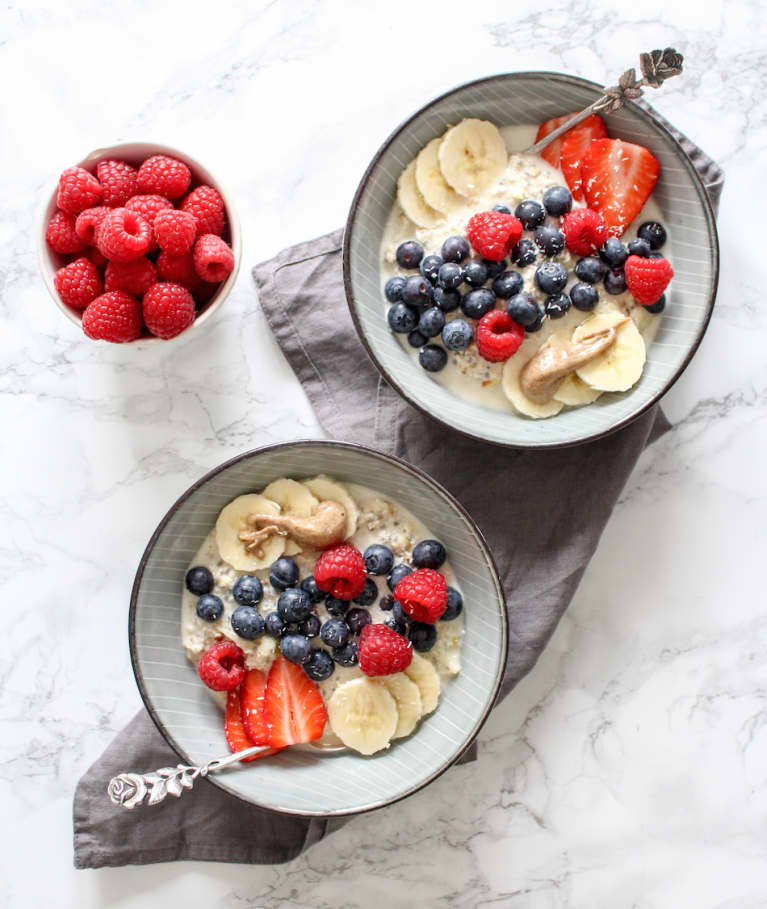 Breakfast is my favorite meal of the day. I usually have my Healthy Bircher Muesli, which I prepare the night before.
I like to top it with a banana and fresh berries such as blueberries or strawberries—these are loaded with antioxidants. For some extra protein I always add bee pollen and some type of seed, either pumpkin or sunflower.
11:30 a.m.: Midmorning snack
As I am a very active person, I always get hungry between breakfast and lunch. My snacks are pretty seasonal: In spring and summer I love smoothies, and in the winter I usually go for rye bread topped with almond butter.
I always try to add extra protein to my meals, so nut butter is my favorite staple in the kitchen. I add it to smoothies, porridge, and even to stir-fries or pasta sauces.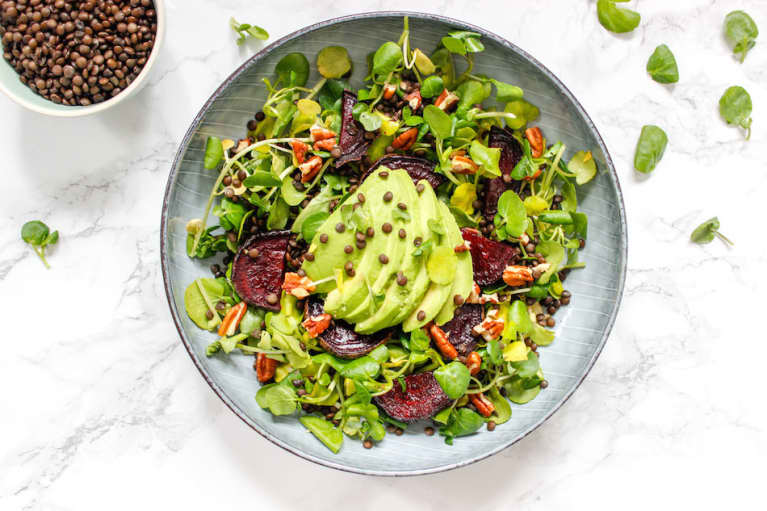 As a recipe developer, I do a lot of recipe testing, so there's always a leftover meal in the fridge.
Whenever I don't have time to prep a large meal, I opt for brown rice or lentil pasta, topped with my homemade avocado and basil pesto.
If I have time, I love prepping a hearty salad with beluga lentils, roasted beetroot, and pecans. Beluga lentils are bursting with fiber, which keeps me satisfied longer, and prevents energy lows.
When I'm on the go, I try to find a healthy deli, which is not easy in a small German town. I tend to go to Middle Eastern places like Syrian or Persian cuisines, which normally have a big plant-based section and lots of fresh vegetables.
4 p.m.: Midafternoon snack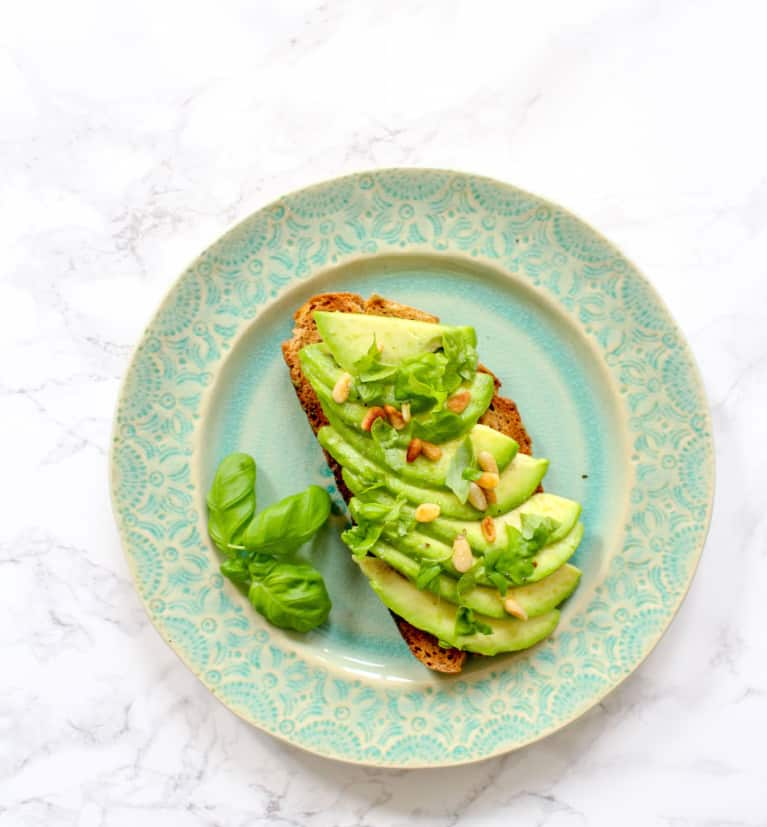 If I'm working on the blog, I'm usually so focused that I don't snack after a filling lunch.
If I'm doing schoolwork, however, I tend to get hungry at some point. My go-to snack is rye or spelt bread topped with half an avocado, roasted pine nuts, basil, and a bit of Himalayan salt.
Other favorite snacks are veggies with hummus, apple slices, or a banana.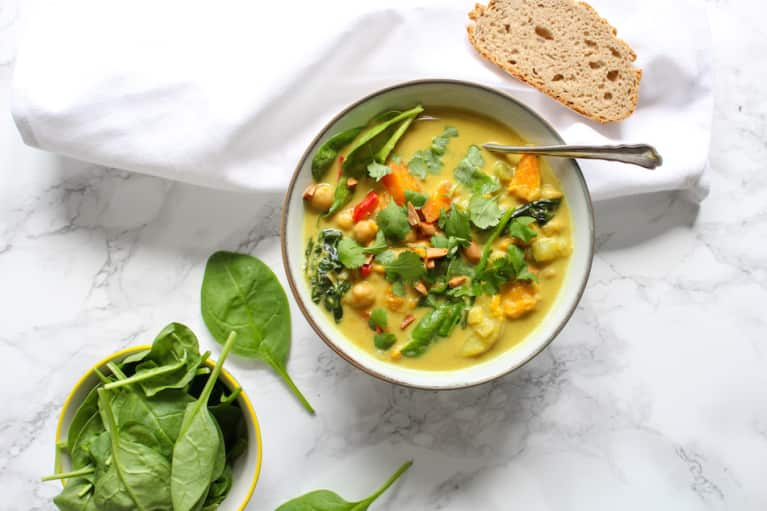 I usually try to go to a HIIT, yoga, or Pilates class before dinner, so my dinner times vary depending on the class schedule.
Dinner can be anything from leftovers from recipe testing, curries, stir-fries, sweet potato fries, or my beloved healthy pad Thai.
I always keep staples such as coconut milk, brown rice noodles, canned chickpeas, and beans in my pantry. This allows me to throw together a quick but nourishing meal whenever I come home late or don't feel like spending hours in the kitchen.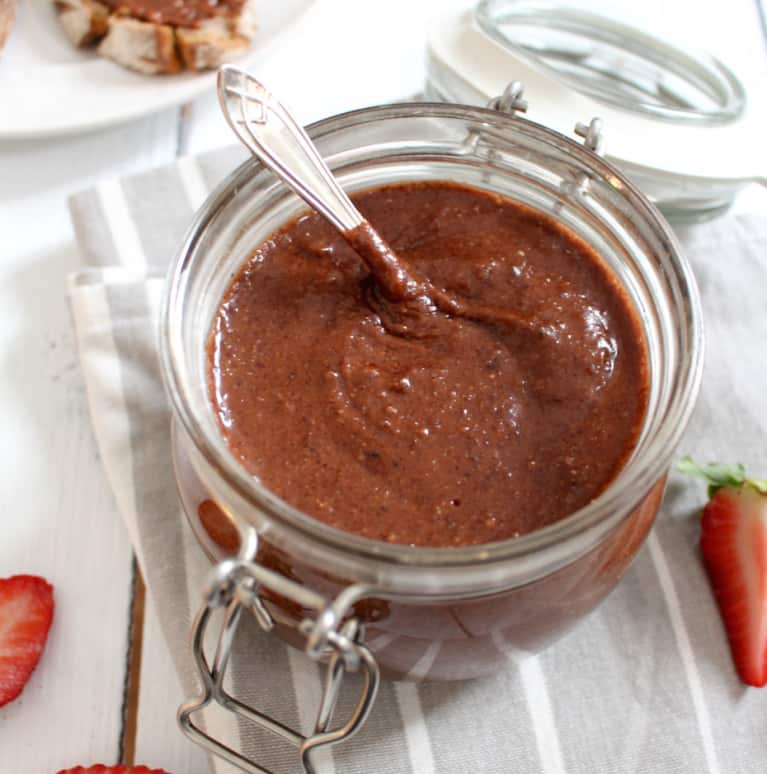 I don't have the biggest sweet tooth, but whenever I feel like something sweet, I have apple slices with almond or peanut butter, strawberries dipped in homemade Nutella, or leftovers from sweet recipe tests.
Find the recipes mentioned in this article on my blog Heavenlynn Healthy, the space where I share my passion for healthy living. There are hundreds of plant-based and refined-sugar-free recipes that are easy to prepare and give you enough energy for a successful day.