5 Tips For Getting Over A Yoga Pose (And Anything Else!) That Scares You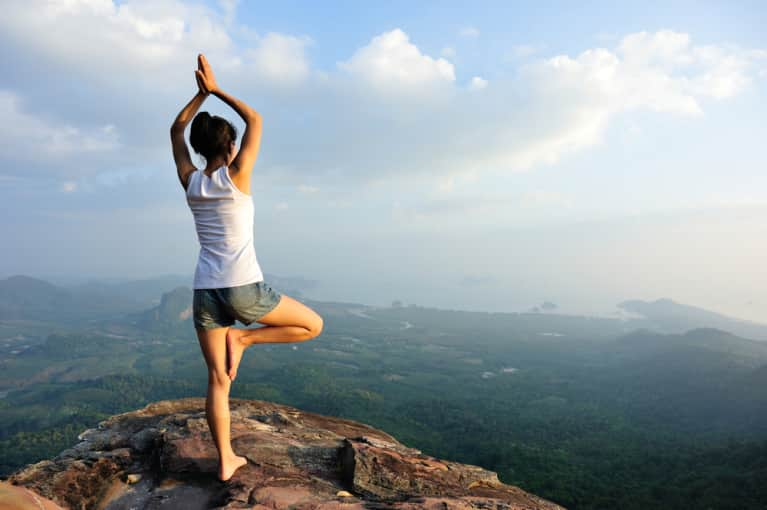 Pick a yoga posture you're working on. Any one. It could be as simple as a seated twist or as intricate as a handstand. Doesn't matter. Have you tried doing it yet?
Yes? Success!
No? You're on your way to failure. Or already there.
Because the only way to achieve something is by trying it.
How can we fly if we're too stuck in fear to leave the nest? How can we grow if we're nestled in comfort? How do we love if we're protecting our heart to keep us "safe" from getting hurt? And how can we dream if our thoughts are limited in safety and knowing? We don't know it until we try it, so what stops us from trying?
Fear. Unknown. Control. Perfection. Attachment. To name just a few. Fear is the basis of many of our "stuck" ways, so how do we move past that?
Here are five strategies for you to try. Don't stop at one; like driving, there are multiple ways to get to the same place. Try one, try them all, but just TRY!
Rome wasn't built in a day. Nor can you achieve handstands in that time (for 99.99 percent of the world population). Or many life changes. Instead of getting overwhelmed by the bigger picture of change, break it down into achievable chunks that you can attempt, step by step.
2. Act with the end goal in mind.
Here's where trying trumps the fear of falling. You're going to fall. Probably a few times. But each time you fall, keep that end goal in mind, which will propel you to get back up, smarter from the learning experience and determined to realize your vision.
Just because you fall off the wagon for a day, a few days, or even a week, it doesn't mean you can't go back to that initial intention or goal. The path is always there for you; it's just your steps that determine whether you follow it or not.
3. Employ meditation/visualization techniques.
Mentally seeing it can help you to believe it. And when you believe it, nothing can stop you. The power of mind over matter has been proven in many instances. Allow each thought to be a step in the right direction.
Consider having a solo adventure: Travel by yourself, attend a yoga retreat, take a walk (phone-free) through a park and imbibe in nature, or put on some music at home and dance it out for a bit. The world is NOISY! Tune out the external voices to really tap into your own intuition.
5. Do something inspiring.
Your routine is where your comfort is. It's where your "known" self lives, and (because of that) your current beliefs, thoughts, and fears live there too. When you need to reach a new destination, you need to take a different route. So change the routine! Attend a local workshop related to the change you're looking to make. Read a book on your selected topic and empower yourself through knowledge. Sign up for a yoga retreat in a place you've always dreamed of going. Or take a trip to a new restaurant or coffee shop in a neighboring town.
You'd be surprised what little changes can add up to in your overall lifestyle. It all starts with a try and turns into a will.