How To Survive Mother's Day Without A Mother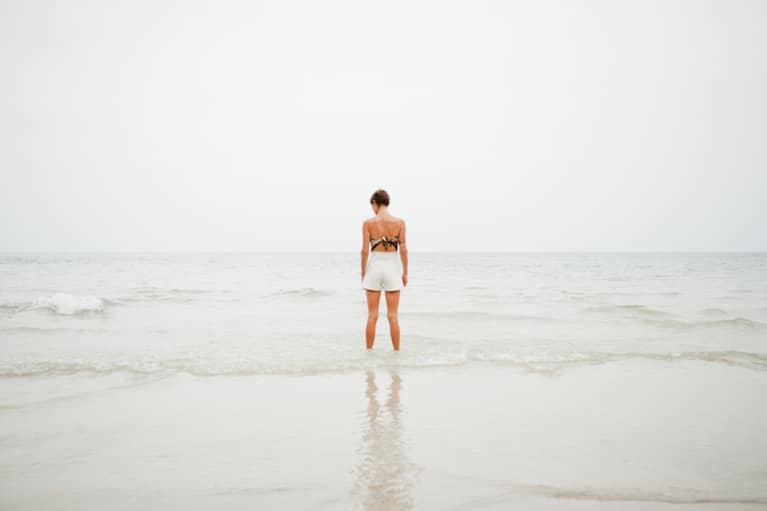 This spring marked 10 years since I lost my mother. I mean lost in the literal sense: One day she didn't show up to work, and my family spent the next 40 days searching for her. I was 20 years old, my mother was my best friend, and suddenly nothing in my life even remotely made sense anymore.
Six long weeks later, we got the heartbreaking call that our mother's body had been found, in a place we never would have thought to look. For the past 10 years I've had to find ways to live with the heartbreaking narrative of my mother's suicide. As you might imagine, Mother's Day is not easy for me.
My email inbox refuses to let me forget about its arrival every year. For weeks leading up to that day, every store I've ever shopped at sends me well-meaning but misguided suggestions on what to buy the woman who brought me into this world. I could buy my mother flowers or a fedora, anti-aging cream or an Apple watch. What I can't buy is the one thing I really want: more time.
What Mother's Day is supposed to be:
The holiday was never supposed to turn into this big, commercial frenzy. Following her own mother's death in 1905, Anna Jarvis began campaigning for Mother's Day events to be held on the second Sunday of May. Her vision included families spending the day together and honoring all that mothers do on a daily basis.
By the time Mother's Day was officially declared a national holiday in 1914, the greeting card, floral, and confectionary industries had caught on to the potential for huge profit by marketing products specifically for the holiday. Jarvis was incredulous over this commercialization and spent the rest of her life fighting various "schemers" and "profiteers" who distorted the true spirit of the holiday.
Clearly Jarvis lost that battle. According to the National Retail Federation, Americans will spend an estimated $21.2 billion on Mother's Day gifts this year. There's nothing wrong with buying gifts for the special moms in your life, but it's important to remember the true spirit of the holiday: family and togetherness.
Just because my mom is no longer here doesn't mean I can't celebrate her. In the past decade, I've learned some reliable coping mechanisms that make holidays like Mother's Day more bearable. If you've lost a loved one and find holidays to be difficult markers of your loss, I hope these four suggestions help:
1. Time is the best gift.
If you're lucky enough to spend the day with your mom, I suggest letting her choose the day's events. Sometimes just sitting and talking over a cup of tea tastes better than a fancy meal at a crowded restaurant, and it definitely means more than a gift card.
While I can't spend Sunday with my mom, I can call other family members and spend time with friends, who are the family we choose. I know plenty of women who are great moms, even if they aren't my mom. Holidays are a good reminder to prioritize all the people we care about. When it comes to building and maintaining meaningful relationships, time is more valuable than money.
My mom took great care of everyone except herself. Part of recovering from her loss has been accepting that the best way to show up for others is to first show up for myself. Whether that means setting aside some time to meditate, journal, or practice yoga, do something kind for yourself this Sunday. Grieving is hard work and practicing self-love can soften the sharp edges of loss. Think of it like that pre-flight safety announcement: You have to secure your own oxygen mask first.
Losing my mom does not mean I lost the 20 years we spent together. Mother's Day is an opportunity to reflect on those comforting memories. Picturing the summer days of my childhood on an old wooden sailboat, with my mother at the helm, never fails to make me smile. As I've gotten better at navigating life without my mother steering, I'm able to look back on these memories as more sweet than bitter. Memories are an integral part of who were are, and reflecting on them helps us understand who we have become.
Since losing my mom, I've built a life I never could have imagined, and I choose to think it's because she gave me the skills I would need to thrive. While I wish she could know the shape and texture of my life these days, I'm grateful that she raised me to be strong and resilient. Mothers make the world go round, every single day. Grieving does not negate gratitude. As your mom likely taught you when you were little, remember to always say "thank you."
There's no denying that holidays designed to celebrate a special bond in your life can be especially hard when that bond has been broken. I've found that turning the day into a chance for reflecting, reconnecting with people I care about, and letting myself feel however I feel, without judgment, makes it a bit easier.
Related reads: