How To Make Your Kids Love Kale (And Every Other Healthy Food)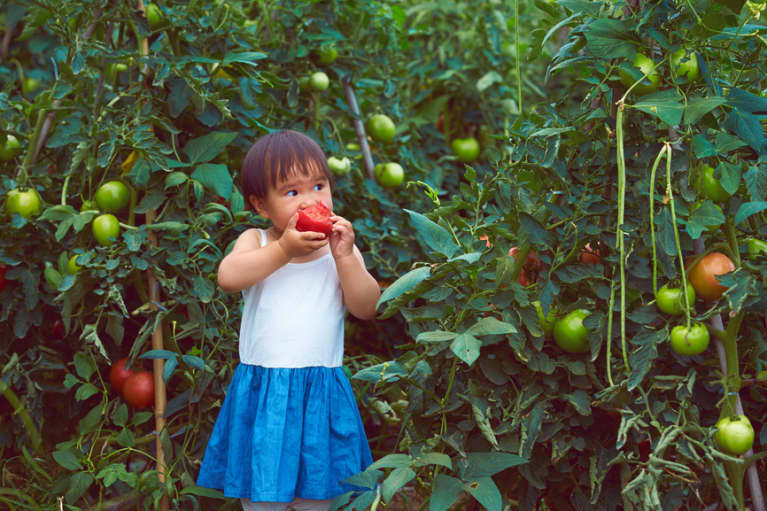 The reality is this: We all want our kids to eat healthy foods; that's no secret. We want them to nourish their growing bodies and minds with fruits and vegetables, vitamins and minerals—the good stuff, not the junk.
It's also no secret that in order to accomplish this, we often go the way of bribery ("Three more bites of spinach, and the cupcake is yours!"), trickery ("Spinach, what? There's nothing green in the pasta sauce!"), and threats ("Listen, kid: You're sitting in that chair until you take three more—OK, two more—bites").
Whether you've resorted to employing these tactics simultaneously, as I have, or not—I think we can agree that all of this is exhausting. And it's not particularly productive. Because we can't be everywhere all of the time: at play dates and practices; lessons and sleepovers; at playgrounds, field trips, and the school cafeteria. And we're certainly not following anyone to college.
So what's the solution? On the one hand, sometimes, it's enough just to get your kids to eat the beets: Methods be damned.
But on the other hand, if we want them to make healthy choices when the choices are theirs to make, then it's about being straight with them. (Or we run the risk that the universe will conspire to teach kids that "yum" tastes like Sour Patch Kids, and healthy tastes like "yuck.")
At Bitsy, we operate from the perspective that instead of teaching kids how not to make the wrong choices, we need to make it a little easier for them to make the right ones. And while it's fairly obvious that a carrot may not contain the intrinsic appeal of, say, a scoop of ice cream, we've got to make it fun.
So how? Well first of all, if we're setting about to demystify fruits and veggies for kids, then it's got to taste great. So without further ado, here are a few of our go-to tips. They may not change the conversation overnight, but every journey begins with a single step.
1. Add some extra flavor.
Don't feel guilty about adding a little butter, cheese, salt, and seasoning to your kids' vegetables. Everyone loves flavor, and there isn't any reason to force kids to go straight-up steamed.
My kids are partial to sautéed spinach with a touch of olive oil and a squirt of lemon. This is especially delicious when paired with a little tofu, seared in the pan, plus a drizzle of tamari. Easy breezy.
2. Let them be in charge.
Kids love control. So let them have it! Serve up whole-wheat tortillas along with a selection of wholesome veggies plus guacamole, hummus, or salsa. Along these same lines, rice paper can be a great vehicle for veggies: Roll up cucumber, carrot, and other veggies "egg roll" style. The best.
Choices are great, and everything is more fun on a stick (or, you know, a plastic straw). Whether you're going the direction of grilled veggies plus protein, or a cutup fruit, let kids design their own kebabs! For a sweet variation, freeze bananas on a stick. Yum.
Finally, giving kids a chance to be part of the process—not just at mealtime, but when it comes to shopping and prep—is a great way to get kids excited about trying new things.
Find kid-friendly ways to involve kids in the process, whether it's washing veggies before cooking or adding seasoning, and bring them with you to the farmers market or grocery store and let them choose whatever veggie they'd like to try!