Why Goldie Hawn Has The Best Fitstagram Of All Time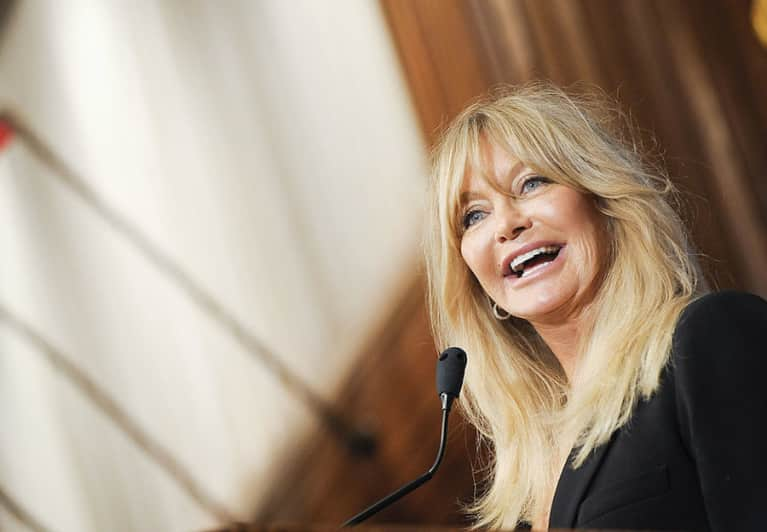 You may feel your best while exercising, but chances are you don't look your best. If you're like me, you're beet-red, sweat-soaked, and generally frazzled.
But that's not what we normally see celebrities and fitstagram stars looking like on social media. In fact, they appear the exact opposite: glowing, dewy, and in perfect form.
And that's why we love Goldie Hawn's Instagram so much. She's goofy. She flails around. She chugs green juice straight from the juicer. Her way of embracing the sometimes-absurd fitness-and-mindfulness lifestyle is to mock it—lovingly, of course. When her 15-second videos interrupt a long chain of perfectly staged, filtered fitness photos, we feel a sense of relief.
She is, as the New York Times affectionately calls her, the "Fitness Anti-Guru."
At 70, Hawn no longer possesses the aspirational Hollywood body. Don't get us wrong: she's strong and toned as hell, but, you know, she's got wrinkles like a normal, aging human. Instead of hiding them though, she emphasizes them, making her shoulders the focal point of a weightlifting video, for example. She's working her ass off to stay fit but she refuses to be filtered.
From what we've gathered—and that's only seven weeks worth of material—the message of her Instagram is: You can be seriously committed to health and wellness, but you don't have to be so serious about it all the time.
Here are some of our favorite Goldie gems ...
Bouncing blissfully on a tiny trampoline:
Chugging her daily dose of greens:
Panting down a canyon running trail:
Weight-lifting with a lap (ab?) dog:
Stopping for a mid-workout water break:
Doing her happy dance on the golf course:
And, of course, meditating with her daughter Kate and friends: