Celebrate Mom With This Refined-Sugar-Free Chocolate Ganache Tart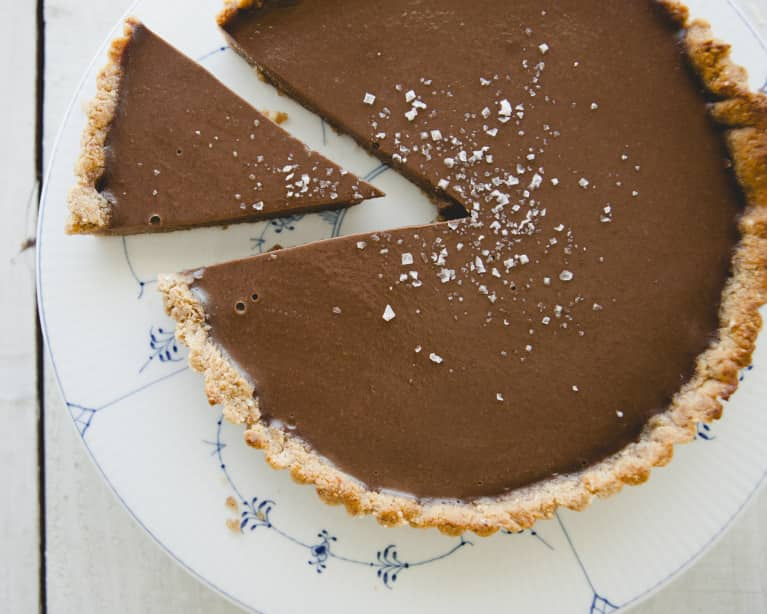 Chocolate, chocolate, and more chocolate, please! We absolutely love chocolate at Sweet Laurel Bakery.
Here's a fun alternative to brownies and chocolate cake (our go-to). This Chocolate Ganache Tart will satisfy any and all chocolate cravings. And Mom will appreciate the extra love that went into it, too.
Enjoy!
Yields one 8- to 9-inch tart
Crust
2¼ cups Brazil nuts or hazelnuts
¼ cup coconut oil (melted)
3 tablespoons date paste, or ¼ cup pitted dates
¼ teaspoon Himalayan pink salt
3 cups coconut milk
2 teaspoons gelatin
4 egg yolks
¼ cup 100 percent maple syrup
1 teaspoon vanilla extract
2 ounces unsweetened 100 percent baking chocolate, or ½ cup chocolate chips
2 tablespoons cacao
¼ teaspoon Himalayan pink salt
Optional: Pinch of Maldon Salt
Preparation
1. To prepare crust: Preheat oven to 350°F. Blend all ingredients in food processor and press into 8- to 9-inch circular tart pan. Bake for 12 minutes. Allow to cool while preparing filling.
2. To prepare filling: Pour coconut milk into saucepan, and sprinkle gelatin on top. Allow to soften in the pot for about 5 minutes.
3. In a bowl, whisk together egg yolk, maple syrup, and vanilla. Set aside. Whisk the coconut milk and gelatin mixture over low heat until smooth and warm. Add a cup of the warm coconut milk mixture to the yolk mixture, and stir. Pour the entire yolk mixture into the saucepan, and mix well. Add baking chocolate, cacao, and salt.
4. Allow mixture to simmer, and whisk constantly, 2 to 3 minutes. Pour mixture into cooled tart crust.
5. Place in refrigerator overnight or for 8 to 12 hours. Top with Maldon salt, and serve!