I'm A Cancer Survivor. Here's How I Brought An Integrative Approach To My Conventional Treatment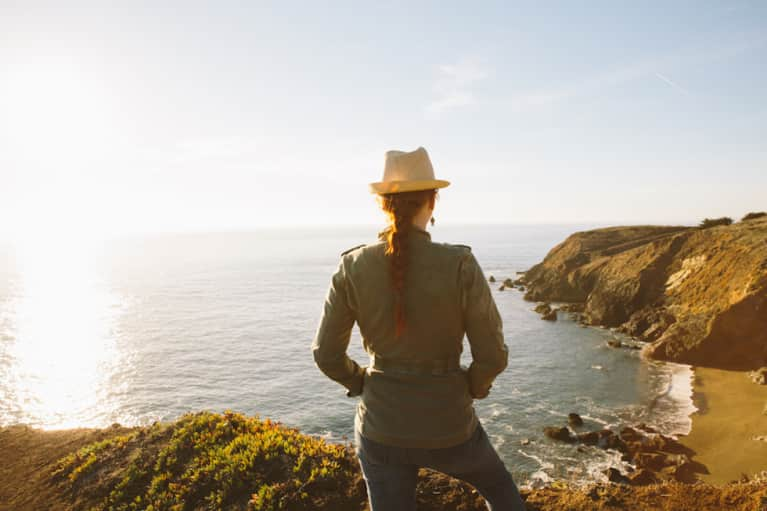 The unexpected can surface at any time. At 24, I enjoyed my position in the U.S. Congress, and I had big dreams of attending law school. But on March 18, 1998, I was diagnosed with a brain tumor. Numb and disassociated, I entered a shocking world.
After much research, many recommendations, and my own decision-making, I had awake brain surgery at the National Institutes of Health. Thankfully, surgeons removed the visible tumor with some surrounding tissue. I felt tremendous gratitude—but also fear about a recurrence and living in the unknown.
Motivated to explore new directions, I also started using some complementary, alternative, and holistic therapies. That included an array of strategies—supplements, herbs, acupuncture, craniosacral therapy, Shamanic healing, dental work, support groups, psychotherapy, and much more. For example, my acupuncturist trained in the Five Elements supported my healing from brain surgery and improved my body-mind-spirit. Shamanic healing was also especially meaningful, as it helped me learn more about who I am and the bigger picture.
In my new world, I used extensive cancer, health, and healing strategies, and had treatments from practitioners across the United States and clinics in Europe. I created an optimized integrative cancer care plan, team, and self-care strategies, which continued to evolve over time. I had to fully embody the concept that healing is not only about the disease but instead about the whole person.
Eventually, I could not escape the unthinkable and needed a second awake brain surgery at the University of California, San Francisco, in 2011. From there, I continued to work with integrative practitioners using cancer treatments. Yet with further tumor growth, I had my third awake brain surgery in 2013, as well as radiation, oral chemotherapy, and a clinical trial for a vaccine developed by UCLA.
Today, I'm an 18-year brain tumor survivor. My journey from 24 to 42 years old has been amazingly transformative as a brain tumor patient, woman, and human being. As I reflect on my quest to heal, here are some of the main reasons I believe I'm still here:
I've learned to see challenges as opportunities and turn adversity into action. No doubt, being proactive helped me to shift from being a "cancer patient" to a cancer survivor from the moment of my diagnosis—a person, an individual, a human being, addressing all aspects of myself and my life. Self-awareness and knowledge are paramount and allow me to be in the here and now—through which I gain clarity and motivation.
For example, being proactive taught me to research study results; identify other reliable sources, nonprofits, and businesses; converse with oncologists and other practitioners to gain important information and ask key questions; explore outside the box; focus on innovation; and discover whole-person health and healing strategies.
2. I used conventional cancer treatment.
If I did not have conventional brain tumor treatments, I'd likely be dead. Many cancer patients need conventional cancer treatment. However, I also know through science and personal stories that conventional treatment alone does not apply to every person.
3. I incorporated integrative cancer care.
Integrative cancer care for the whole person—body, mind, spirit, social, and environment—includes many dimensions for optimal health and healing to improve quality of life, cancer survival, and cancer prevention. In 1998, I knew very little. Through my journey, I went in many different directions, and it took years for me to understand and use strategies for the whole person.
Although a short list, some integrative cancer specifics that I found really helpful include organic foods that support health, certain supplements, practitioners with expertise about integrative cancer treatment and my situation, functional medicine, osteopathy, movement practices, energy work, and much more.
4. I focused on self-care strategies.
Optimal health and healing aren't all about appointments with practitioners. I learned in time that self-care strategies support health, wellness, and vitality. Some examples include giving attention to adequate sleep, healthy foods, exercise, stress reduction, self-awareness, and the mind-body-spirit connection.
5. I asked for help with social support.
From the beginning when I was diagnosed with a brain tumor until now, I have needed profound support from family and friends. Sometimes I've asked, and other times people just gave. I know it's essential for me to identify what I need, ask, receive it, and wholeheartedly feel the gratitude of kindness.
With a commitment toward healing, I've made progress through the power of love. The wounds can strongly heal through self-love, giving love to others, and receiving love. Indeed, love heals the hole into the whole.
7. I connected with spirit and my soul.
Cancer can open many conversations about life and death through spirit and the soul. The pain provided me with invitations to develop a relationship with spirit, spirituality, my soul, and new insights about my soul's evolution. People affected by cancer can develop awareness, wisdom, and relationships with these dimensions.
8. I communed with silence and stillness.
Silence and stillness bring people into relaxation and ease through strategies such as deep breathing, meditation, body awareness, movement, yoga, and being in nature. In my experience, silence and stillness help me get out of my head, aware of my mind-body-spirit, in touch with my deeper self of heart and soul, and connected with the source of my true self.
9. I embraced meaning and purpose.
I felt early in my journey the importance of what I'm meant to do in this lifetime. Instead of becoming an attorney, I joined the cancer community to volunteer, work, and consult with nonprofits, government agencies, doctors, providers, hospitals, clinics, other businesses, cancer patients, caregivers, and the public. Clearly and profoundly, my meaning and purpose come from what I do.
Since integrative cancer care supports cancer prevention, I am inspired to share information with others. Lifestyle and environmental factors can play major roles in cancer development, and specific whole-person wellness and lifestyle strategies are key to help reduce cancer risk.
Overall, I believe that hard times can be seen as an invitation to transform. Motivation and a commitment to change can create significant improvements. Consider using new strategies to live life more fully.
Related reads: