The Ingredient That May Be Causing Food Intolerances: A Nutritionist Explains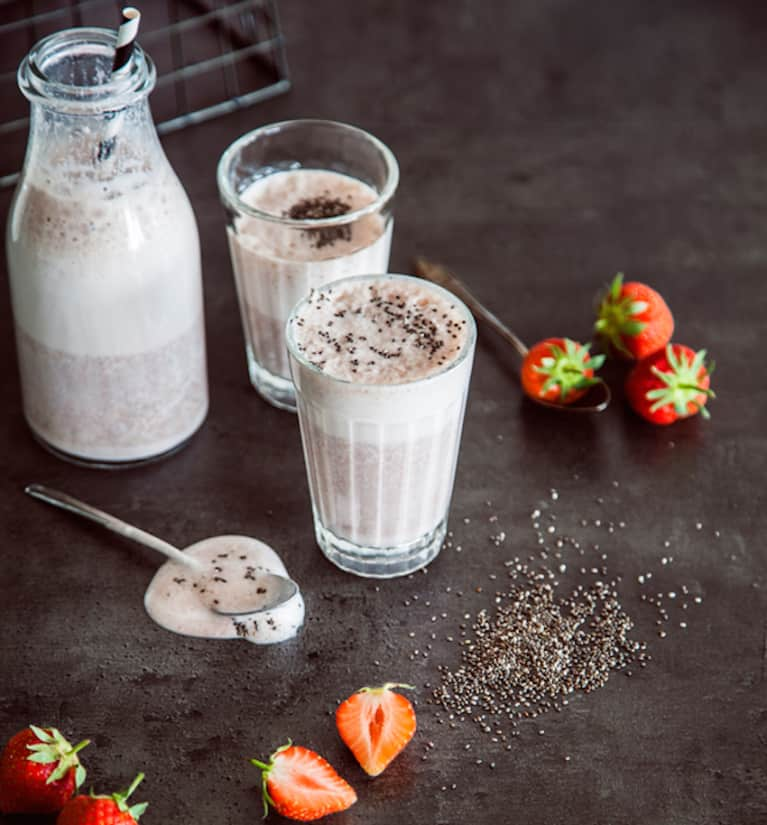 My number one needle-mover strategy to blast fat and stay full for hours is a high-quality protein shake. I've had clients change nothing else than a breakfast protein shake and get fast, lasting fat loss.
The right protein powder becomes your foundation that ultimately makes or breaks a shake. Throw in a crappy powder, and you can quickly turn that shake into a high-sugar-impact catastrophe or create food intolerances.
Visit your local health food store or mega-warehouse and you'll find whey prevalent among your protein powder options. Manufacturers cleverly position whey as an optimal meal-replacement powder to build muscle and burn fat.
Not quite. Here are five reasons I tell everyone "no whey":
1. Whey won't fill you up.
Clients often complain they feel hungry after a whey-based shake, and there's a reason for that: Whey has a very high bioavailability, which means it absorbs very quickly. That might be ideal post-workout when you want protein to replenish muscle cells, but as a meal replacement, not so much.
2. Whey can make you fat.
Crazy, considering manufacturers argue it can help you lose weight, right? Yet studies show whey can raise insulin more than a piece of white bread.
When insulin goes up, the message becomes "store fat." You're probably drinking whey shakes because you want to lose fat, not store it. The last thing you want for fat loss is to trigger the "raise insulin" flag.
3. Whey contains traces of lactose.
Studies suggest lactose intolerance affects 75 percent of people worldwide. With lactose intolerance, it just takes a little bit to create a huge problem. If you have lactose intolerance, you know what I'm talking about.
"Despite what the milk-mustachioed celebrities in those 'Got Milk?' ads have been telling us for years, humans have no nutritional requirement for milk, and it may be doing us more harm than good because of all the sugar that even plain, nonfat milk contains," says Dr. David Ludwig.
Dairy can also become a food intolerance, creating problems like inflammation, weight-loss resistance, and acne.
5. Commercial whey is often cheaply produced.
Whey often comes from cows treated with antibiotics and living in inhumane conditions. High-heat production used to make whey can damage its fragile amino acids. And read those ingredients: Many commercial whey powders contain added sugar, artificial sweeteners, and other nasty additives that lengthen its shelf life while potentially shortening yours.
What to use instead of whey
Fortunately, today you've got numerous non-whey protein options. If you opt for plant-based protein, don't trade one bad thing for another bad thing.
There's no joy in soy: Among its problems, studies show soy can lower thyroid function, which crashes your metabolism and makes you store fat.
My favorite plant-based powders include pea, rice, chlorella, and chia. A blend of these proteins tastes better and lowers possible reactivity.
If you prefer animal protein, defatted grass-fed beef protein provides the mouth feel of a creamy milkshake with a super-impressive amino acid profile. Unlike whey, beef protein won't create or exacerbate food intolerances.
Do you use protein powders as a meal replacement or around your workout? What's your favorite type of powder? Let me know on Facebook.