What Holistic Nutritionist Sophie Bourdon Eats In A Typical Day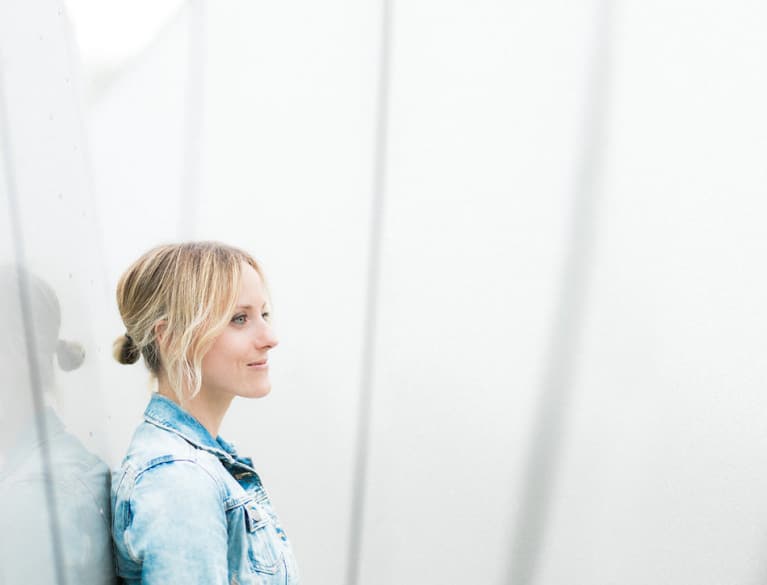 Sophie Bourdon is a holistic nutritionist, writer, food stylist, and photographer based in Toronto, Canada. She created her website, The Green Life, to share her passion for plant-based eating, and today she's showing us a typical day on her plate.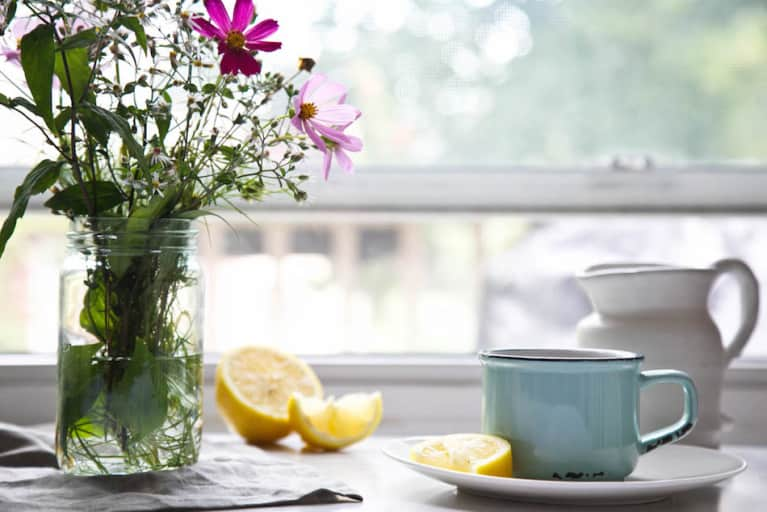 I start my day with a cup of warm water with lemon. It rehydrates my body, kick-starts my metabolism, and provides a good dose of vitamin C. After my lemon water, I meditate for about 30 minutes. I end each meditation session with setting up my intentions for the day.
I do my "oil pulling" session while I'm preparing breakfast. I started oil pulling with coconut oil a couple of years ago, and now I can't go a day without it!
I haven't had a cold in two years (knock on wood!), and I like to think that oil pulling has a lot to do with it. It's not only great for the health of your teeth, mouth, and throat, but it also supports the immune system.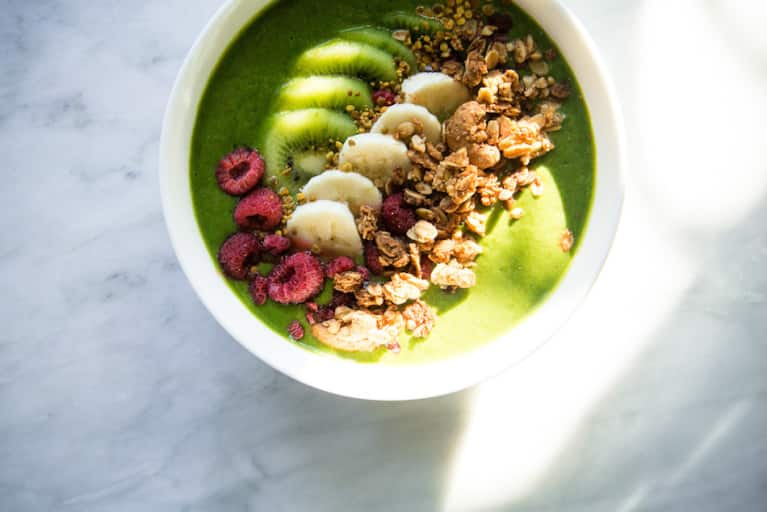 In the colder months, I'll usually have oat or quinoa porridge, but as soon as the temperature gets warmer, smoothies are my go-to breakfast.
It's such a great way to squeeze a ton of fruits, greens, and superfoods into my diet. I almost always serve my smoothies in bowls. It forces me to "eat" my smoothies instead of drinking them, which greatly helps the digestive system and assimilation of nutrients. It also allows me to enjoy my breakfast more mindfully.
This morning was a blend of spinach, banana, cucumber, frozen mangos, flaxseeds, cinnamon, and water. I always throw a bunch of superfoods into the mix.
Today I put maca powder, moringa powder, and pine pollen (my new favorite—a wonderful hormone-balancing and adaptogenic superfood). I topped my bowl with a coconut granola that I made last night, fruit, and bee pollen.
After breakfast, I make myself a tea that I enjoy while I start working.
Lately, I've been drinking a mix of chaga, holy basil, and nettle. Nettle is one of my favorite herbs to enjoy as a tea. It not only tastes delicious, but it is also a great source of iron and calcium and a wonderful remedy for allergies.
Chaga and holy basil are two powerful adaptogens. They help me cope with stress and give me sustained energy. Both are great options for those who want to cut down on coffee but still need a little boost.
My breakfast usually fills me up and fuels me until lunch, so I rarely need a snack in the morning.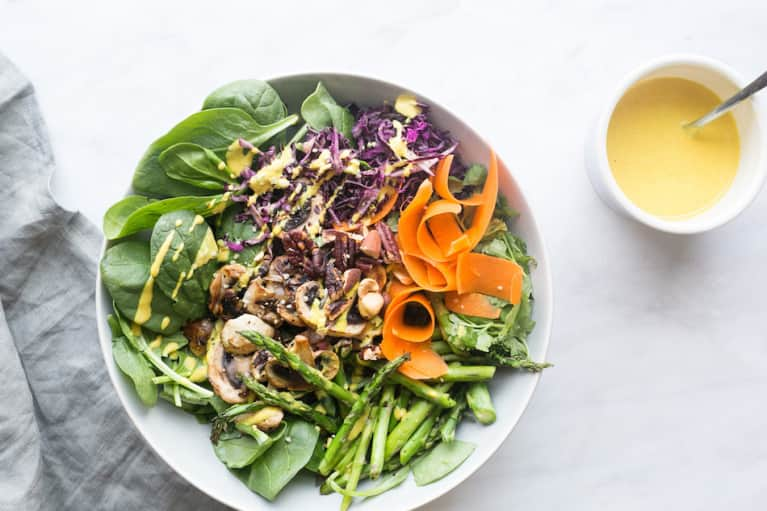 Lunch is almost always a colorful salad that I throw together in a few minutes with whatever is in the fridge. Today was a blend of spinach, grilled asparagus, mushrooms, red cabbage, carrot ribbons, and hemp hearts drizzled with a tahini-turmeric dressing.
After lunch, I'll usually go grocery shopping for the recipe I'm testing or shooting for the blog the next day. It allows me to get out of the house and soak up a bit of sunshine.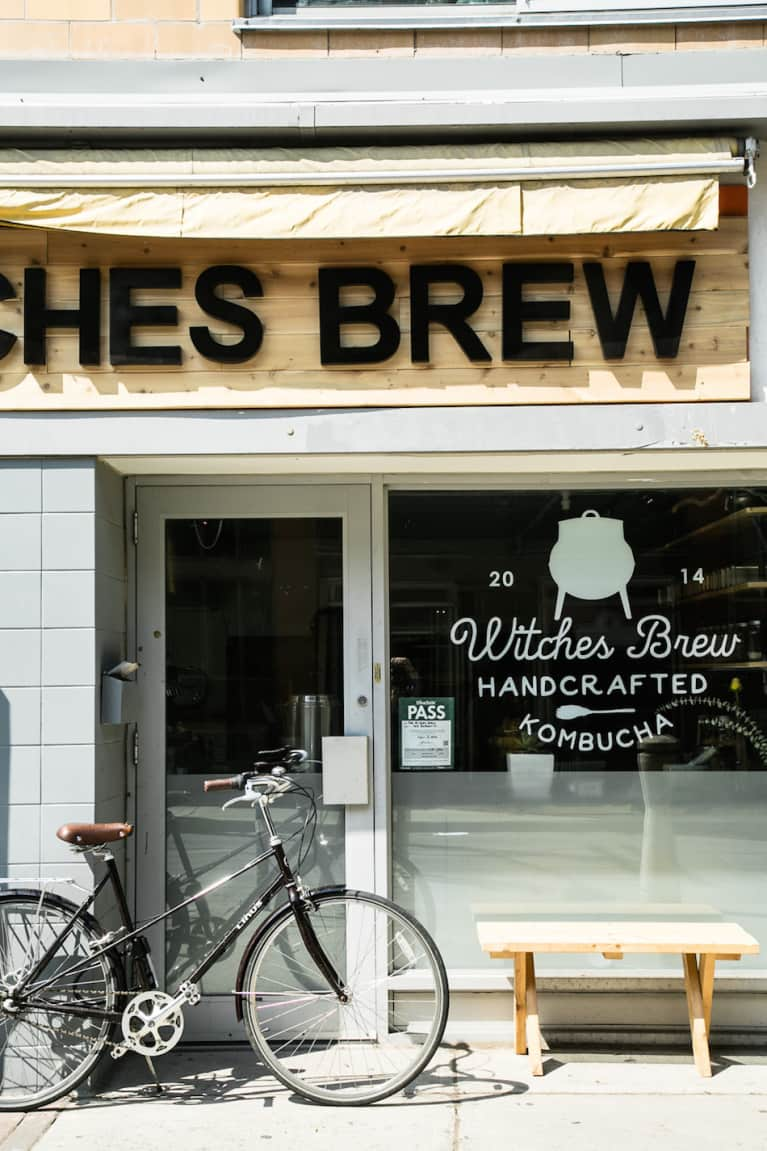 I'll walk and make a few stops in the neighborhood to buy what I need, or I'll sometimes bike to the Kensington market, which is always so vibrant. I'll stop a Witches Brew to grab a kombucha on tap.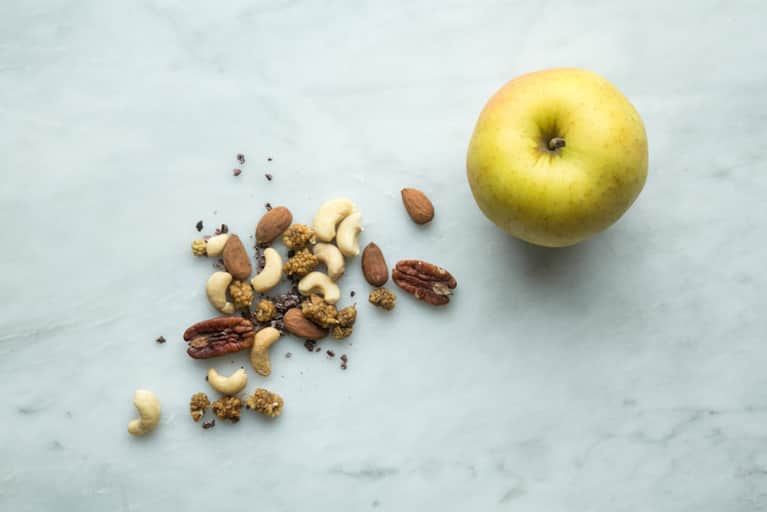 My afternoon snack usually consists of an apple, a handful of nuts, some dried mulberries, and raw cacao nibs.
Workout time! I'll either do a HIIT at home or head out for a run.
I'll have a protein shake as a post-workout snack. Right now I'm loving the fermented vegan protein from Genuine Health.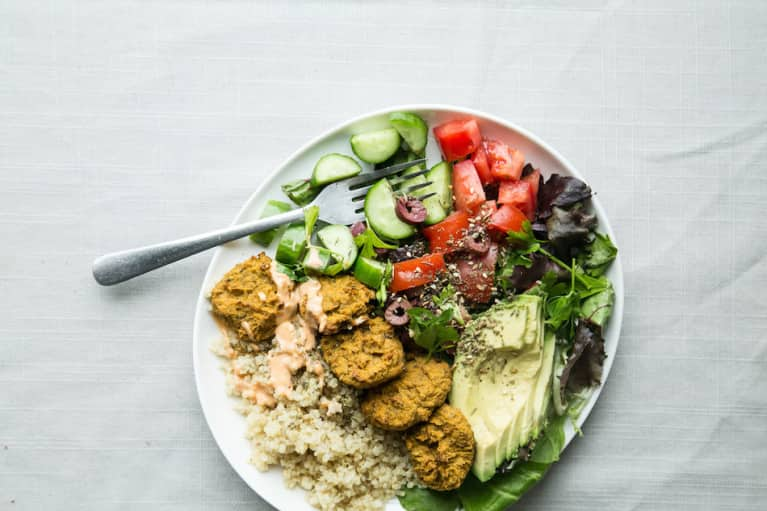 Dinners are usually simple and inspired by the season. In the winter, I'll make a soup, a stew, or a bowl of roasted veggies with a hearty grain.
Now that the weather is getting warmer, I'm craving lighter meals. Tonight I made sweet potato falafel served with quinoa, greens, cucumber, tomatoes, olives, avocado, za'atar, and a spicy tahini sauce.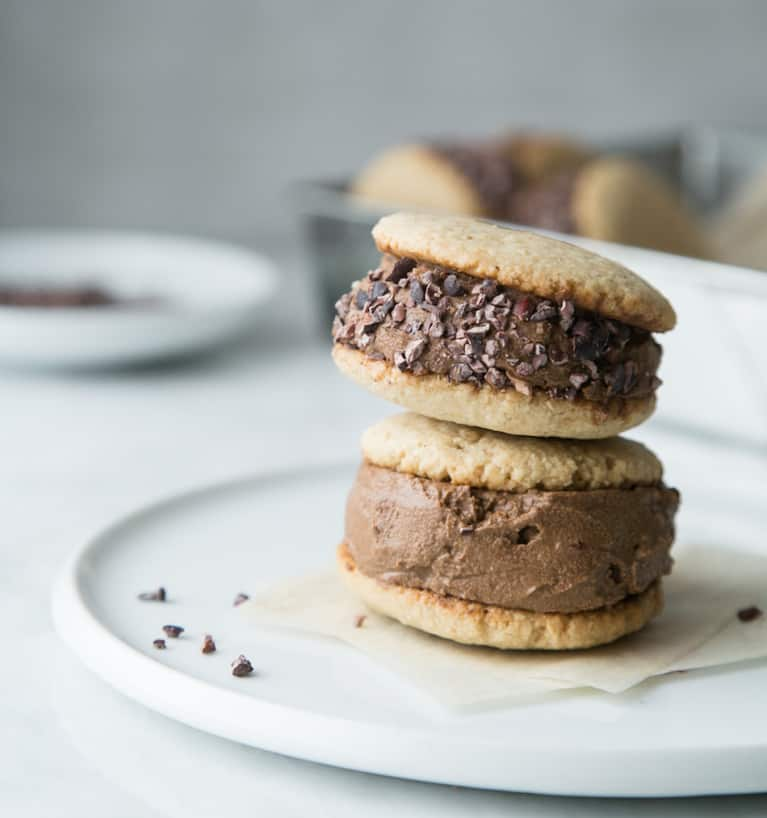 I'll only have dessert if there's a sweet treat in the house that I've made for my blog.
I made these ice cream sandwiches earlier this week, so that's what I had tonight. It's a super-easy vegan chocolate ice cream made with avocados, cacao powder, and coconut cream, sandwiched between two tahini cookies. Heaven!
Before going to bed I'll always have a cup of herbal tea. I use a blend of herbs that have calming and relaxing properties to prepare my body for a restful night.
It includes skullcap, lemon balm, and passion flower. It makes me sleep like a baby, so I'm fully rested and energized for the next day.