What Registered Dietitian & Nutritionist Abigail Kinnear Eats In A Day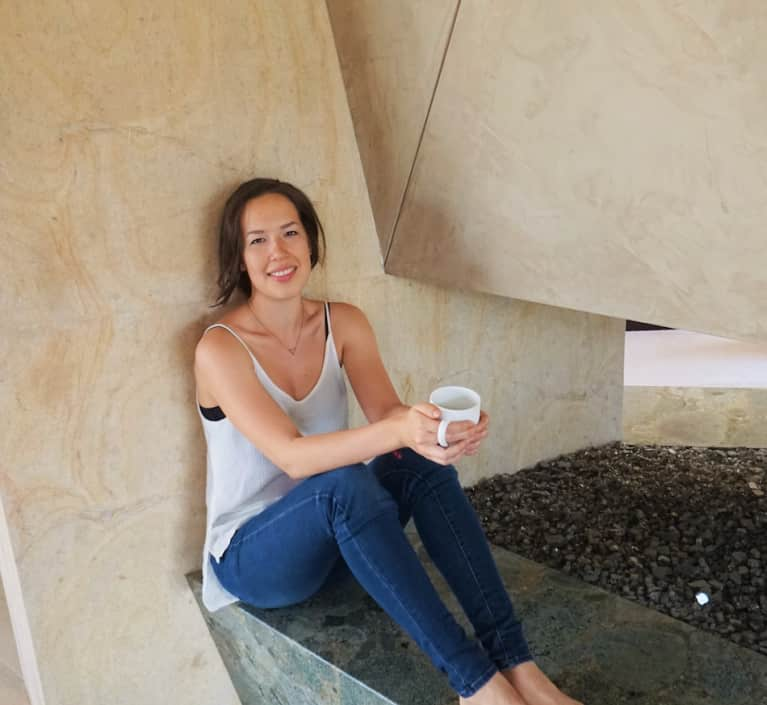 As an Australian registered dietitian based in New York City, I live for two things: food and travel.
You'll often find me living out of a suitcase as I coordinate nutrition events across the U.S., documenting my adventures along the way on Instagram and on my blog, Traveler's Tuckshop.
When my job posts me to a new location, I find myself living a double life. From nine to five I'm hard at work, running events and sending emails; out of office hours, you'll find me hiking in forests, swimming in watering holes, and eating my way through local food joints.
Traveling so much and trying to maintain a balanced lifestyle can be difficult, but I've managed to find a routine within my unpredictable schedule. Check out some of my daily eats and rituals below.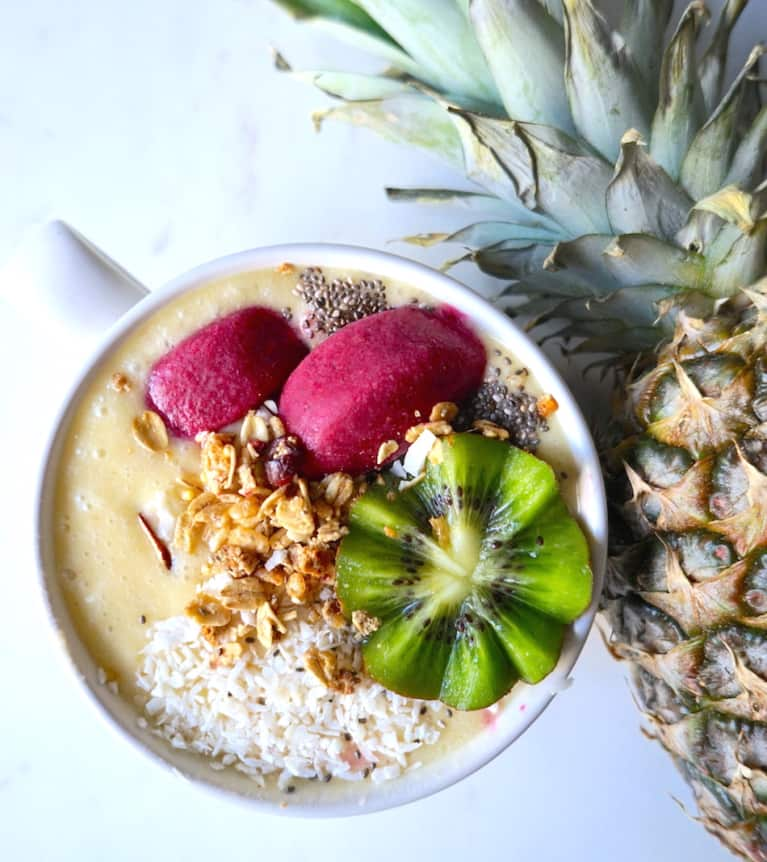 Breakfast is the time of day I get creative, which usually means a smoothie or fruit platter. At any one time I have five to ten different frozen fruits in my fridge, and I love experimenting by blending up different combinations, like this piña colada smoothie made with pineapple, cantaloupe, and coconut milk.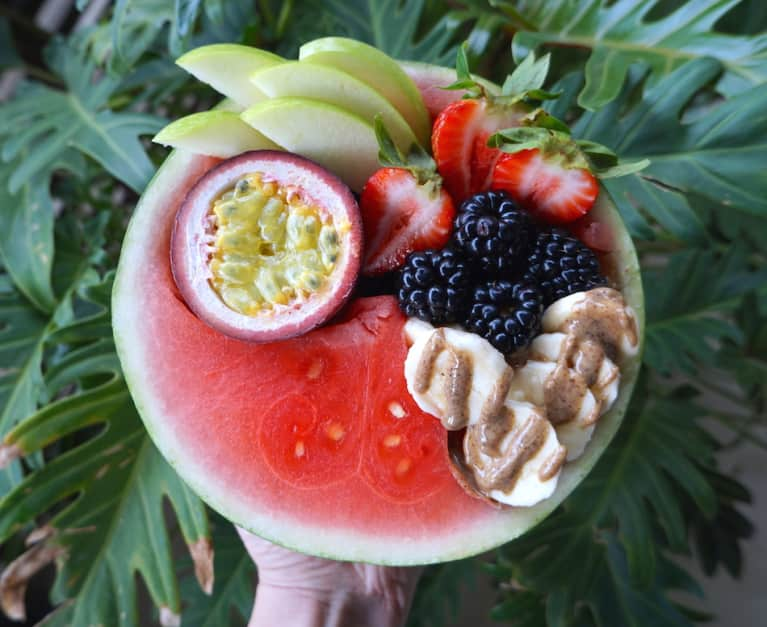 When I'm on the road for work, I stock up on fruit and nut butter at the grocery store and get crafty in my hotel room. It's a simple way of keeping my routine somewhat normal, especially when other factors, such as time difference and weather changes, are in play.
10 a.m.: Midmorning kombucha + fruit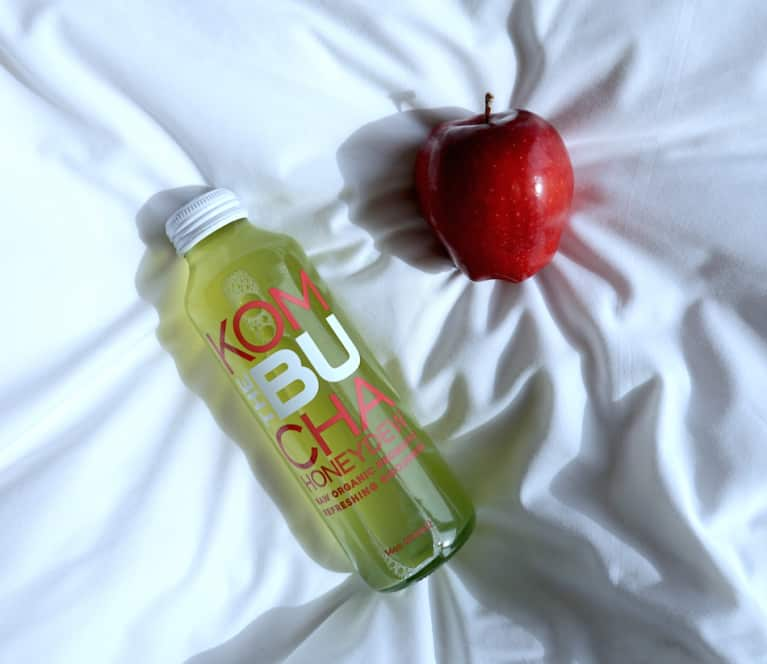 When I'm working remotely in another city I make it a point to check out the local kombucha scene. I always look for one with less than 10 grams of sugar in a bottle and no artificial sweeteners. The probiotics from the kombucha and fiber from fruit help to keep my digestive health in check, which helps when traveling and eating out more often.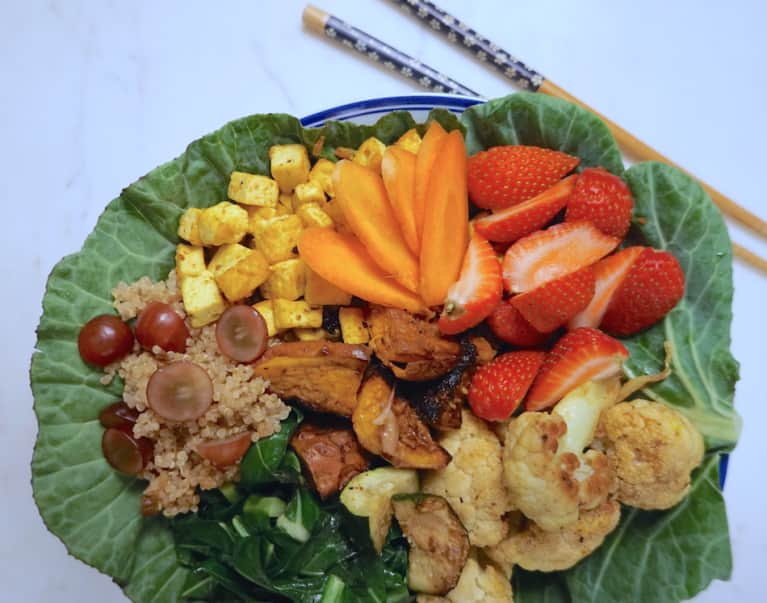 Whether on the road or at the office, I'm a sucker for a hearty salad. Using baby kale or arugula as a base, I layer on fresh vegetables; roasted root vegetables; complex carbohydrates like quinoa, fruits, and nuts; and finish with extra-virgin olive oil and a squeeze of lemon. I crave contrasting flavors of sweet and savory, so my lunch often looks like a kitchen-sink meal!
If I'm in our New York office, I always finish lunch with a yogurt. I'm a big fan of whole-milk varieties, as the protein and fat content help curb my afternoon hunger until snacktime.
3 p.m.: Afternoon snack at cruising altitude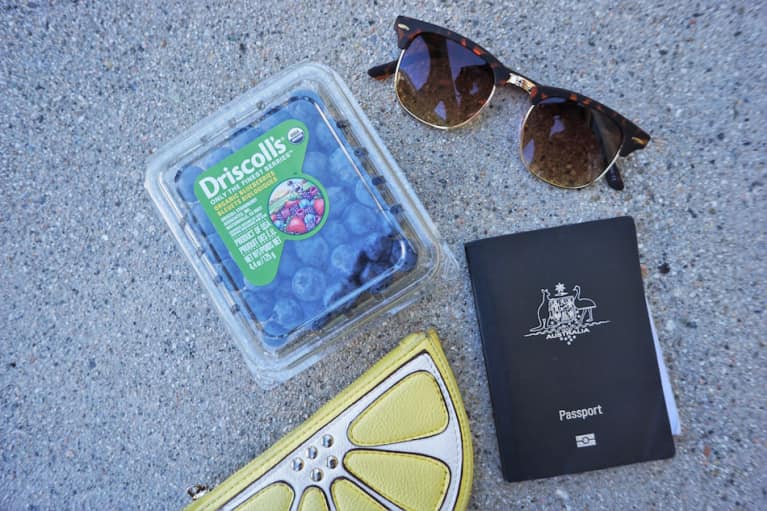 I often find myself headed to the airport mid-afternoon to catch a flight to my next destination, and I'm a huge supporter of bringing snacks on the plane. While I used to go all out and bring homemade salads, I decided to stop this after a salad-dressing incident ruined my favorite leather bag. These days, my go-to is a punnet of fresh blueberries. They're much less hazardous and more satisfying than the salted nuts and pretzels offered in-flight.
7 p.m.: Dinner and a hike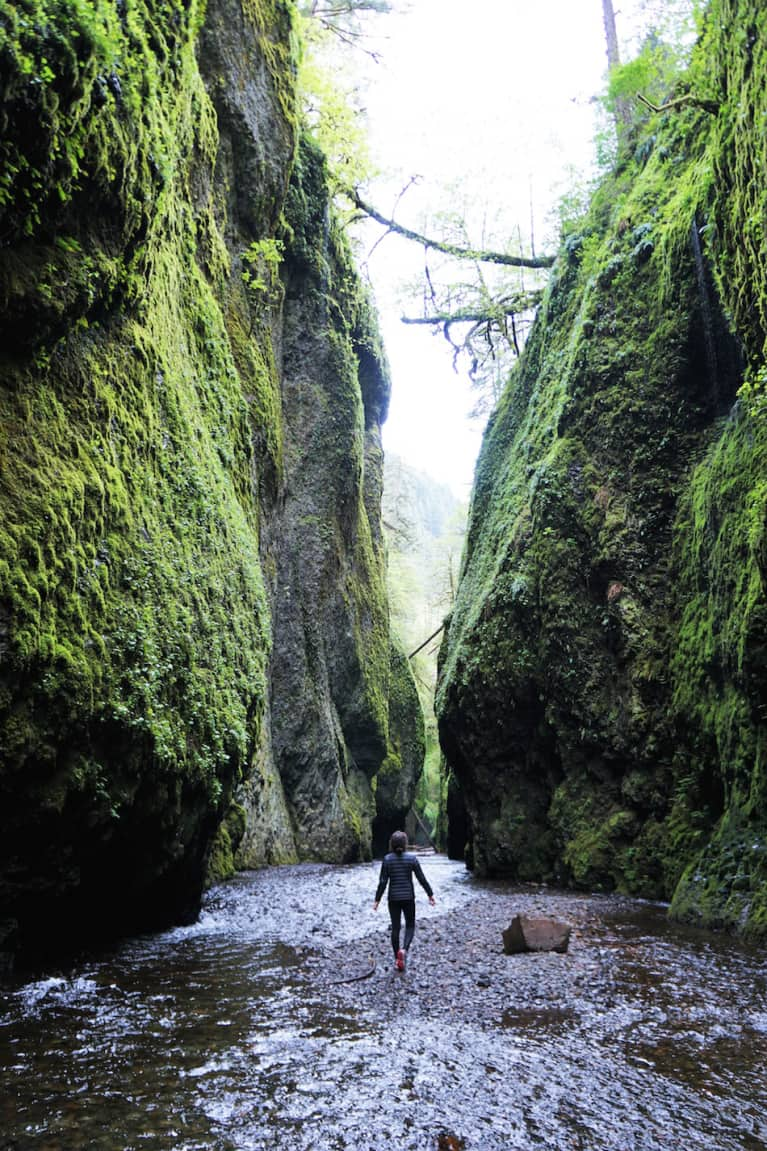 After the flight and before dinner, I make it a point to explore my new location by going on a run or hike.
It's a great way to loosen up the post-flight stiffness you get after sitting on a plane for hours, and you get to see the local sights! My favorite cities for this are Portland, Ore., and Austin, Texas—both have incredible urban parks, which make you feel like you're far away from any city.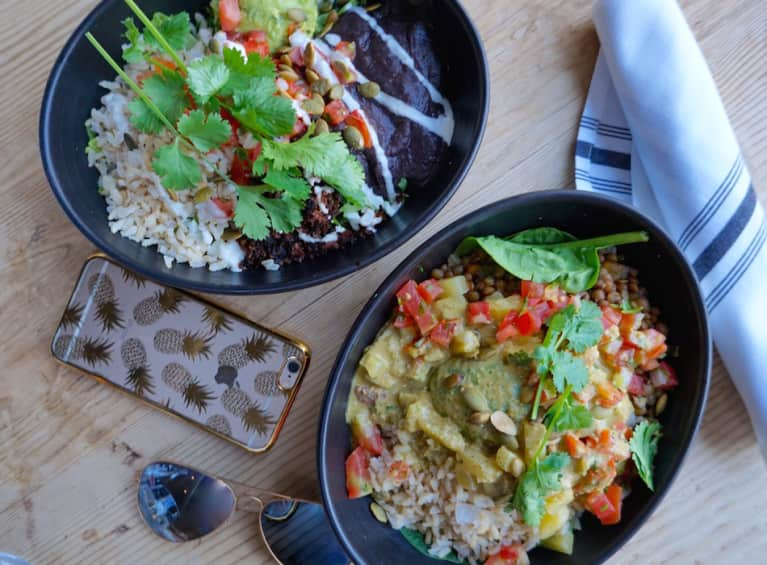 After working out, I'll search for the best local vegan restaurants for dinner. I am by no means vegan but prefer my meals to be mainly plant-based. I've found that going to the top-rated vegan spots in each city ensures expertly prepared vegetables and a relatively healthy meal, like these macrobowls from Gracias Madre in Los Angeles.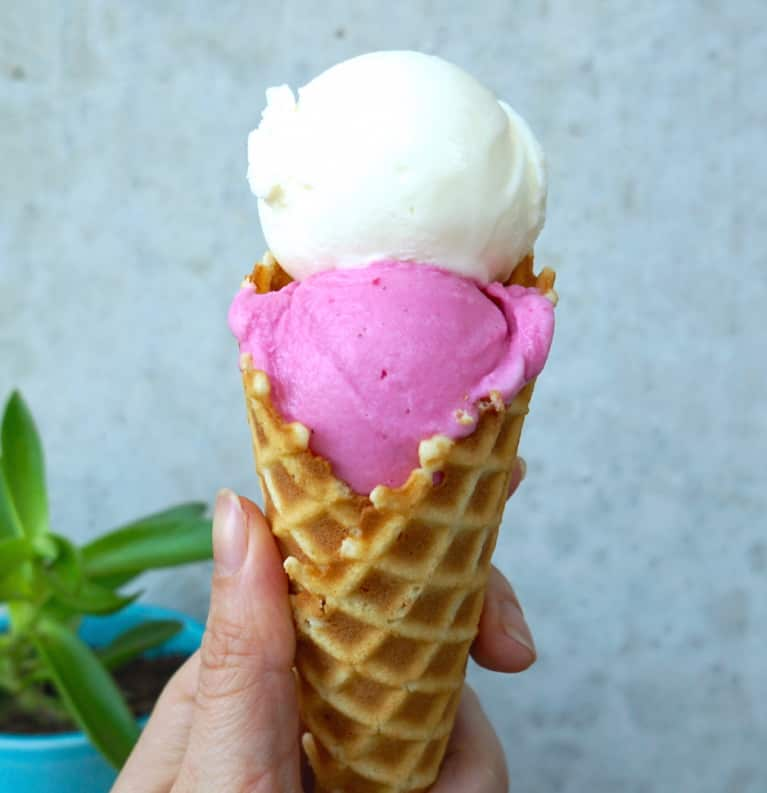 For every city I visit, I always make a stop at a local ice cream shop. Ice cream is one of the ultimate creative food mediums, and I love seeing how each city puts a local spin on their ice cream flavors. I've tasted everything from goat's cheese and fig to strawberry and black pepper combinations—but 99 percent of the time you'll find me with a scoop of salted caramel.
If I'm at home, I'll make my own ice cream, like this super simple cantaloupe ice cream. It takes less than 10 minutes to make and satisfies my sweet tooth without any added sugar!