Crystals To Help You Get In The Best Shape Of Your Life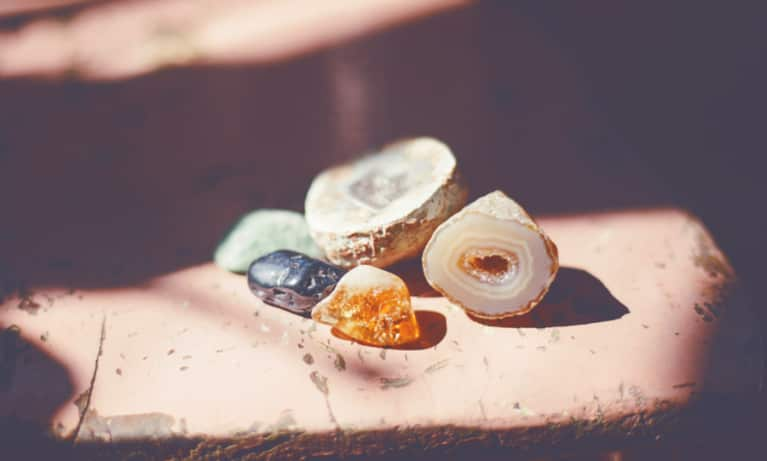 A leading voice on modern spirituality, Emma Mildon has traveled the world studying everything from auras to aromatherapy. This week, we're sharing her expertise in a series on harnessing healing crystals to attract a more vibrant life. To learn more, check out her new mindbodygreen course, Crystals 101: How to Use Crystals to Clear Negativity, Attract Love & Heal Yourself Naturally.
Can't seem to find the motivation to get your sweat session on? We've all had those days.
These are the top healing crystals to keep on hand to help you become your healthiest self, both mentally and physically.
A crystal to get in shape? Rock on.
Smoky quartz is great at encouraging healthy habits. Its grounding energy will help you stay focused and centered as you work to change anything that does not serve you. I personally like to add a stone of smoky quartz to my drink bottle (after I clean it of course!) to charge the water I consume and flush away any toxins and cravings. Whether or not it's a placebo effect, it helps me feel strong!
Feel like you are an eye-twitch/clock-tick/pencil-snap away from losing it? Jasper is all about eliminating stress and supporting balanced emotions and energies to get you in the best mental shape of your life. It's a great stone to keep nearby when you have looming deadlines or just feel generally overwhelmed by life. It's a good idea to wear this one as a necklace or bracelet so it's always nearby when you need its calming energy.
Yes! That pretty, shiny red ring your gran gave you is actually packed with some pretty powerful energy. Ruby has long been thought to help support vitality. This enthusiasm injection supports strength and passion, and it's a great stone to keep on hand during exercise sessions, meditations, and morning rituals. Whether you're training for a marathon or just need some extra energy to get through the marathon of life, you should consider making ruby your crystal companion.
Many of us have issues with digestion at some point in our lives—often spurred by stress, poor diet, and lack of sleep. Obsidian supports bowel irritation, stomachaches, cramps, bloating, and food allergies. By placing stones like obsidian, pearl, and labradorite on your stomach and focusing on smooth, flowing, and balanced energy, you can begin to channel the power to heal any imbalances in your digestive system.
One of the first things I recommend to anyone who wants to improve his or her health is to prioritize sleep. Unfortunately, fitting in shut-eye is often easier said than done. But it's super important to help the body rest, reset, and recharge for the coming day so you can have the energy, focus, and mindset to be the best possible you. Crystals like rose quartz, citrine, and amethyst, in particular, can be placed by the bed or under the pillow to calm and soothe lingering thoughts before bed.