The Moment I Decided To Move Into A Van + How I Made It Happen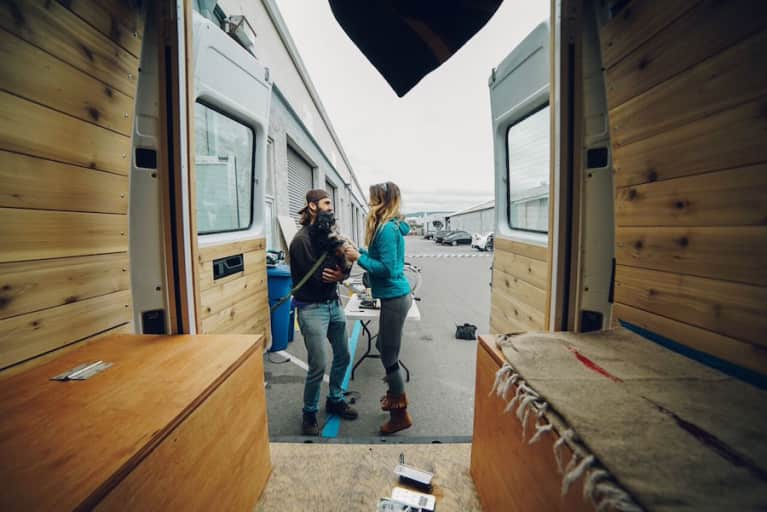 On our last day of full-time apartment life, my partner Richmond and I were feeling a lot things: tinges of anxiety, pinches of fear, pulses of anticipation, waves of excitement.
The last year had been leading up to this—our big moment. We were about to move into the Sprinter van that we'd converted into a tiny home.
It was January 31, and dark rain clouds hung above the city. As we put our final boxes into storage and shut the doors, we had a moment. We paused and let out along exhale—the breath that we'd been holding in for months.
"This is our life now," we nervously laughed. "This is our 50 square feet of living space."
We looked at each other and waited for it to sink in. Days passed as we each braced for the other to have some kind of minor freak-out. Some kind of epiphany, stress, or regret, about moving into a little wooden box together. But it's been almost two months, and that moment still hasn't come.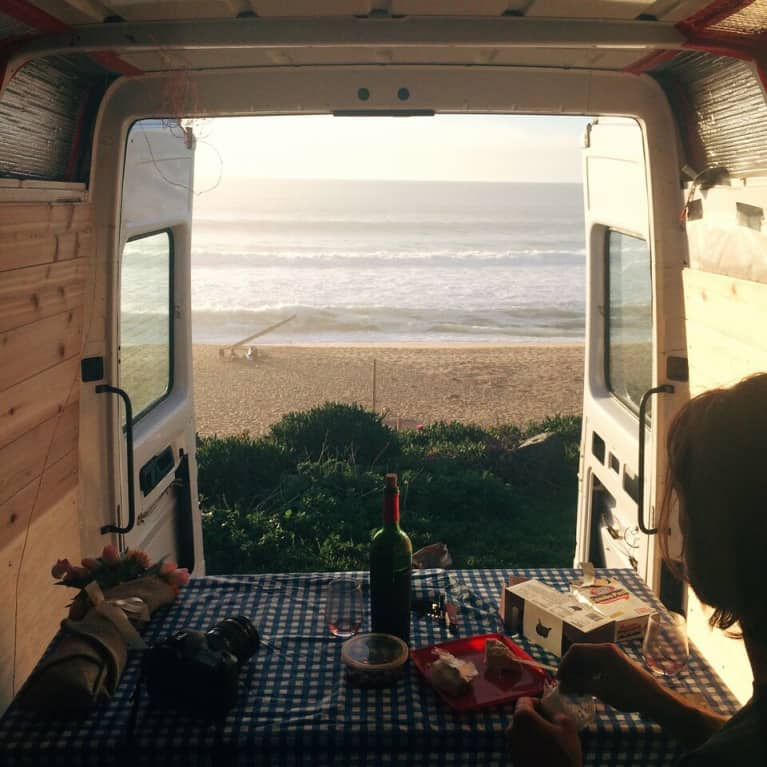 So what motivated us to purge most of our belongings and move into such close quarters in the first place?
The thought of waking up in beautiful places certainly captured our interest. We'd both seen all of the #vanlife photos, saturated by images of VW Vanagons perched out on precarious ledges, overlooking breathtaking canyons, stretching mountain ranges, and endless oceans. Sure, that looked enticing. But at the core, we were really motivated by so much more.
Neither of us wanted to feel that our destiny was to live out life hidden from sunshine in some office park. Neither of us wanted to try to pencil our outdoor lifestyle into our work schedule. It just felt wrong.
Instead, we dreamed of jumping in a van and just driving off, of being able to make plans in the moment, instead of weeks in advance.
We're open to whatever happens in the future—it's all part of the adventure.
At the heart of our unrest lived that age-old cliché: Life is short. The more I repeated this phrase to myself—like a mantra day after day—the more it began to really sink in. When I began to put the pieces together, by first taking apart these few and humble words, I began to understand.
No matter how many perks my job had, no matter how many of my other friends were still working, no matter how many conventions I'd be breaking by giving up my fairly cushy modern life, I longed to be part of the world out there that, with each passing day, was flowing and evolving and changing and vibrating with beauty.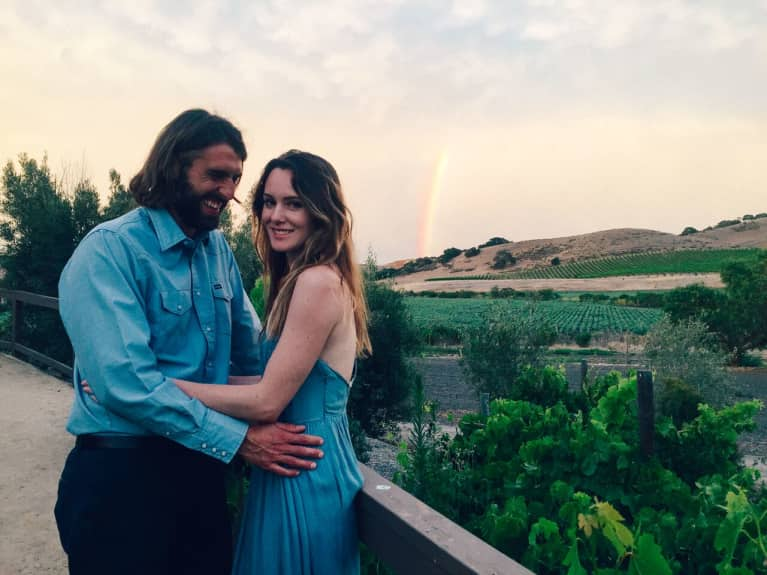 In November of 2014, Richmond decided it was time to pull the trigger. I took it half seriously when he said he was going to look at a van with an eye to buy ... until he showed up at my office later that day in an empty Sprinter shell with his name on the title. For a while, I rode a roller coaster of emotions, but I eventually accepted that he was ready to take the leap and was holding out his hand to me.
Soon after, my head and heart came to the agreement that moving into this van to travel with Richmond was exactly what I should do in my 26th year. At last, I was all in. So, I began saving money. Big time. Like I'd never saved before. And then, we got to work.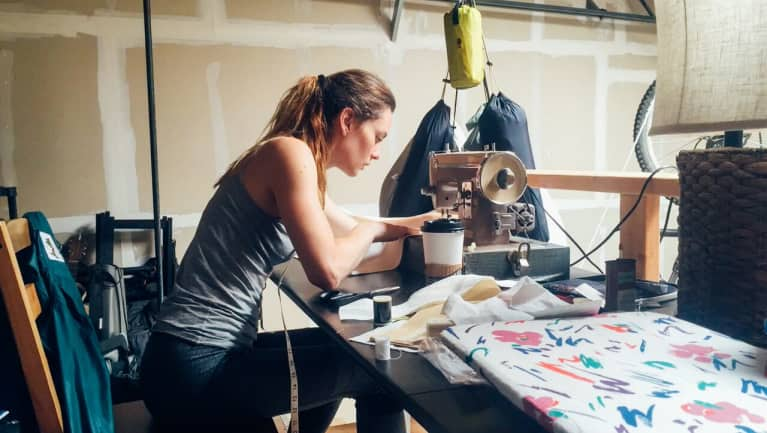 We gave up a lot of time during the year we spent building out the van—time with family, time with friends, time doing the things that we wanted to do. But it was our passion—really our obsession—that drove us.
We managed to work through the frustration of failures and hard times together, and we learned how to more effectively communicate along the way.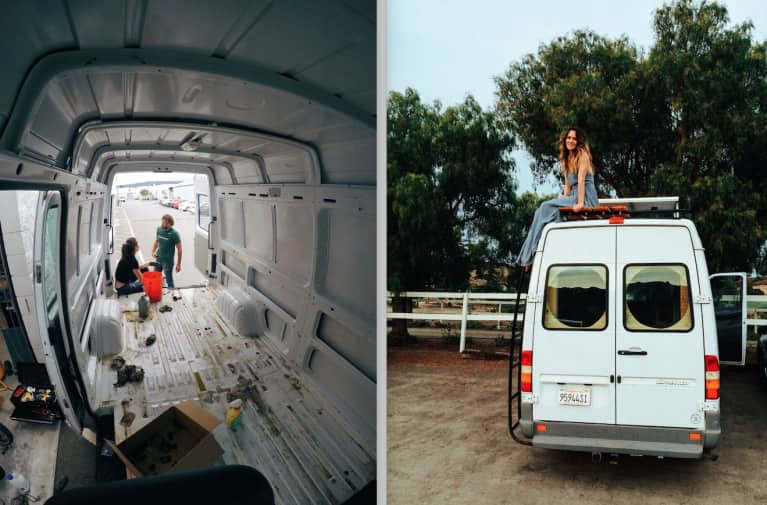 Above all, we gave up our jobs, our stability, and our traditional lifestyle. But we'd saved up before we cut the cord on these conventions, which made it easier to not have to worry about work (at least for a while) on the road.
And we don't regret it.
We're often out in the middle of nowhere, enjoying our time off the grid, not having to worry about scrambling to a cafe to meet a deadline or make a meeting.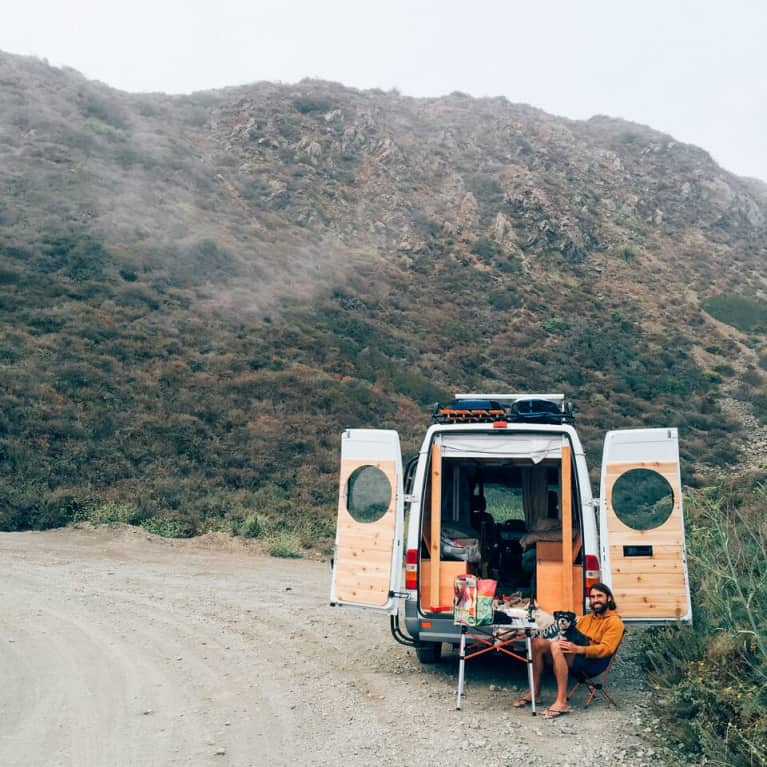 We've been on the road for just shy of two months now, which is crazy to type and reread since it feels like so much longer. Days on the road go by so slowly, so leisurely. We spend time in the moment and enjoy ourselves without stressing about what will happen next. Our flexible schedule has allowed us to decide what we truly want to prioritize, what we really love doing, and what we don't care for as much.
But this flexibility comes at a cost—it took a lot of time and money to get where we are. Though we are not currently working, I'd love to be able to one day tell people that we are able to balance work and leisure on the road; to work remotely and still make time for adventure. But for now we're trying to escape the work-centric mentality that plagues so many. We're just trying to get to know ourselves a little better without work.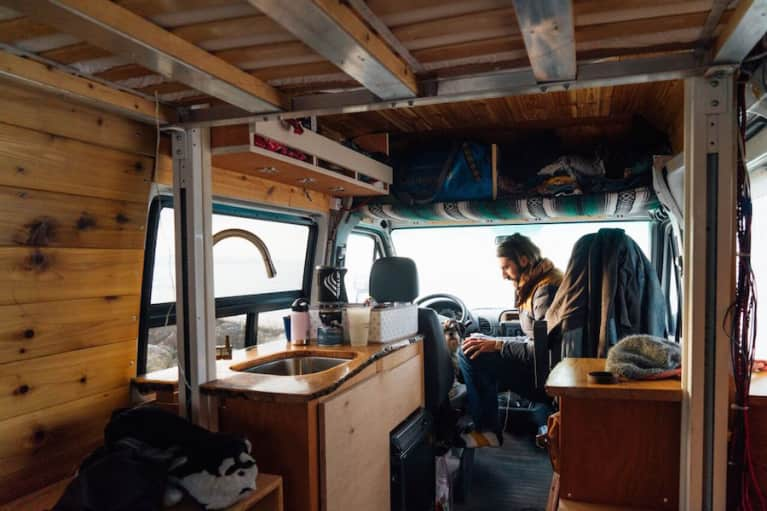 And we've come to realize that this type of life comes fairly naturally to us. Like I said, neither of us has ever felt strange or uncomfortable living out of a van, even when we spent a month sleeping in an auto-body parking lot. Even when each morning we had to get up at 6:30 a.m. and move the van to a nearby marina, where we watched the sun come up and made coffee.
Maybe it's because we built the whole thing out ourselves, customized it with our own hands, and made it into kind of a livable art space. Maybe that's why it feels so much like home—more so than any of our San Francisco apartments ever did.
It's really just become an extension of us now.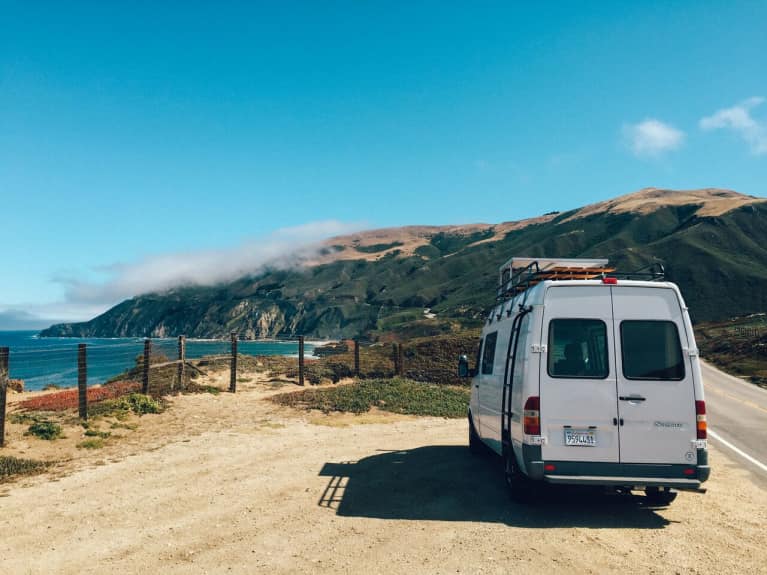 We're currently in Utah, climbing and hiking. Our next stop is Moab, where we'll spend a couple of weeks exploring and getting to know the rock out there. In the fall, we'll head back down through the Pacific Northwest and spend Thanksgiving with my family in the Bay Area. We think that after that, it's down to Baja, to finish off our trip in the sun and by the water.
But at the end of the day, it's all up in the air. We're open to whatever happens in the future—it's all part of the adventure.
Maybe we'll love being on the road so much that we'll just keep on driving. Who knows? After all, life is short.