Be The Weekend MVP With These Gluten-Free Buckwheat Crepes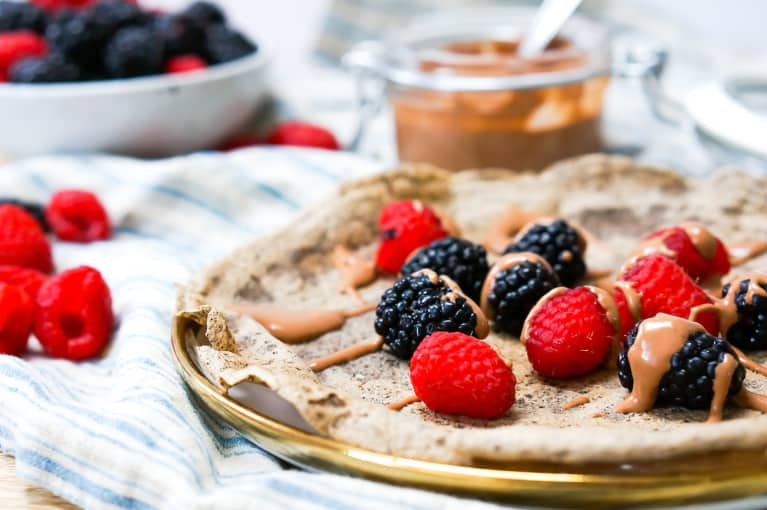 Crepes are one of my all-time favorite healthy breakfasts. You can fill them with all sorts of delicious goodness (more on that later), and if made properly, they can pack quite a nutritional punch.
These are made with buckwheat flour, which, confusingly, is not a wheat or even a cereal grain at all. Buckwheat is actually a seed, related to rhubarb and sorrel. Because of this, it's naturally gluten-free and rich in protein, fiber, flavonoids, and magnesium.
In various studies, it's been found to control blood sugar and reduce the risk of cardiovascular disease. It has a subtle nutty flavor that, in this batter, perfectly complements everything from sautéed kale to chocolate-drizzled berries.
Speaking of, let's talk about filling! I encourage you to play around—I have yet to come across a combination that doesn't work, but here are a few of my favorites:
Sautéed kale, Parmesan, and soft-scrambled eggs
Mushrooms sautéed in coconut oil with minced garlic and a dash of tamari
Wilted, sautéed spinach and garlic
Macerated berries with mint
Ghee, coconut sugar, and a squeeze of lemon
Almond butter, sliced bananas, and cinnamon
Protein-Packed, Gluten-Free Buckwheat Crepes
Makes 10-12 crepes
Ingredients
2 cups buckwheat flour
2 cups milk of choice (I used homemade coconut cashew; the super-easy recipe is here)
4 eggs
½ teaspoon salt
2 teaspoons vanilla extract
1 cup water
4 tablespoons avocado oil or melted ghee or coconut oil
2 tablespoons high-heat oil of choice, for cooking
Preparation
1. Mix together all ingredients until well-combined. Strain through a fine-mesh strainer to remove any lumps, then heat a large pan over medium heat until warm.
2. Add a bit of high-heat oil of choice (I love ghee and coconut oil), and swirl around to cover, then wipe away excess.
3. Pour a small amount of batter into the middle of the pan, then tip the pan around until it's spread into a thin layer and is crepe-shaped.
4. Cook for about 2 to 3 minutes, or until bottom is golden brown when you peek at it, then carefully flip and cook the other side for 1 to 2 more minutes. Slip onto a plate, add toppings, fold, and enjoy!
For more awesome healthy recipes, visit me over at sproutedroutes.com. And if you make these crepes, tag me on social media @sproutedroutes and tell me what you put in them!