14 Things You Need To Know Today (April 29)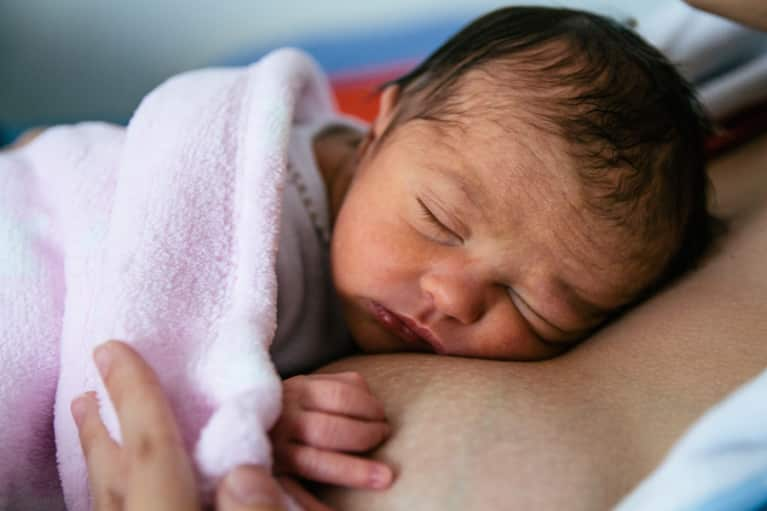 1. Breastfeeding might not actually help you lose weight.
While breastfeeding has many benefits, a new study questions whether it really helps women lose the pounds they gained during pregnancy. In a small sample of 50 women, breastfeeding didn't appear to have much association with postpartum weight loss and reduction in body fat. Instead, the women's pre-pregnancy BMI was significantly associated with both. (The Cut)
2. President Obama just made an 8-year-old activist's day.
The commander-in-chief recently sent an email to Mari Copeny—a Flint, Mich., native who's speaking out for other children affected by the area's water crisis—saying that he would pay her a personal visit when he visits Michigan on May 4. (NPR)
3. The second 365 by Whole Foods store will open in Oregon in July.
Following just behind the Los Angeles debut in May, the second millennial-focused grocery store opening in Lake Oswego, Ore., will include a cafe, juice bar, and plant-based burger restaurant, Next Level Burger. Ten more stores are expected to pop up nationwide in 2017. (Eater)
4. Tinder is under fire for making people's personal lives public.
The new Tinder Social app, released to a small number of Australian users, allows users to create groups including their friends on Facebook. Translation: You can see which of your friends have Tinder, thereby "outing" users who are being unfaithful. Oops. (CNN)
5. Think twice the next time you empty out your coffee machine.
Bio-Bean is a British start-up looking to turn used coffee grounds into a fuel source to power industrial machinery. "Waste is just a mentality because the legal definition of waste is something that is discarded or thrown away. Waste is whatever people want it to be," says the company's founder, Arthur Kay. (TreeHugger)
6. People with more friends can handle pain better.
According to a new study from Oxford University, people with large groups of friends have a higher tolerance for pain. In fact, they say, the endorphins released from having lots of friends are actually "better than morphine" for pain. (mindbodygreen)
7. British doctors recommend smokers switch to e-cigarettes to help them quit.
The Royal College of Physicians, a major medical organization in the U.K., released a new report finding that the benefits of e-cigarettes far outweigh the potential harms. They note that the devices could help half or more of all smokers quit cigarettes and that they're only 5 percent as bad as smoking regular cigarettes. (NY Times)
8. The Danish Council of Ethics proposes a tax on red meat.
Denmark's government is considering a tax on beef to fight climate change. Eventually, the tax could extend to all foods depending on the impact they have on the environment. (The Independent)
9. People respond to sad people on Facebook more than any other type of user.
A study by Facebook researchers "found that status messages that included negative feelings tended to get more responses. Posts annotated with a negative emotion got twice as many comments as the average user's, and the comments tended to be longer. People also received more private messages after sharing their 'negative feelings.'" (The Atlantic)
10. Beverly Hills wants to wave buh-bye to traditional public transportation.
Because buses are so 2015. In an effort to cut down traffic congestion and smog, the city is planning to introduce self-driving electric shuttles within the next decade. (Fast CoExist)
11. American University will finally stop making assault victims sign confidentiality agreements.
"After a federal complaint, the university is changing how it handles assault cases. They're making a series of changes to how it handles sexual assault cases, according to a document released by an alumna who petitioned for the school to overhaul its procedures. Several of the reforms appear to respond to allegations in a federal complaint filed this year." (Huff Post)
12. McDonald's is removing artificial additives from chicken McNuggets.
The Golden Arches say they're testing a "cleaner" version of the chicken-based product, but they haven't announced when the new recipe will launch nationally yet. McDonald's said the change is due to feedback from customers. (AP)
13. Kids who are spanked tend to be more aggressive and less successful.
A new study suggests that spanking is associated with higher levels of mental health problems and aggression in kids as well as lower scores on achievement tests later in life. Experts recommend alternative methods, like time-outs and discussions, to discipline kids. (HealthDay)
14. Ugly produce might be healthier than the pretty stuff.
Misshapen or discolored produce is not to be discarded or pitied. It's strong. So strong, in fact, studies say that it might actually pack more of a nutritional punch than its perfectly polished peers. (mindbodygreen)