The Good-Vibe Crystal Cocktails You Need To Try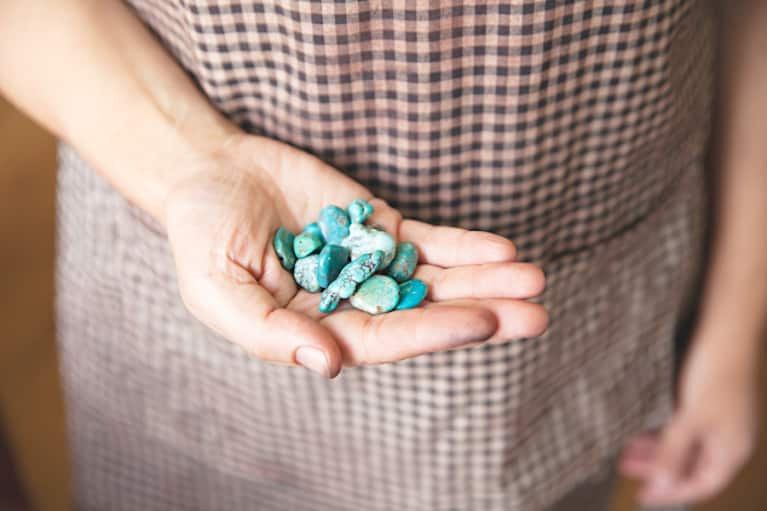 Emma Mildon is an expert on all things spirituality. A best-selling author who's traveled the world studying everything from auras to aromatherapy, she's got a handle on every aspect of the soul-searcher's journey. Now, she's teaming up with mindbodygreen to share her secrets.
Join Emma for an exclusive webinar on May 11, 2016, to learn how to use crystals to attract true love. Register now to snag your free spot, and in the meantime, send us the questions you'd like answered by using the hashtag #AskEmmaMildon on Facebook or Twitter.
These crystal prescriptions can help raise your vibe, attract more magic, and pretty much make you a magnet for positivity. Get ready to take your aura to the next level with these soul-satisfying crystal cocktail recipes.
Place these stones in your pocket or handbag, hold them while you meditate, put them under your pillow, or make them into a bracelet to keep them on hand all day.
Forget those expensive anti-aging potions, and mix yourself a crystal cocktail for radiant, glowing skin instead. Use one, two, or all of the following stones to get started:
This crystal can be used to nourish your third eye and crown chakra and leave you feeling refreshed. Place it in your sink and allow it to charge the water you use to cleanse your face at the start of each day.
This crystal is thought to help keep your hormones in check. If you are experiencing a bad breakout, wear it as a necklace or earrings to keep your skin balanced and glowing through the hormonal transition.
This crystal is the ultimate detoxing stone, and it can help flush away anything that doesn't support your glow. A great cleansing crystal to place under your pillow while you sleep, it'll leave you waking up to a beautiful morning complexion.
Good Vibes Crystal Cocktail:
Combine these crystals to bring more positivity and joy into your daily routine:
The king of good-vibe crystals, clear quartz is like a vacuum cleaner for negativity. It can suck up surrounding bad vibes and clear out anything that may be distracting from a nothing-but-awesome radiance. Keep it by your desk at work or wear it as a piece of jewelry so you can harness its benefits all day long.
Think of this stone as the ultimate self-confidence booster—a you-best-believe-it-I-can-achieve-anything kind of crystal. It's the perfect thing to hold when you want to attract some major positive vibes and abundance into your life, so try using it during your next meditation or manifestation session.
This is the go-to crystal for anyone who needs a love injection. It amplifies your kindness, forgiveness, tolerance, and compassion and basically floods your heart with good vibes. It's one of the first crystals I recommend to people who are just starting to explore the world of healing stones.
Nah I don't need magic in my life .... said no one ever. Add a dash of bippity-boppity-boo to your day with one or both of these stones:
This crystal is said to help strengthen intuition, and it can help you read bad energy from a mile away. It also supports positive communication, so it'll enhance the loving relationships in your life.
Get set to tap into your good-vibe tribe. Lapis can help connect you to your sixth sense and heighten the conscious clues you pick up on from your spirit guides.