How To Thrive In Any Social Situation, Without Booze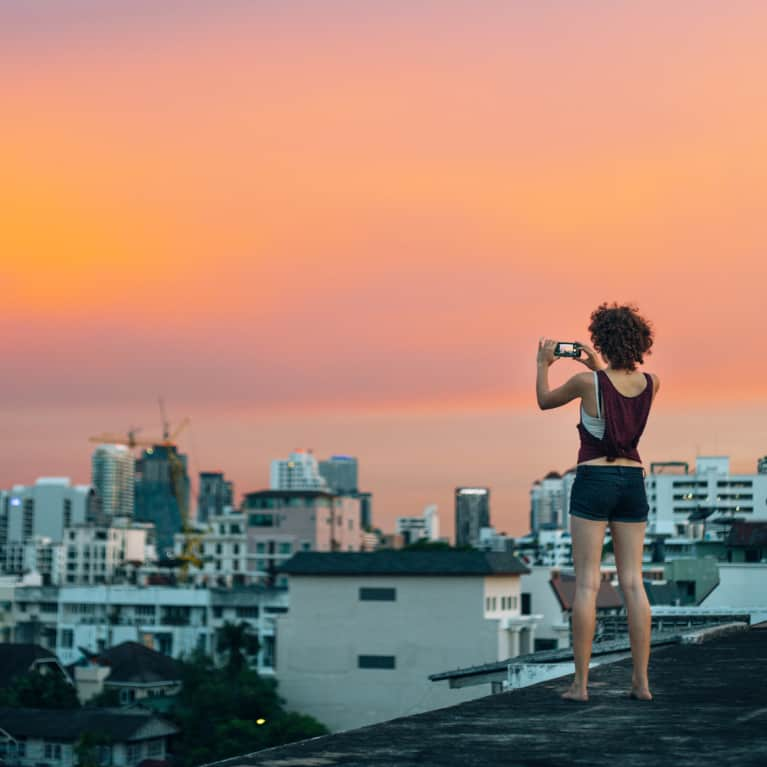 I recently traveled to New York City for a high-stakes, nine-day business trip and book launch tour. I had invested a lot both personally and professionally in this trip and wanted to make the most of it.
My intentions were to take the best possible care of myself, to get enough sleep (minimum of seven hours a night), and to be clearheaded, openhearted, and present the whole time.
After careful consideration, I decided to go a step further and do something I had never done before: be completely alcohol-free in New York City.
I never considered what kind of adventures and experiences might come my way once I stopped following the alcohol and started following my intuition.
I shared my intentions with one of my best friends, and she seemed surprised when I said I wasn't going to drink at all. "Not even one?" She asked.
"Not even one," I replied.
It might help if I tell you a little bit more about who I am. I'm a lifestyle coach who supports successful women who struggle with alcohol. I help women find freedom from alcohol on their own terms, which often means teaching moderation strategies instead of focusing exclusively on abstinence. For the past several years, I have embraced a mostly sober lifestyle, though I do occasionally drink in moderation.
Due to the focus of my work and the accountability I feel toward my clients and community, on top of the fact that I was traveling to New York to launch my book, I certainly wasn't going to go overboard and throw away everything I'd worked so hard for on a wild night out.
However, the combination of the city that never sleeps and a girl with a propensity to pile way too much on her plate equals lots of potential to fall out of intention.
How incredible (though possibly challenging) would it be to try this city completely alcohol-free? Though I had traveled to New York more times than I could count, this would be something completely new for me.
I already know what it's like to order a $20 cocktail at the Hudson, to get giddy on prosecco at the Pier, to feel fuzzy after too many glasses of red at a wine bar on the Upper East Side, to shoot astronauts in Brooklyn (don't ask), to get drunk from some random spicy home-brew at a speak-easy in the East Village, to slurp sickly sweet maraschino drinks at the Dominican joint in Queens, to share a bottle of Patron with on-duty parking lot attendants in SoHo (again, don't ask), and of course, the rounds of the seemingly requisite mimosas at brunch.
I've never been to New York and sought juice over booze.
I've never sipped handcrafted jun mocktails.
I've very rarely been to networking events completely sober.
I've never given myself the chance to feel confident without alcohol in the Big Apple.
I never considered what kind of adventures and experiences might come my way once I stopped following the alcohol and started following my intuition.
I am proud to say that I (mostly) followed through! I was 98 percent alcohol-free during my time in New York (more on the booze-filled 2 percent in a bit).
I was at countless events with free booze, and I didn't take a sip.
I was in high-pressure situations, and I didn't rely on alcohol to ease my nerves or break the ice.
I felt lonely and isolated at times and didn't use alcohol to open the door for permission for connection.
I connected with tons of influencers and VIPs and knew it was ALL me and not the alcohol doing the talking for me.
So, what worked for me? Here are the strategies I used, which might be helpful if you want to try something similar:
You may be wondering what this has to do with drinking, and honestly, I think the answer is everything. I took care of myself and my health more than I ever have on a business trip. I made sure that I was sticking to my morning routine and was getting enough sleep. I gave myself downtime and breaks to make sure that I had time to re-center myself and stay grounded. As such, I was much stronger and more able to be in touch with my inner guidance and intentions.
2. I said "no" to opportunities.
This wasn't easy for me. I'm a "yes" woman. I want to do ALL of the things, ALL of the time, especially when I'm somewhere like New York. I mean, c'mon! Yet I learned that if I was selective with my time and energy and to whom or to what I said yes, I was honoring my body and, again, more able to stay connected to my intentions.
3. I declared my intentions.
I knew New York was "Trigger City" with a capital T. So I made a bold statement and declared it publicly. Of course, I'm not saying that you need to declare your intentions as publicly as I did, but you do need to find an accountability system that works for you—preferably one that externalizes accountability so that the entire responsibility isn't solely on you.
4. I made friends with bartenders.
Might sound funny at first, but bartenders can be your best friends in your quest to drink less or not at all. It's a lot more fun to turn down alcohol when you have a delicious alternative. My favorite line is "What can you make me with mineral water that's exciting and doesn't have alcohol?" I had some refreshing fizzy lemonades and virgin mojitos made for me this way.
Remember, even in an open bar situation, it's really nice to tip a bartender generously for their efforts (I used to be a bartender, so I know it's appreciated). You want to keep these people happily on your side. I even ended up selling my book to one bartender after we chatted about what I do!
5. I made sure I was fed.
I kept energy bars in my purse to keep my energy up. Drops in blood sugar and low energy can lead to alcohol cravings, and I wanted to set myself up for success.
I knew what I was going to say in advance. This is one of the areas that often gets overlooked when it comes to moderating or cutting out alcohol. One of my favorite lines when offered a drink is "I'm great for now, thanks!" It's pretty hard to argue or be pushy when someone tells you they are feeling great, and the "for now" creates a sense of temporariness. Practicing what to say, and saying it with confidence, helps communicate the certainty of your decision and leaves less room for pressure.
Did you know that using essential oils can help with your mental state? I used rosemary for improved focus and alertness during my events. I used floral and sensual blends (cacao, rose, ylang ylang, orange, sandalwood) to get me feeling grounded and sexy before heading out in the evenings.
I used calming blends in the evenings when I needed to unwind (I certainly noticed that it took me longer to relax after an adrenaline-filled event when I didn't have a glass of wine to rely on).
I brought my own teas (for both my morning and evening routines), carefully packed my essential oils, was prepared with snacks, and most importantly, did the mental and spiritual prep beforehand to make this as easy on myself as possible!
Making a decision to moderate or cut out alcohol for a while isn't simply about how many drinks you have (or not). It's about creating new habits to set yourself up for success.
Oh, and about that 2 percent that wasn't alcohol-free? I tried a sip of a colleague's $65 glass of dessert wine. (Yes, you read that correctly—$65 a glass.) It was unlike any wine I've tasted before and quite the experience.
I'm happy I tried it and that I was confident enough in my intentions and ability to follow through that I could treat that sip as a culinary experience and not the gateway sip to a runaway train wreck evening.
But you know what I'm even happier about? Proving to myself that I could do more than just survive without alcohol in New York—I could thrive. And I did.
Related reads: