Sunflower Seed Falafel Burgers With Cashew Mint Tzatziki Sauce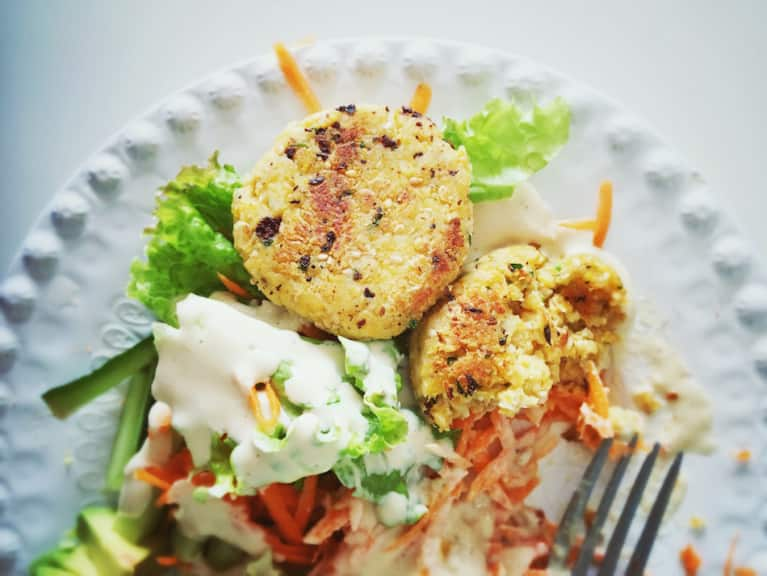 These falafel burgers don't contain the typical chickpea mixture but instead have a blend of sunflower seeds, almonds, and flaxseeds, with lots of flavor from vegetables and herbs.
Sunflower seeds are a rich source of vitamin E, which acts as an anti-inflammatory and antioxidant. Vitamin E helps protect against free-radical damage and the onset of wrinkles. Allied with beta carotene, this small seed is effective at keeping your skin looking young and fresh.
Falafel With (Dairy-Free) Mint Tzatziki
Serves 4 to 6
Ingredients for Falafels
2 cups sunflower seeds (soaked for 4 to 6 hours)
2 medium carrots, grated
2 celery stalks, chopped
½ cup almonds, soaked (optional)
2½ tablespoons of ground flaxseeds
Juice of 1 lemon
¼ cup parsley
¼ cup cilantro
¼ onion
2½ tablespoons olive oil
1 garlic clove, chopped
2 tablespoons tahini
Ingredients for Mint Tzatziki
1 cup cashews, soaked and drained
½ to ⅔ cup water
½ teaspoon lime rind, grated
juice of 1 lime
½ garlic clove
½ cup chopped mint
1 grated cucumber
2 tablespoons chopped dill
Preparation
1. To make the falafel: Place the sunflower seeds, carrots, and celery in a food processor. Blend until a paste forms. Add remaining falafel ingredients and pulse until the mixture is well-combined but still chunky.
2. Roll into 1-inch-wide balls, and form into hamburger shapes. Place in a dehydrator at 115°F (46ºC) for 4 to 6 hours. The idea is that the burgers are crunchy on the outside but still moist inside. Alternatively, you can dry these in a very low-temperature oven.
3. To make the tzatziki sauce: In a blender place the cashews, water, lime rind, lime juice, garlic, and mint. Blend on high until smooth and creamy. Taste and season with salt accordingly.
4. Transfer the mixture to a bowl. Fold the grated cucumber and chopped dill. To serve, place a falafel burger on a piece of crunchy lettuce with sauce scooped over the top. Enjoy!
Follow me on Instagram for more plant-based recipes.