14 Things You Need To Know Today (April 27)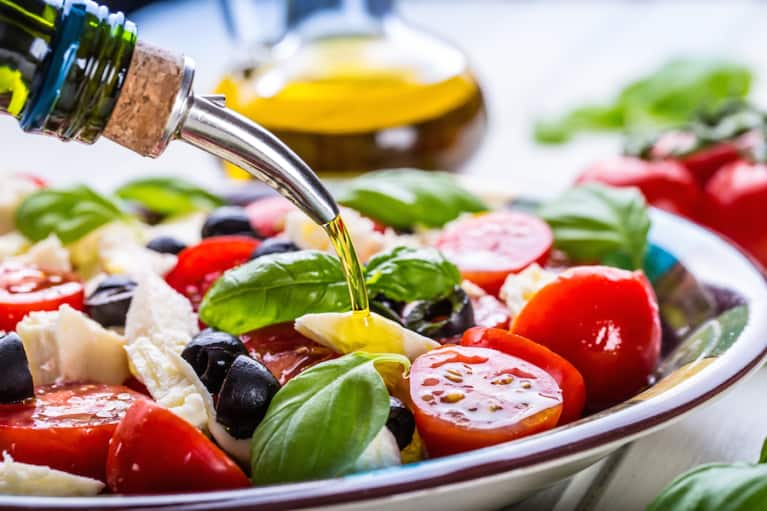 1. Olive oil fraud is a thing and the government wants to stop it.
The House Agricultural Committee proposed that the FDA test imported olive oils, which account for 95 percent of olive oils in the U.S., for purity. They're concerned that some oils are mislabeled and blended with other oils, which could pose a problem for those with allergies. (Eater)
2. Harvard University just invested $21 million in a happiness center.
The center is intended to answer questions about health that can't be addressed through medicine alone—specifically health as it relates to happiness. The center will be housed in the School of Public Health in Boston. (The Atlantic)
3. Hillary Clinton just promised that half her Cabinet will be made up of women.
During a town hall on Monday night, Rachel Maddow hit Hillary with a tough question: "Canada has a new prime minister, Justin Trudeau. He promised when he took office that he would have a cabinet that was 50 percent women, and then he did it. [...] Would you make that same pledge?" And Hillary fired back with a confident affirmative: Clinton responded, "Well, I am going to have a Cabinet that looks like America, and 50 percent of America is women." (Jezebel)
4. Ikea isn't just about furniture anymore.
The retail giant will soon start selling solar panels in its Glasgow, Birmingham, and Lakeside locations, before eventually rolling them out across UK stores this summer. "Our research showed a third of homeowners would really like to invest in solar, and the majority of those are driven by the opportunity to save money," an Ikea rep explained. (The Guardian)
5. Babies who eat rice cereals have higher levels of arsenic.
A new study in JAMA Pediatrics finds that infants who are fed rice cereals or other rice snacks have much higher levels of arsenic in their urine than babies who aren't. The researchers also noted that about 80 percent of American babies had been introduced to rice cereal by age 1 and that arsenic is associated with health effects on brain development and the immune system. Earlier this month, the FDA recommended limiting arsenic in rice cereals to 100 parts per billion. (NPR)
6. Nick Jonas and Demi Lovato are following big corporations in staying away from North Carolina.
The celebrities are making sure their feelings about the "bathroom law" (mandating that transgender people use the bathroom that corresponds to the gender assigned to them at birth) get heard, loud and clear. The touring pair tweeted, "One of our goals for the tour has always been to create an atmosphere where every single attendee feels equal, included, and accepted for who they are. North Carolina's discriminatory HB2 law is extremely disappointing, and it takes away some of the LGBT community's most basic rights and protections." (CNN)
7. Women sports writers listen to men read abusive tweets about them—for a good cause.
For female sports writers are harassed incessantly by male sports fans online. So, to bring attention to this persistent, misogynistic abuse, Just Not Sports released a PSA that shows just how bad it gets. In a video, randomly recruited guys read some of the worst tweets directed at two female sports reporters, Sarah Spain and Julie DiCaro, directly to Sarah Spain and Julie DiCaro. Many of the participating men (who had nothing to do with said tweets) nearly broke down in tears. (mindbodygreen)
8. Etsy will start providing cash incentives for sustainability.
Beginning this May, the online marketplace will offer sellers in four states up to $2,000 in discounts on solar panels. By offsetting its sellers' emissions, the company hopes to cut down on its own aggregate carbon footprint. (Fast CoExist)
9. Playing music could boost your baby's brain development.
Researchers found that listening to music with a waltz-like rhythm, and tapping out the beats with their patients, could help improve babies' processing of speech sounds and music patterns. The study authors note that this could influence overall brain development and language skills. (HealthDay)
10. Boutique coffee culture is taking on cocktails now.
A new wave of coffee liqueurs are using the same cold-brewing techniques as companies like Blue Bottle, making for some pretty fancy tipples. (NYT)
11. Kids in day care get sick earlier in life but less often later on.
A new study of more than 2,200 children found that those who attended day care had a 13 percent higher rate of the stomach flu in their first two years of life. But there seems to be a benefit: The children also seemed to enjoy a protective effect from this early exposure and had fewer stomach bugs between the ages of 3 and 6 than kids who hadn't been in day care. (HealthDay)
12. Chobani employees get a stake in the company.
Over 2,000 full-time employees were given stock in the successful (as in valued in the billions) yogurt brand, which could mean big bucks for them when the business goes public. The founder, Hamdi Ulukaya, said he wanted to pass along the wealth that these individuals helped build. (NYT)
13. Wearable pineapple may be the next trend in vegan fashion.
Farmers in the Philippines are turning pineapple leaves into a plant-based leather alternative. The finished product is beautiful, sustainable, and lucrative since the leaves would have otherwise been thrown away. (Fast CoExist)
14. There could be a link between your microbiome and PTSD.
Researchers in Canada suggest that bacteria in your gut could play a strong role in how you respond to stressful situations, such as whether you might be affected by conditions like PTSD. They're now looking into whether these microbes could be used to cure or prevent PTSD, as well as other conditions like anxiety and depression. (ScienceDaily)