15-Minute Healing Meals: Chickpea Pancakes With Roasted Tomatoes
mbg Contributor
By Leah Vanderveldt
mbg Contributor
Leah Vanderveldt is an author living in Brooklyn, New York. She received her bachelor's in communications and media from Fordham University, and is certified in culinary nutrition from the Natural Gourmet Institute. She is the author of two cookbooks: The New Nourishing and The New Porridge.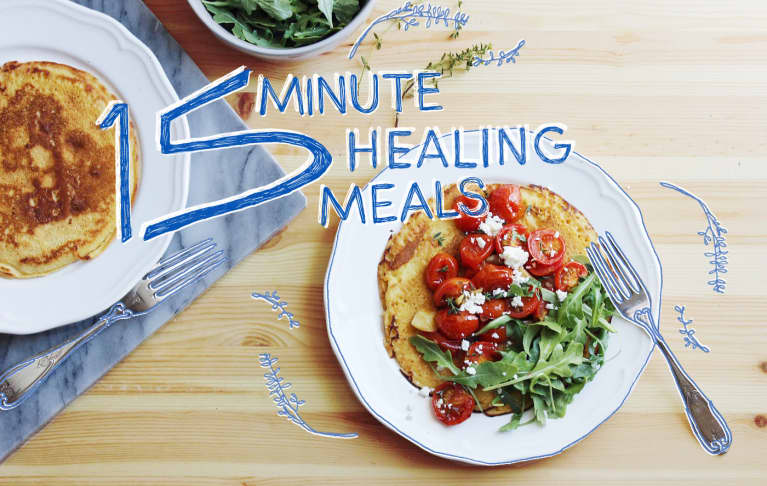 My perfect weeknight meal is packed with vegetables and whole foods, fills me up, and tastes delicious—all while being easy enough to put together quickly.
15-Minute Healing Meals are about feeding yourself well with minimal effort. These recipes are designed to inspire you to cook something wholesome without interfering with everything else you've got going on.
Note: While some foods may take a little longer to cook, we try to make sure that all hands-on time is kept to 15 minutes, to make your mealtimes as relaxing, restorative, and nourishing as possible.
These quick-cooking chickpea pancakes (or socca) make an easy and protein-filled base for roasted tomatoes, garlic, and arugula. They almost look a little fancy, but are totally low maintenance—which is a winning combination in my book.
For an added nutrient boost, you can mix a pinch of turmeric into your chickpea flour batter. I love serving these with an extra drizzle of olive oil, a sprinkling of feta cheese, and even a fried egg.
We love chickpea flour around here. Because it's made from simply ground chickpeas, it's gluten-free and packed with protein and fiber. It's also really easy to cook with.
Roasting tomatoes are a great hands-off way to get a lot of flavor. Studies show that cooked tomatoes make lycopene (a phytochemical, or nutrient that also gives the vegetable its color) more bioavailable. Lycopene has antioxidant properties and may even help reduce the risk of prostate cancer.
Peppery arugula is a great accompaniment to the sweet roasted tomatoes and nutty chickpea flour. It also happens to be a cruciferous leafy green, which means it helps support your liver and digestion.
Chickpea Pancake With Roasted Tomatoes
Olive oil
1 pint (or 15 oz.) cherry tomatoes, or similar, sliced in half or whole
6 cloves garlic, peeled
10 sprigs of thyme, divided
1 cup chickpea flour
1¼ cups water
½ teaspoon salt, more to taste
¼ teaspoon turmeric (optional)
Pepper
Arugula, tossed with olive oil and lemon juice
Feta
Fried egg
Pesto
Olive oil
Preparation
1. Heat oven to 415°F. Line a large baking tray with baking paper. While oven is heating, slice your tomatoes (or keep them whole to save time) and peel your garlic cloves. Toss tomatoes and garlic with olive oil and a pinch of salt.
2. Place tomatoes and garlic on baking tray and scatter with the thyme leaves (remove the green leaves from the stem) from 5 of the sprigs.
3. Place tray in the oven and cook for 15 to 20 minutes, until the tomatoes are blistered and garlic cloves are golden.
4. While the tomatoes are in the oven, mix the chickpea flour with water, ½ teaspoon of salt, and turmeric (if using) until well combined.
5. Heat olive oil in a small pan over medium heat. Add approximately ¼ cup of the batter to the warm pan. Swirl it around so it covers the base of the pan. Cook for about 2 minutes, until the batter begins to form bubbles. Flip with a spatula and cook for another 30 seconds to 1 minute on the other side. Repeat with remaining batter. This should make you about 3 to 4 pancakes.
6. Serve chickpea pancake with tomatoes, garlic, and arugula. Drizzle with a little bit of olive oil; add remaining thyme leaves, pepper, and any other garnishes you'd like.