11 Things You Need To Know Today (April 25)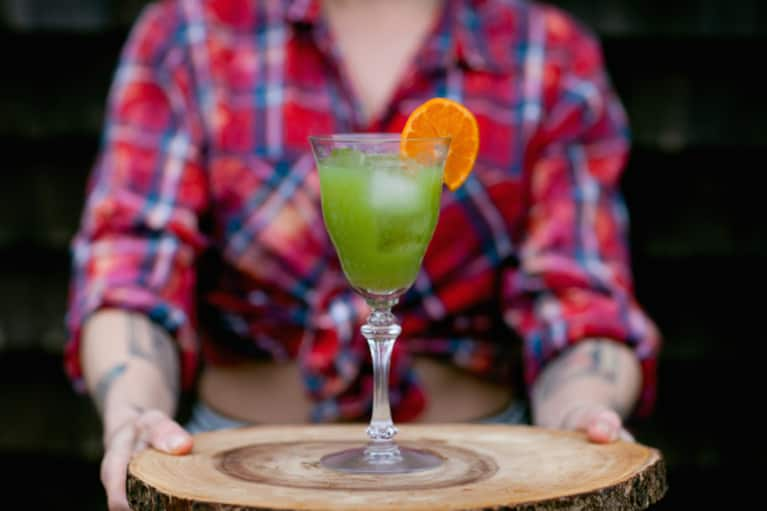 1. Millennials choose green juice and mindfulness over alcohol.
More and more young adults are opting for mindful, sober experiences over a night of boozing. Now, alcohol-free dance parties, juice crawls, and mindful events, like The Shine, are growing in popularity. Is sober the new drunk? (The Guardian)
2. A 100-year-old woman holds a running record.
Ida Keeling, a centenarian from the Bronx, already holds the fastest time for American women ages 95 to 99 in the 60-meter dash. Now, she hopes to set a new standard for women over 100 in a 100-meter event. Keeling wasn't always such an athlete—she only started running at the age of 67, after the death of two sons and a struggle with depression. These days, she exercises an hour every day and eats only fresh produce, whole grains, and limited portions of meat. (NY Times)
3. Sugar might be even worse than we thought.
Fructose can alter hundreds of human genes in a way that could contribute to many diseases, a new study finds. But the scientists also found good news: A diet rich in omega-3 fatty acids seems to reverse the damage. (ScienceDaily)
4. A brilliant ad campaign uses "man boobs" to show women how to spot cancer.
An ad agency in Buenos Aires couldn't show how to do a breast self-exam on a woman—because female nipples are not welcome on many social media platforms (even for an important lesson like this one)—so they chose a man instead. #ManBoobs4Boobs (AdWeek)
5. A high-fat diet could make you sleepy.
In a new study, Australian researchers found a connection between high fat intake and obstructive sleep apnea, regardless of weight. Men who were in the highest one-quarter of fat intake were 78 percent more likely to experience daytime sleepiness and three times more likely to have sleep apnea. (NY Times)
6. Drawing might be the best way to remember important information.
Researchers at the University of Waterloo found that, compared to other memory-encoding techniques like writing, "drawing helps to create a more cohesive memory trace that better integrates visual, motor, and semantic information." (ScienceDaily)
7. Why is it so hard to sleep in a new place?
A new study finds that when you're spending the night in a foreign place, half of your brain is more awake than the other, staying "on guard" for danger the whole night. In other words, it's a matter of survival. (LiveScience)
8. Nagging your kids about their weight is a really bad idea.
A new study finds that when parents believe their children are overweight, kids are more likely to gain weight—regardless of whether they actually were overweight or not. The researchers recommend that parents talk to their kids about what it means to be healthy rather than focusing specifically on weight. (HealthDay)
9. Melting Arctic ice is a serious problem for polar bears.
The increasingly warm weather has melted huge portions of ice habitat, forcing polar bears to swim for days looking for shelter without rest. (The Washington Post)
10. Suicide rates are at a 30-year high.
A new report from the National Center for Health Statistics finds that suicides rose by 24 percent between 1999 and 2014, increasing in almost every age group and demographic. The rise was especially sharp for women and middle-age Americans. Researchers aren't exactly sure what explains the increase, but they encourage more mental health programs across the country and research into effective treatments. (NY Times)
11. World leaders signed the Paris Climate deal into action.
In celebration of Earth Day on Friday, more than 150 government heads from around the world met at the UN to sign the deal—a comprehensive climate change initiative drafted last December. (The Guardian)