3 Anywhere, Anytime Techniques For Cultivating Happiness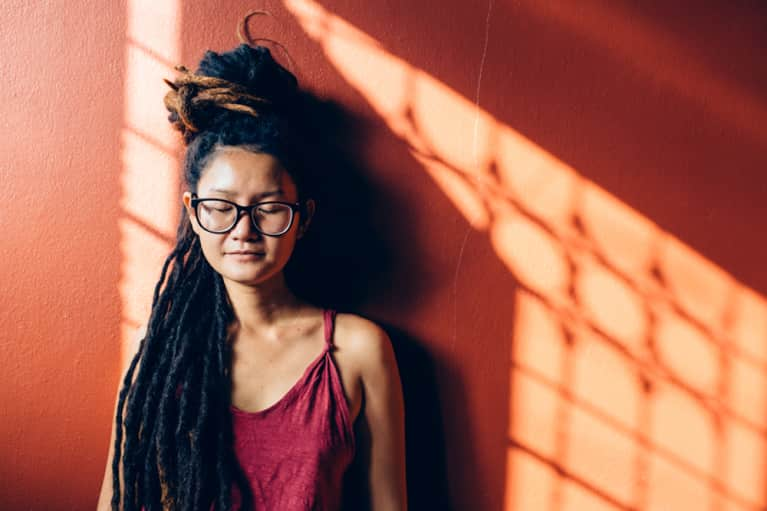 Back in 2005, my friend Marci and I decided we wanted to learn how to meditate. She had found a class in a nearby town. I was a bit nervous. I didn't know what to expect. Would I have to sit in silence with my thoughts for an hour?! The thought was terrifying. We got some seats and I ran to the restroom before the class started.
As I was walking from the restroom through the auditorium area, a man stood at the entrance door down a little ways. He smiled at me, and I at him. Without saying anything, in my mind we had a whole conversation.
Turns out the man standing in the doorway was the teacher of the class. Little did I know he would be guiding a meditation at my wedding five years later.
To tell you the truth, I can't remember the specific topic of that first class. I remember it started with about 15 minutes of guided meditation and that afterward, I felt more peaceful and happier. Then we discussed the idea of perception versus reality—how we see things from our own point of view, but nothing is fixed. We all are choosing how to perceive our reality, and every moment we can choose how we will act or react.
I felt like the whole talk had been written just for me. The classes have helped me shift my perspective and open my heart to others. I learned what true love really is, how to be compassionate, and how to cherish others more than myself. Don't get me wrong, I still have a long way to go.
But ultimately, meditation has taught me invaluable tools for inviting happiness into my life. How do you keep from losing it when you feel like you have one nerve left and someone's about to jump on it? Here are three tips to connect with your inner wisdom and bring peace and happiness into your heart.
You've heard it before, but it's worth repeating. If we focus on our breath, we can't actually devote our attention to that thing that got us all wound up in the first place. Try it now. Bring your attention to the inward and outward pull, the sensations at the tip of your nose and in your rib cage. Notice how concentrating just on the breath causes your stress to fade into the background. Then begin to use your breath to breathe out anything you want to let go of—negative thoughts, worries, physical pain, or tension in the body. The breath is the closest thing to a magic bullet we mere mortals have.
2. Pay attention to your distractions.
It sounds counterintuitive, but using distractions as a tool can really help focus. You might think you can't meditate because your mind is so busy you get distracted easily. Instead of getting upset when thoughts come up or our attention goes somewhere else, we can now use these AS our meditation.
Leverage these distractions to bring more peace to your mind. For instance, the noise of a car going by, people talking in the next room—bring your attention to each as they arise. Watch the old distraction dissolve as the new distraction comes into your awareness. Doing this for just a few minutes can have a powerfully relaxing effect on you.
3. Visualize peace at the heart.
This is a very powerful healing technique. On your inhalation, visualize white light in the aspect of inner peace filling your heart. With each inhalation, visualize the peace expanding beyond the heart center until it fills your entire body. Continue imagining this peace growing to fill the room, your home, your city, and so on. The sky is the limit.
Don't grasp at results. Some days we will experience beautiful peace in our heart, and other days our practice might feel less than inspiring. It's important to be gentle with ourselves and keep practicing. When we're teaching a baby how to walk, do we get upset and yell at them when they fall down? No, we help them get back up. Just keep trying.
Related reads: