Victoria's Secret Is Getting Rid Of Swimwear To Focus On Athleisure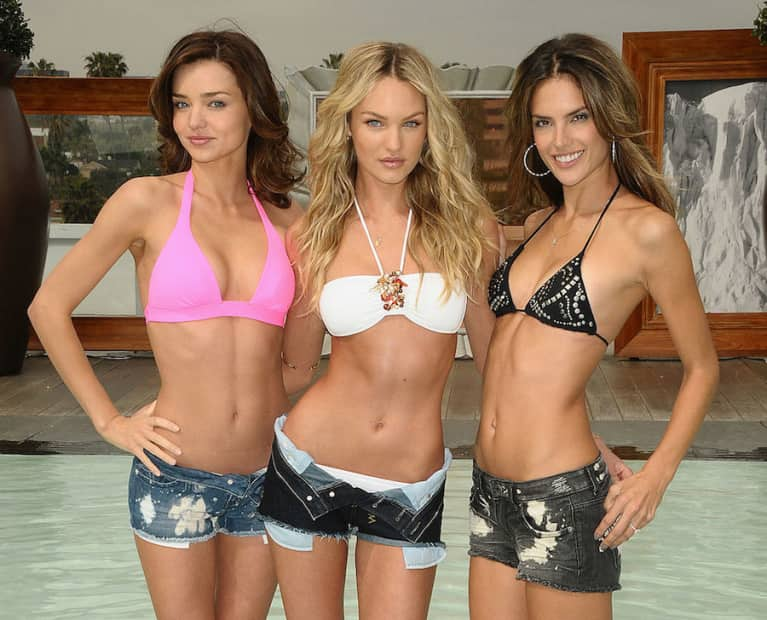 April 22, 2016 — 14:07 PM
We thought we'd hit peak athleisure when it became a word in the Merriam-Webster dictionary—but we were wrong. It's happening right now. Fashionable activewear has gained so much power it has caused the end of the iconic Victoria's Secret catalogue.
That's right: this is the very last summer to flip through a Victoria's Secret catalogue or even buy a Victoria's Secret swimsuit. It's the end of an era. And it's all because of athleisure.
BuzzFeed News reported that by the end of this year, its cheap, mostly neon swimwear will no longer be sold in stores or online. In its place, according to Citi analysts, you'll see its new activewear line, VS Sport.
Earlier this month, the company announced in a release that it would be cutting 200 jobs and focusing on the three brands Pink, Victoria's Secret Lingerie, and Victoria's Secret Beauty.
When asked about the swimwear category last summer, the brand's recently departed CEO, Sharen Jester Turney, said, "Swim has been my biggest disappointment, and we did it to ourselves."
But this shouldn't come as too big a surprise. It's not the first time that Victoria's Secret had eliminated a category to refocus its attention. In the past, it scrapped its regular apparel to put more energy into its core lingerie business, and got rid of a cosmetics line to makeover the rest of its beauty products.
And what about the beloved catalogue—loved by women and creepy men alike? In a March press release, the company noted that it will be "evolving how the business connects with consumers through more focus on loyalty programs and brand-building engagement rather than traditional catalogues and offers."
We look forward to the introduction of the VS yoga mat—sparkles and lace galore.